Your MacBook Is Plugged In But Not Charging? Fix
If your Mac is not charging the battery even though it's plugged in, this article explains what you can do to troubleshoot. This can be a major problem for you because your Mac laptop will lose its mobility without a charged battery.
You may see the "Battery is Not Charging" notifications when you click the Battery icon in the menu bar. Here is what you can do:

See also: macOS Won't Go To Sleep? 
1-Check if your power adapter is properly connected. Furthermore check if you power cable is damaged. Check for breaks, bends, or other damage. Make sure that your power led light is lit, amber/orange when it is connected to your computer. If you see no light at all, that may mean your Mac is not charging and you have a faulty adapter or cable. Your cable may be causing your charging issue, you may want to try another cable.
See also: How To Restore Your Mac To Factory Settings
Furthermore check the power port for debris. Check your MagSafe connectors for dirt or sings of damage. If you see debris and you want to remove it, you may try a soft toothbrush gently and carefully. Make sure that you disconnect the adapter from the power outlet and from the computer before doing this.
2-Check is your power outlet is good. Make sure that the power outlet you are using is working properly. Try another device, for example, plug in your lamp to see if it is working.
3-Check the pins inside the MagSafe connector. Check for stuck pins. See the image below as an example of stuck down ground pins:
If this is the case, what you should do is to try unplugging and re-plugging the MagSafe adapter into the power port. Repeat this a few times. But make sure that you unplug and re-plug horizontally using more force.
3-Check for an update. It is possible that a new update is available which solves your problem. To check for software updates, go to the Apple menu and choose the option for About This Mac and then click Software Update (or System Preferences > Software Update).

You may also check the "Automatically keep my Mac up to date" box.
4-Restart your Mac. Restarting your Mac may fix your problem. You can do so by choosing Apple menu > Restart.
5-Reset the System Management Controller (SMC). Apple's official documentation explains how you can do that.
Please also know that you can check your notebook's battery health. Your battery will not last forever. May be it's time to give in and replace your MacBook's battery.Here is how:
Press and hold the Option key
Click the Apple menu (while holding the Option key)
Click System Information
This will open a new window
Under the Hardware section, select Power.
There are two main things you should check: cycle count and condition.  Does the condition says normal? This means that there is nothing wrong with your battery and it is functioning normally. There are also three other conditions you may see:
Replace soon
Replace now
Service battery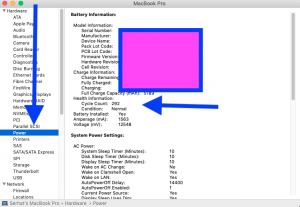 Also check the cycle count. A cycle count means using all of your battery's power. Your battery has certain cycle count limits. The battery is considered dead once it reaches the limit. For example, MacBook Air's maximum cycle count is 1000.  What is your cycle count says? If it is too high, you may have to replace it.
You can also see the cycle count via the Terminal app. Simply open the Terminal app (Applications > Utilities) and enter the following command and press enter:
ioreg -l -w0 |grep Capacity
If nothing above works for you, take your device to Apple for evaluation. Contact Apple support. You may be eligible for a replacement adapter. You may also wan to make a reservation at the Genius Bar.