AMPDevicesAgent? What Is It?
A lot of Mac users have stated that a popup message keeps asking them to enter their keychain passwords. The notification message says:
"AMPDevicesAgent wants to use your confidential information stored in iOS backup in your keychain. To allow this, enter the login keychain password"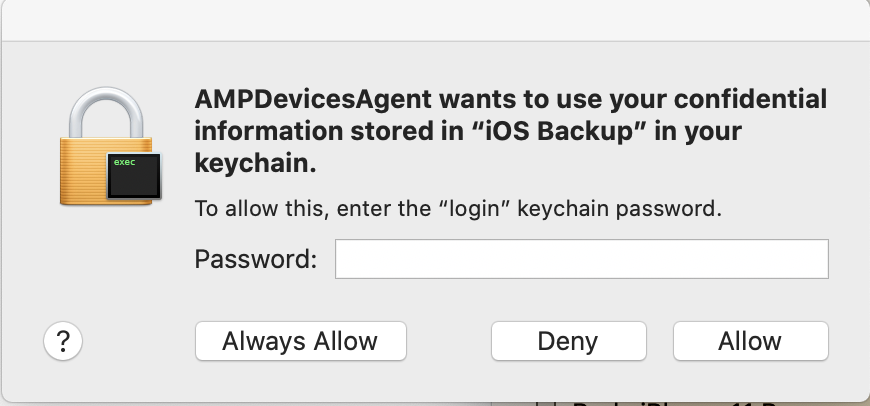 As you can see, the message does not say if this is Apple or not and many users are asking if they should enter their passwords. It is asking for access to your keychain. And it looks suspicious. And it is not clear why the process needs the keychain access. So you may have many security concerns and so you may ask these questions below:
What is AMPDevicesAgent?
Why does it need your password?
The dialogue box has three options: Always Allow, Deny and Allow. If you deny this, it will keep asking.
See this article if you worry about viruses. You can also make your Mac more secure.
AMPDevicesAgent
Here are the basic answers:
AMPDevicesAgent is not 3rd party software and it is not caused by a virus (or malware). Actually it is included with macOS Catalina. Apple introduced this with Catalina so it is new:
(/System/Library/PrivateFrameworks/AMPDevices.framework)
You can check this by going to Activity Monitor, it will show up as an Apple process.
This notification is normal, it is expected behavior and you may enter your password. This should not be a cause for concern. When you enter your password, an unknown third party will not have your sensitive info. if your mac is trusted, you may want to check Always Allow.
This new AMPDevicesAgent is apart of the Frameworks in your Library folder to allow Finder to synchronization and backup with iOS & iPadOS devices. Basically, AMPDevicesAgent is a new device manager. It is used for backing up, restoring and updating your devices.
This may appear:

When you sync your devices over Wi-Fi
When you connect your iPad or iPhone for the first time to your Mac with a USB cable.
If you do not know your keychain password, do not worry, the keychain password is your login password. You can always change this by going to System Preferences > Security and Privacy > General. And then click the Change Password button.
If you are not satisfied, feel free to raise your concern about this by leaving feedback.
See also: Slow iCloud Keychain Passwords/Forms Autofills On Mac