Does Walmart Take Apple Pay?
Walmart has 11,503 stores. It is the world's largest retailer. As of now, Walmart stores do not accept Apple Pay at in-store checkouts. Walmart accepts cards from Visa, Mastercard, American Express and Discover. A lot of major retailers, stores, restaurants, and shops accept Apple Pay, but unfortunately, Walmart is not one of them.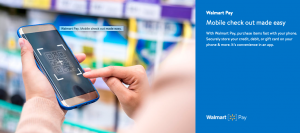 It seems that Walmart does not accept Apple Pay because they want people to use their own mobile payment system, Walmart Pay. This means that Walmart does not also accept Google Wallet and Samsung Pay. It further seems that, for now, Walmart is committed to its own Walmart Pay platform, which is a QR code-based system designed exclusively for Walmart shoppers.
See this article if Apple Pay is not working.
The only mobile payment that Walmart takes is Walmart Pay. You can, however, use Walmart Pay with your iPhone. Here is how:
Using your iPhone to make purchases at Walmart
Walmart Pay requires the Walmart Pay app. Download the Walmart Pay app. Open the App Store app on your iPhone and then tap the Search icon and find the Walmart Pay app and tap Get and download it.
Open the Walmart Pay app on your iPhone.
Go to Services > Walmart Pay.
Tap Set Up Walmart Pay.
And follow the onscreen instructions and register your card. And your Walmart Pay is ready to use when you go to your Walmart store next time.
To use the app, you need to scan a QR code at the register.
Furthermore, it seems that Walmart has no plans to accept Apple Pay.
You can use your Apple Card at Walmart.
Apple Pay is Apple's payment service that lets you use your iPhone or Apple Watch to make purchases.
Finding Apple Pay places
Do you avoid stores that do not accept Apple Pay? Do you want to know which stores take Apple Pay before you go? Then there is an easy want to do that. Here is how:
On your iOS or iPadOS device, open Apple Maps.
Find the place you want to go.
Tap the result you want to check. An info card will be displayed.
Scroll down and find the "Useful to Know" section.
If the place takes Apple Pay, it will say "Accepts Apple Pay".
Costco, the world's second-largest retailer, accepts Apple Pay.
In conclusion, Apple Pay is not accepted at all Walmart locations. How long will Walmart refuse Apple Pay? We do not know. But we know that Walmart may change this in the future. Because this policy does not attract the tech-savvy customers. We will update this article if Walmart changes this.
Apple Pay launched in October 2014.
See also: How To Remove, Update Or Change Your Apple Payment Method