How To Remove, Update Or Change Your Apple Payment Method
Your Apple ID is probably linked to a payment method. This will let you buy apps, movies, TV shows, books, music, iCloud storage, etc using your Apple ID. You can use most credit and debit cards with your Apple ID to make purchases from the App Store or iTunes Store. More specifically, you can use Visa, MasterCard, Discover, American Express or Paypal.
Your Apple ID must have a payment method in order for you to pay for purchases from Apple. However, you can create an Apple ID without a payment method.
See also: "APL*ITUNES/BILL", What Is This?
Sometimes you may need to remove, update and change your payment method. For example, when your financial institution issues a new card for you and you may want to delete the old one and add the new one, start using this new card.
This article explains how you can update or change the payment method you use for Apple ID purchases. This can be done on your iPhone, iPad, iPod touch, or Mac. Once you change or edit your payment method, it will be automatically updated for all Apple services.
Use your iOS device
You can use your iPhone, iPad or iPod touch to update your payment method. Here is how:
On your iOS device, tap Settings.
Tap your name.
Tap iTunes & App Store.
Tap your Apple ID.
Tap View Apple ID. Sign in if asked.
Tap Manage Payments.
You will see your current card. The top card is your default card. Now you can remove, edit your current payment methods or add a new payment method.

To remove a payment method: Tap Edit and the red (-) minus icon.
To update your payment method, tap the payment card you want to edit and update the card info and tap Done.
You can also add a new payment card. Tap Add Payment Method. You can add your cards that are in Wallet. You can also add a new card.
If you want to change your default payment method, reorder your payment methods and make sure that the payment method you want is at the top. To reorder them, tap Edit and drag them up or down.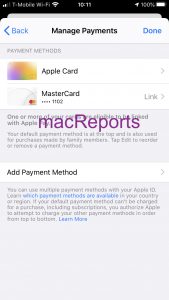 Use your Mac
Here is how you can change or update your payment methods linked to your Apple ID on your Mac:
On your Mac, open the App Store app.
Click your name (bottom of the sidebar).
Click View Information. Sign in if asked.
Click Manage Payments. Now you can here update or remove your current methods or you can add a new payment method.
Troubleshooting
If you are unable to change or edit your payment methods, then try the following methods:
Make sure that your iOS device or Mac has the latest version of its OS. Update to the latest iOS and macOS. Here is how you can update:
You can remove all of your cards. If you are unable to remove all of your payment methods, it is probably:

You have active subscriptions. You can cancel your subscriptions.
You have an unpaid balance.
You are using Family Share. You can view your purchase settings. On your iOS device, tap. Settings > [your name] > Family Sharing > Shared Features > Purchase Sharing. On your Mac, go to System Preferences, then click Family Sharing > Purchase Sharing.

Restart your device.
If still unable to modify your payment methods, it is possible that Apple may be having a temporary problem. You can check Apple System status. Perhaps, App Store or iTunes services are experiencing outages. Do not worry, if this is the case, Apple will fix it quickly. Just wait and then try again.
See also: Please Contact iTunes Support to Complete This Transaction