How Apple Pay Later Works, What You Need, How to Use It
Apple added a new feature to Apple Pay called Apple Pay Later. We will explain what it is, what you need to have in order to use it and how you can get started with it. As we have written before, unlike many other credit cards, Apple Card does not offer cash advances. However, Apple has embraced a similar feature.
What is pay later?
Pay later is a recent trend. It gained a lot of popularity during the pandemic. Pay later is also called buy now pay later (BNPL). It is a short time loan to buy an item, receive it immediately, but pay for it over time, in installments, after an upfront payment. The system usually involves fixed payment plans with no interest. This can be a helpful option for many users who may suffer from some temporary financial difficulty. A number of companies, such as Affirm, Klarna, and PayPal, offer this at participating physical and online retailers.
How Apple Pay Later works
Apple Pay Later enables users to finance purchases up to $1000 by breaking the purchase amount into four equal payments over a six-week period. The first payment is due at the time of the transaction. After that, the rest is due every two weeks. This means that the purchase is paid for over 6 weeks. It can be used for purchases between $50 and $1000. To sum it up, Apple Pay Later is a short-term, interest-free loan offered by Apple Financing to Apple Pay users.
Is this different from Apple Card monthly installments?
They are different:
You can use the Apple Card monthly installments only for select Apple products. Apple Pay Later is not limited to Apple Products.
Apple Card installment plans can range from six months to twenty-four months. This depends on the product.
You pay no interest.
Installment payments are paid with your Apple Card, while Apple Pay Later needs to be paid by a debit card added to Apple Pay in the Wallet app.
What you need to use Apple Pay Later
The following conditions are required to be met:
You need to be at least 18 years old.
You must be a US citizen or lawful resident.
Apple Pay needs to be set up with a debit card. As I stated above, payments must be made with a debit card, not a credit card.
You are required to be using two-factor authentication for your Apple ID, as you probably are already.
You will need an iPhone or iPad with the latest version of iOS or iPadOS.
How to use
First, you will need to set it up. It will be available for all users soon. To set it up, follow these steps:
Set up
Open Wallet on your iPhone. If you are using an iPad, go to Settings > Wallet & Apple Pay.
Tap the add (+) button located at the top-right corner of the screen.
Tap Set up Apple Pay Later. Then follow the onscreen instructions. You will be asked to enter the loan details. When you are done, Agree & Apply.
You will then be asked to review the payment plan. Then tap Add to Wallet.
You have 30 days to use this loan if you are approved.
Use later at checkouts
After you set it up, you can also apply for a loan during checkouts. Here is how:
At checkout, select the Pay Later tab instead of the Pay In Full tab.
Review the payment details, tap Continue and follow the onscreen instructions.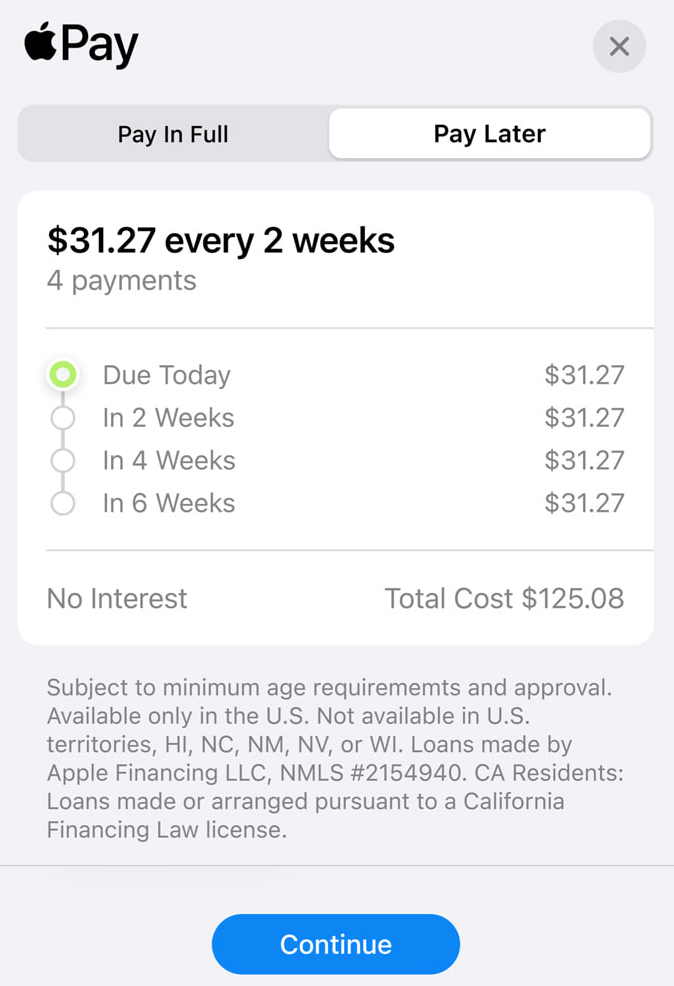 Other important details
Applying for this loan won't impact your credit score, but if you do not pay or if your payment is delayed, your credit score may be affected.
There are no fees involved unless your debit card bank charges some fees.
If your loan does not get approved, you can lower the amount you are asking for and try again. If you are rejected, your credit score will not be affected.
Related Apple Pay articles