iPhone Connected to Bluetooth Speaker but No Music Playing
I run into this problem fairly often; I turn on my Bluetooth speaker, and it tells me it is connected to my iPhone. I press Play in my music app (Pandora, Apple Music, etc.) and either:
No sound comes through my speaker or my iPhone.
My music plays through my iPhone speakers instead.
I'll check my Bluetooth connection, and, according to my iPhone, it is connected to my Bluetooth speaker. Although I regularly encounter this problem, I can usually remedy the issue quickly. In this article, I will explain how you can troubleshoot the problem of sound not playing through your Bluetooth speakers, even though your iPhone is connected to the speaker.
Why your iPhone isn't playing music on Bluetooth
First things to check
Make sure your Bluetooth speaker is powered on (and charged if using battery power).
Check that your iPhone is connected to the speaker.

Open Control Center by swiping down from the upper-right corner of your iPhone screen.
Long press the Bluetooth button until the section opens up.
Check that your speaker's name is under the Bluetooth button.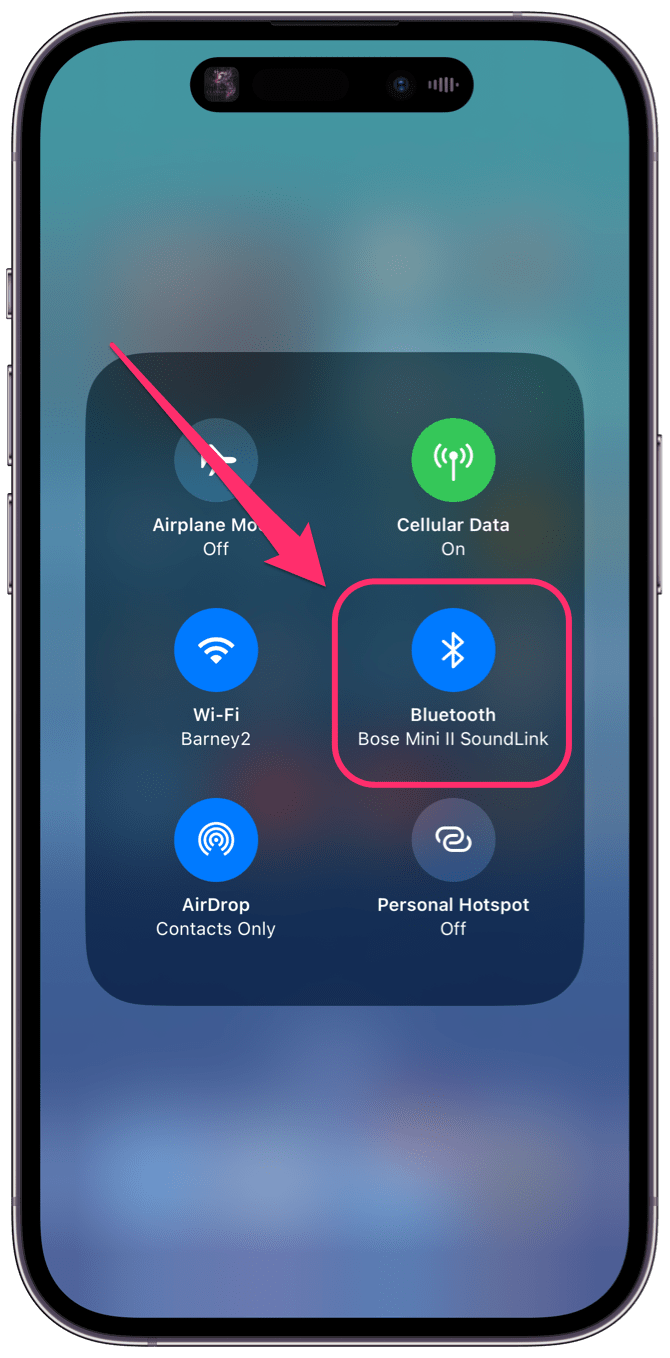 iPhone and Bluetooth speaker volume
Sometimes the problem is this simple. Even if you don't think the volumes should be down too low, especially if you connect your iPhone to multiple Bluetooth audio devices or connect multiple devices to the Bluetooth speaker you are using, the volume levels can become maladjusted.
Check your iPhone's volume by pressing the volume up button on the side of your iPhone until the volume is about half the max volume.
Check your Bluetooth speaker's volume by pressing the volume up button several times or by pressing and holding the volume up button.
Streaming and app issues
Sometimes the problem can come from your streaming service's connection with your iPhone. This connection includes your iPhone's connection to Wi-Fi or cellular. The app you are using may also be the cause.
Try the following:
Pause the song (video, etc.) you are listening to, wait a few seconds, then press play again.
Try a different song, video or channel.
Close the app and reopen or try another app.
Troubleshoot the Bluetooth connection
There are a number of things that can go wrong with the Bluetooth connection. The easiest thing to do is try connecting again.
Power off your Bluetooth speaker, then power it back on.
Open Control Center on your iPhone and press the Bluetooth button to turn it off, then press it again to turn Bluetooth on.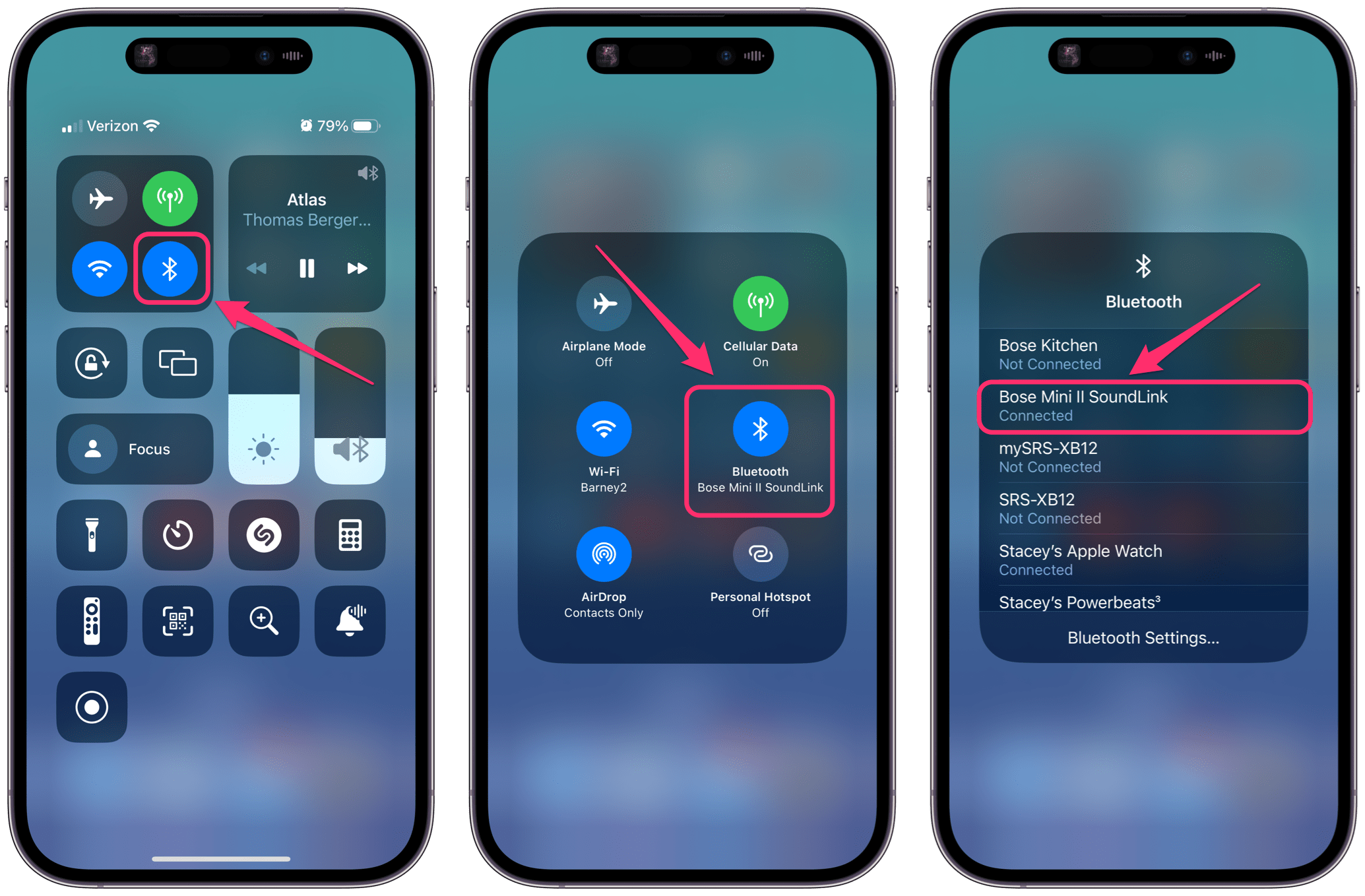 If necessary, find and connect to the correct Bluetooth speaker.

From the Control Center, long press the Bluetooth button to expand the section.
Long press the Bluetooth button to open the Bluetooth connection list.
Check that you are connected to your Bluetooth speaker. If necessary, tap the speaker name to connect.
Check that you are not connected to any other Bluetooth speakers or audio devices.
You should also make sure that no other device is connected to your Bluetooth speaker. This can be one of your other devices that you sometimes connect to the speaker or a housemate or friend's device if you occasionally share the speaker with another person.
Forget the device
If none of the above has helped, you can try forgetting the device and then re-pairing it with your iPhone.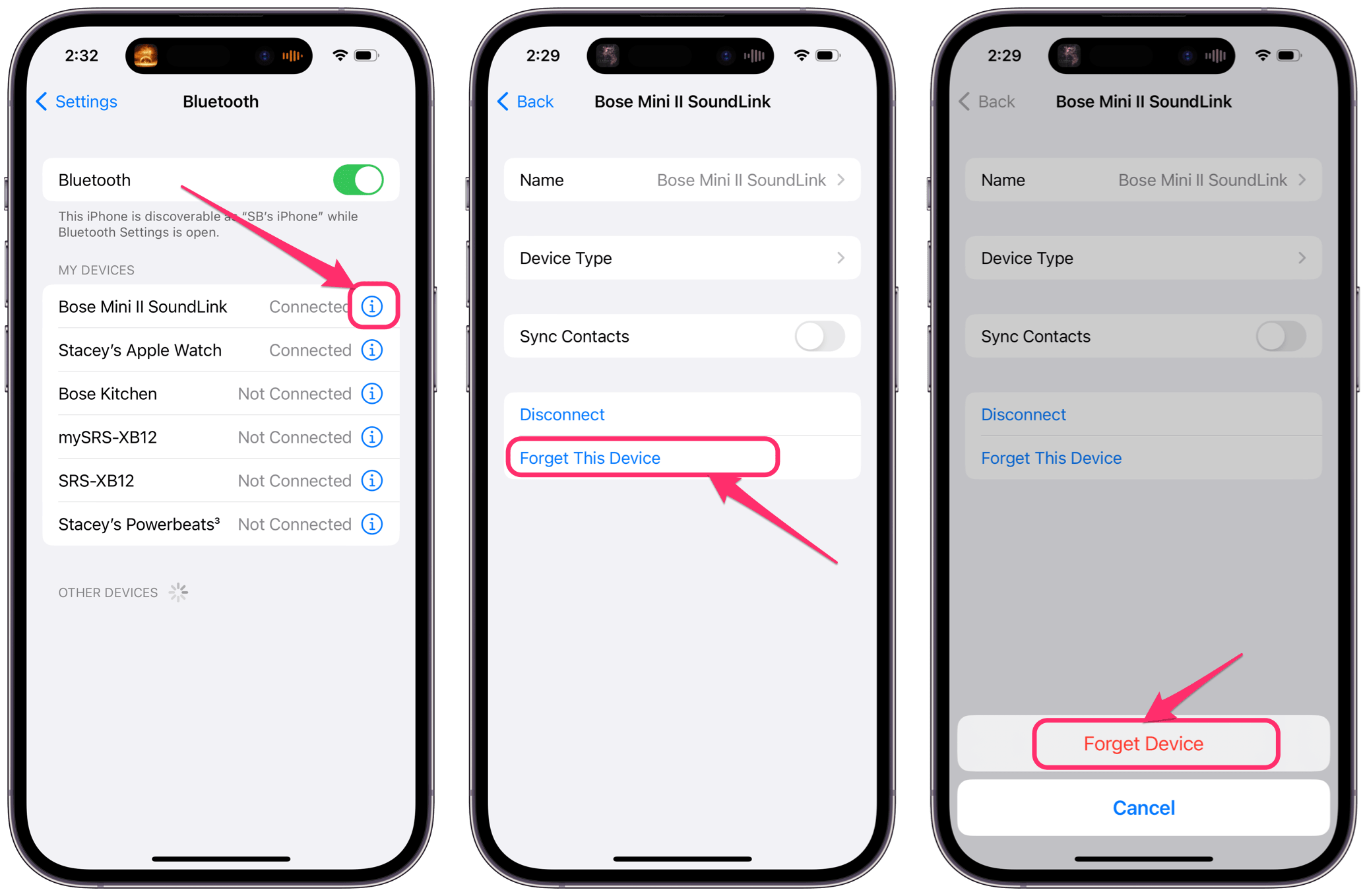 Open the Settings app on your iPhone.
Tap on Bluetooth.
Tap on the info button (i) to the right of your speaker's name.
Tap Forget This Device, then tap Forget Device. Stay on the Settings > Bluetooth screen until you have re-paired the speaker.
Follow the Bluetooth speaker manufacturer's instructions for pairing new devices and put the speaker in pairing mode. Pair your iPhone with the speaker by tapping on the speaker's name when it appears on your iPhone screen.
For more on Bluetooth issues with Apple devices, you can check out some of our other articles on how to troubleshoot problems with Bluetooth connections.
More articles on Bluetooth connection issues