How to Remove Frequently Visited in Safari
In this article, I explain how you can get rid of the frequently visited sites in Safari. I will take you through the required steps to do that on your iPhone, iPad and Mac. The frequently visited website section consists of website icons you visit most often and appears when you click/tap the URL bar or when you open a new tab or window if your Safari settings are set to open new windows or tabs with Start Page. Start Page is a welcome page that lists your favorite websites, frequently visited, shared, privacy report, Siri suggestions, reading list and more.
If you do not want to see the frequently visited section for privacy, esthetic or other reasons, this tutorial shows you how to remove it. I, myself, never open a website by clicking this section.
How to turn off Frequently Visited sites in Safari
On iPhone or iPad
Open Safari.
Open an empty tab where you see the Frequently Visited section.
Scroll all the way down and tap Edit.
You will see a settings page saying "Customize Start Page," where you can turn off and on Start Page elements such as Favorites, Frequently Visited, Shared with You and more.
Turn off the button next to Frequently Visited.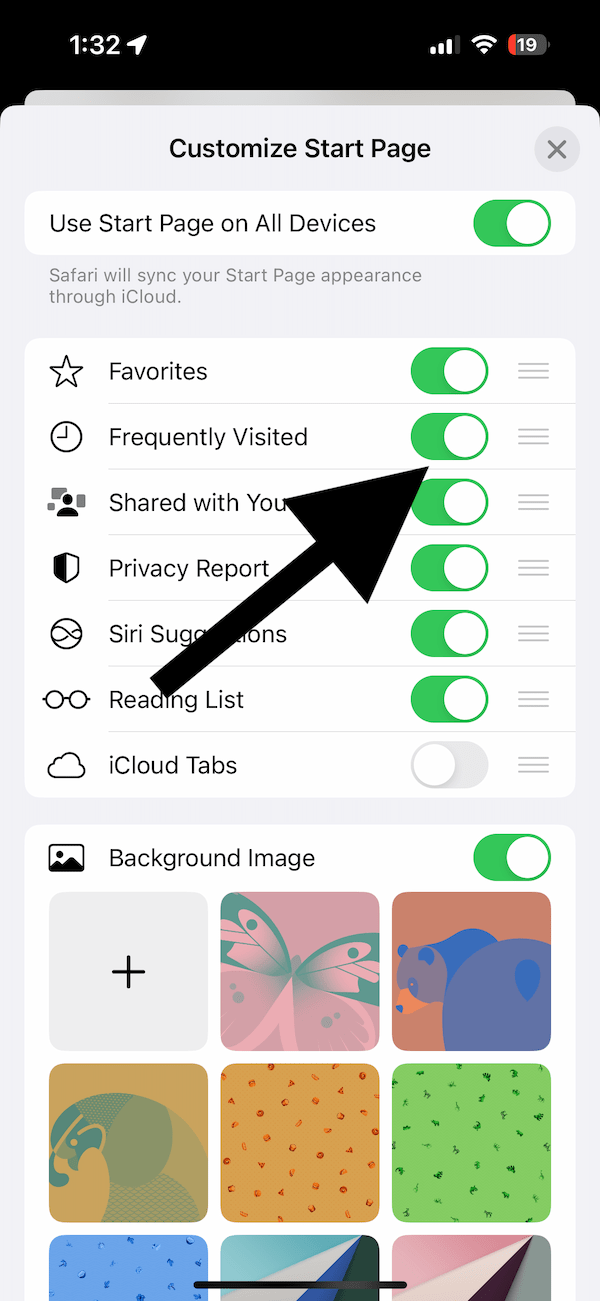 You are done, tap the exit (X) button at the top-right corner.
And you will no longer see the Frequently Visited section.
A note for iCloud users with multiple devices
If you are using multiple devices signed into them with the same Apple ID, your settings will sync across your other devices through iCloud. This occurs if the Use Start Page on All Devices option is enabled on the top of the Customize Start Page setting (see screenshot above). If this is enabled, the Frequently Visited will be gone from your Mac, iPad, etc. You can turn off Use Start Page on All devices, and your settings will not sync. For example, if this is turned off, your setting won't change on your Mac.
On Mac
Open Safari.
Open an empty tab.
At the bottom-right corner, you will see a settings button. Click on it.
You will see the Start Page settings.
Uncheck the box for Frequently Visited.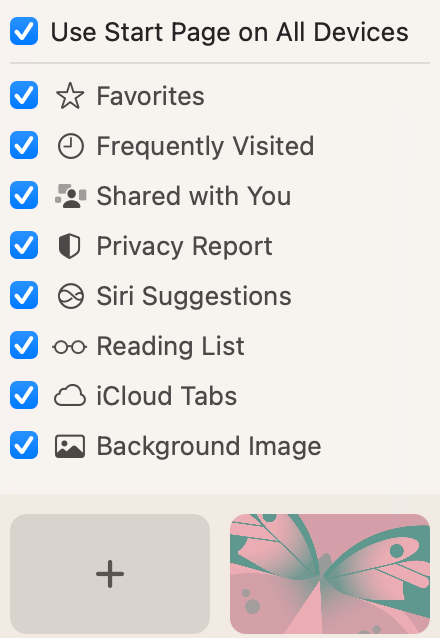 Again if you turn off "Use Start Page on All Devices," your changes won't take effect on your other devices until you change them on those devices.
Related Safari articles