How to Add a Stop along your Route in Maps on iPhone
When you are using Apple Maps for directions, you may need to stop for gas or food while you are traveling. Many people driving on the interstate will just look for exit signs to find a place for lunch, or to fill up the tank. This is less than ideal however for a few reasons, including: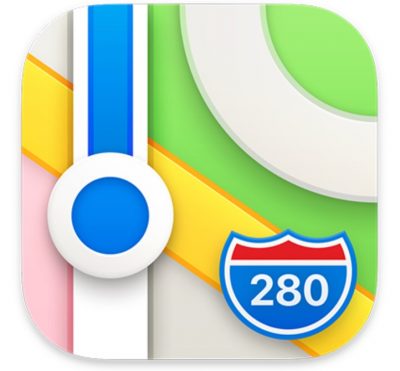 You don't always know how far off the route your chosen stop will be.
You'll be listening to Siri bugging you to get back on the route.
What you can do instead is to have Maps find a stop for you, and add it to your route. Using Maps to find stops will give you exact directions to your desired stop, and tell you how many minutes off your route the stop is; You can also review information about the stop, like the Yelp ratings.
If you are having trouble with your iPhone not showing your correct location, see: Location Services Not Working (iOS, iPadOS), Fix.
How to Find a Place to Stop in Maps
Using Maps on your iPhone, you can find stops along your route. You can either do this right after starting navigation to your main destination, or later while on the road.
Having a passenger available to set up the stop on your iPhone is helpful. I have tried to enlist Siri's help with this process; Siri was able to, for example, find me a restaurant – providing me with a list of Restaurant options – however, when I asked Siri to add it to my route (in progress), I was asked if I wanted to end my (current) route.
On your iPhone:
Any time after you have already started your route, you can tap on the "route card" at the bottom of the screen in Maps.
You will see six different buttons you can select from. Tap on Add a Stop.
Choose one of the six different categories of stops:

Breakfast
Gas Stations
Coffee
Parking
Convenience
Banks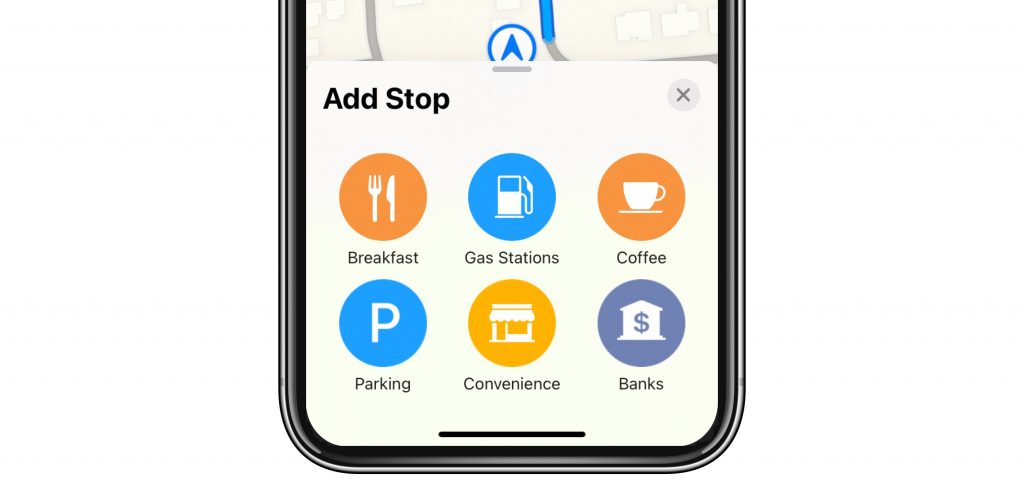 You will see a list of suggested stops – you may need to drag the tab at the bottom of the screen upwards to see the entire list. Scroll through the list to find a stop that suits your needs. There is some information given about each of the stops. For example, if you choose Breakfast you will see:

The restaurant name
How many minutes this stop adds to your route
How many miles away it is from your current location
Restaurant hours
Yelp review rating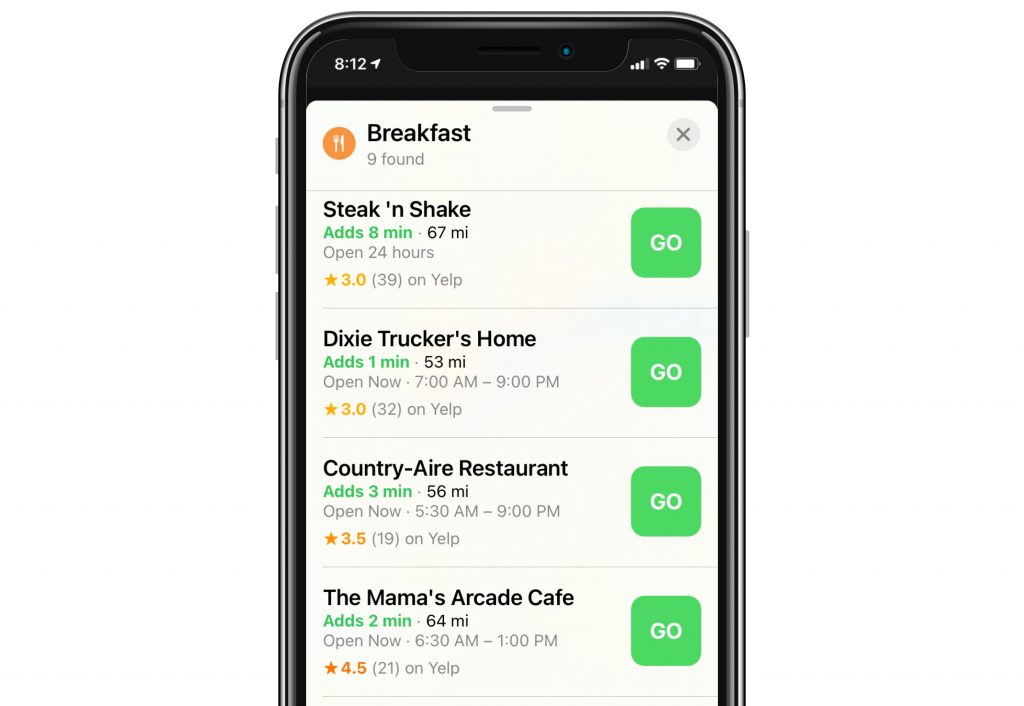 If you tap on the restaurant name in the list of suggested stops, you can either just tap the green GO button, or you can scroll down to review more detailed information about the restaurant, including:

Yelp photos
A convenient Call button if you would like to call the restaurant
The hours, address, phone number and website
Other info, such as whether they: accept Apple Pay, have Parking, are Kid Friendly, accept Reservations, have a Takeout option, etc.
If you choose a stop, but then wish to resume your original route, you can tap on Resume Route in the blue banner at the top of your screen.

Related Articles: