How to Edit a Video to Cut it Shorter in Photos on iPhone
Many people like to share videos that they take with their iPhones. Video files can be large, and for various reasons, you may want or need to trim your video to a shorter length. Fortunately, it is really easy to cut the video shorter and make other edits on your iPhone using just the Photos app.
Cut your video shorter on iPhone
The Photos app on iPhone has several editing options you can use to adjust your photos and videos. One of the things that is pretty simple to do with a video is to cut out part of the beginning or end.
Edit the video length
You may first want to duplicate the video before you cut it shorter. That way, if you make a mistake or are unhappy with the result, you still have the original.
To duplicate a video:
Open the Photos app and tap on the video.
Tap the More button (three dots (…))at the top of the screen.
Select Duplicate. Now a copy of your video will show up in Photos right next to the original.
To shorten or remove part of the video, beginning or end: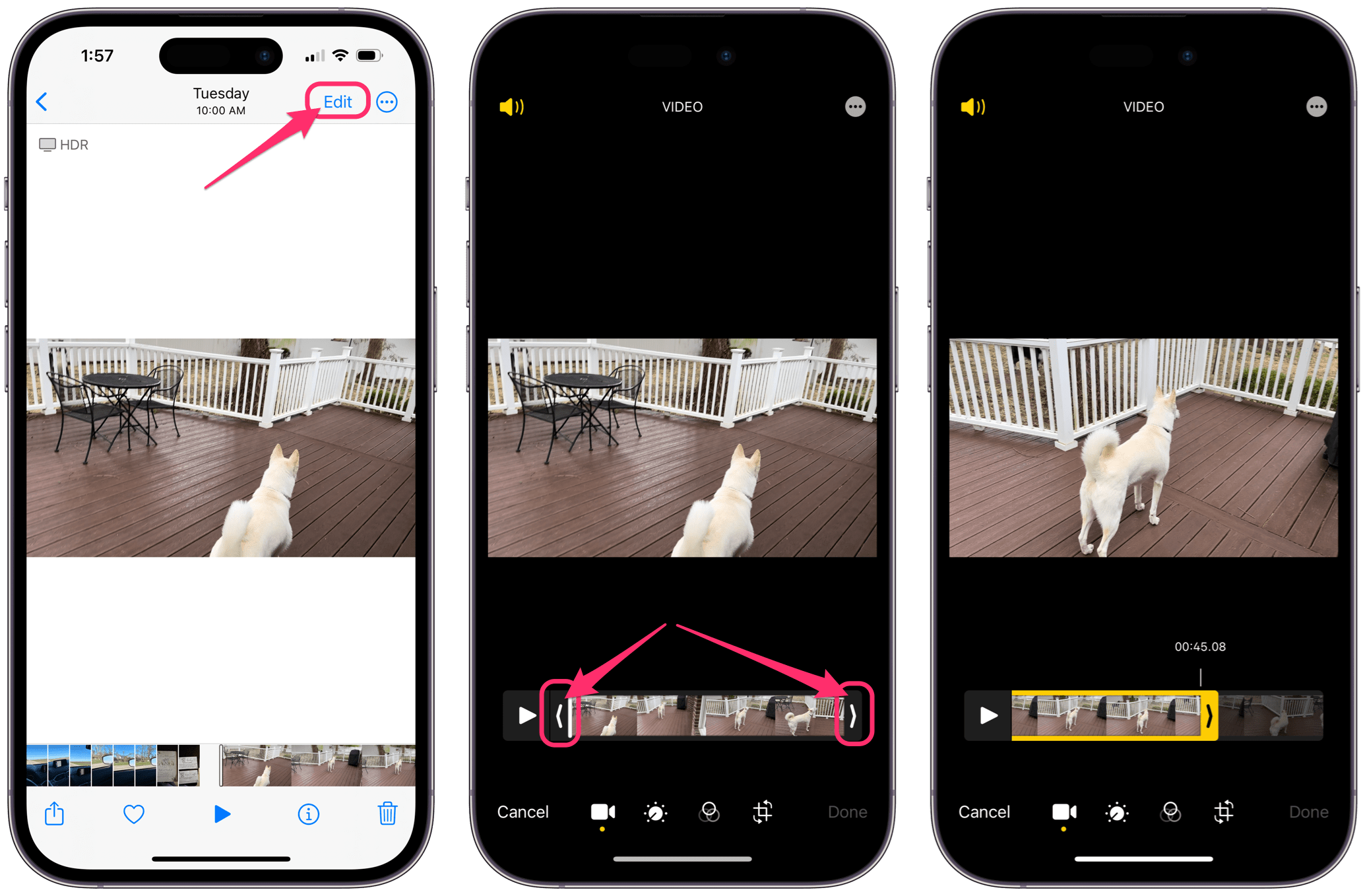 Open the Photos app and tap on your video.
Tap Edit at the top of the screen.
Under the video, you will see a video timeline with stills from the video. At each end of the timeline, you will see an arrow. Press on one of the arrows and slide it.
The arrows will turn yellow, and as you move the arrow, the video will show where you are. This way, you can find the right spot. Drop the arrow when you are satisfied with the placement of the arrows — the (new) beginning and end of the video.
Tap on Done to save the changes you made.
You'll be able to tell your edited video from the original because, in the Photos app, the video length is stamped on the video thumbnail.
Now that you are able to cut your videos to a shorter length, there are many other edits you can make to videos on your iPhone. Check out our related articles for more.
Related photo and video editing articles