How To Find Your Missing Apple Watch
In this article, I explain how you can find your lost Apple Watch. I often misplace my watch and this is how I locate my watch easily.
Losing your watch can be stressful. But do not worry, Apple's built-in tools let you track your device with ease.
If you are an Apple Watch user, there are tools you can use to find your device's location, and all of this can be done remotely. For example, you can pinpoint your would-be lost watch on a map.
You can also remotely play a sound, which is called Play Sound, on your watch to help you find the watch if, let's say, it is stuck in a couch cushion.
When you use the Play Sound feature, your watch will do all of the following to help you quickly locate the device if it is nearby:
Your watch will play a sound.
Your watch will also vibrate.
Your watch will also flash its LED lights. Normally your watch uses LED lights to measure your heart rate. This can be extremely useful if you are, for example, experiencing hearing loss.
There are two ways to do this. You can choose one. We will use the Find My app. Thus, you will need to have already set up Find My with your iPhone that you're using with your Apple Watch. In other words, if you turn on Find My for your paired iPhone, your Apple Watch will automatically be added to Find My.
Turning on Find My is very simple. Simply, on your iPhone, go to Settings > Your Name > Find My. Then enable Find My.
See also: Apple Watch Walkie Talkie Not Working, Fix
Using your iPhone (Find My app)
If you have your paired iPhone with you, you can use your iPhone to locate your watch. Here is how:
1. On your iPhone, open the Apple Watch app.
2. Tap the My Watch tab.
3. At the top of the screen, tap your watch.
4. Tap the (i) info icon next to the watch that you want to find.
5. Tap Find My Apple Watch.
6. This will open the Find My app.
7. You can see your watch on the map. You can also play a sound by tapping Play Sound. After playing a sound, if you find your watch, you can tap Dismiss to stop the sound. And lastly, you can get directions by choosing Directions. This will open the Maps app.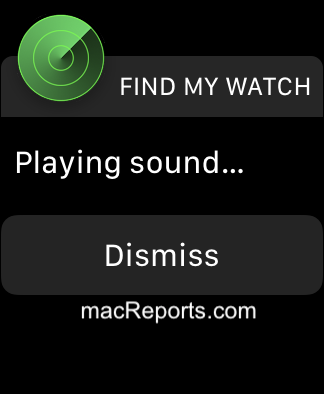 See also: Apple Watch Always On Display Not Working? Fix
Using iCloud.com
You can use the iCloud website to find your watch. Follow the steps below:
1. On your device, open a browser such as Safari and visit iCloud.com.
2. Log-in to iCloud.com with your Apple ID username and password.
3. Click Find iPhone.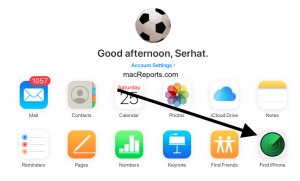 4. At the top of your screen, click All Devices.
5. This will open a drop-down menu that lists all of your devices.
6. Select your watch that you are trying to find.
7. This will locate your watch. You can see it on the map. You can also play a sound.
Other notes
When you play a sound, you will also get an email saying "A sound was played on [name]'s Apple Watch". This ensures that you did this action. If you did not play a sound and still got this email, this may mean that someone has access to your iCloud account. Change your Apple ID password ASAP.
You can use the Find My app to locate your devices.
In this article, we only show what you can do if you misplace your watch. If you are unable to find your device or if you think it was stolen, you can take additional actions. This includes:

You can put your watch into Lost Mode. This will lock your device with a passcode.
You can also erase your watch remotely if you cannot find it.
See also: Apple Watch Is Stuck On The Apple Logo