How to Stop WhatsApp Spam Messages on iPhone or Mac
Been getting a lot of random "Hi" messages lately? This is one of the most common WhatsApp spam messages, but there are many more. Many WhatsApp users complain about spam messages and want to know how they can stop them. Spam messages are usually just a nuisance, but they can certainly cause problems for some people. For example:
You might actually fall for some spam. Even people who know better sometimes fall for these things. Spam and phishing are especially effective if they pretend to be about something you are actually doing or waiting for, like a message from the "IT Dept" when you recently contacted your IT department.
Sometimes there is just too much spam. Spam can set off notifications, interrupting you. It can also clog up your messages or email to the point where you may miss important messages.
You may find yourself spending time evaluating messages to see if they are really spam are not. This is a waste of your time.
In this article, we'll tell you what you can do to try and limit the spam you get in WhatsApp. Can you stop all the WhatsApp spam? I wish. Unfortunately, it is like getting spam phone calls; the spammer doesn't need to know anything about you. Your phone number is just out there for them to try. There is also nothing like Robokiller for WhatsApp and no setting that stops strangers from messaging you.
Why am I getting spam on WhatsApp?
How spammers can contact you
Anyone who has your phone number can contact you on WhatsApp. So if you can get spam calls or texts, you can get WhatsApp spam.
How to stop WhatsApp spam
There are a couple of things you can do to help ease your WhatsApp spam burden. You can block and report a sender. You can also change your Groups setting.
1. How to block and report WhatsApp spam
Block and report spam on iPhone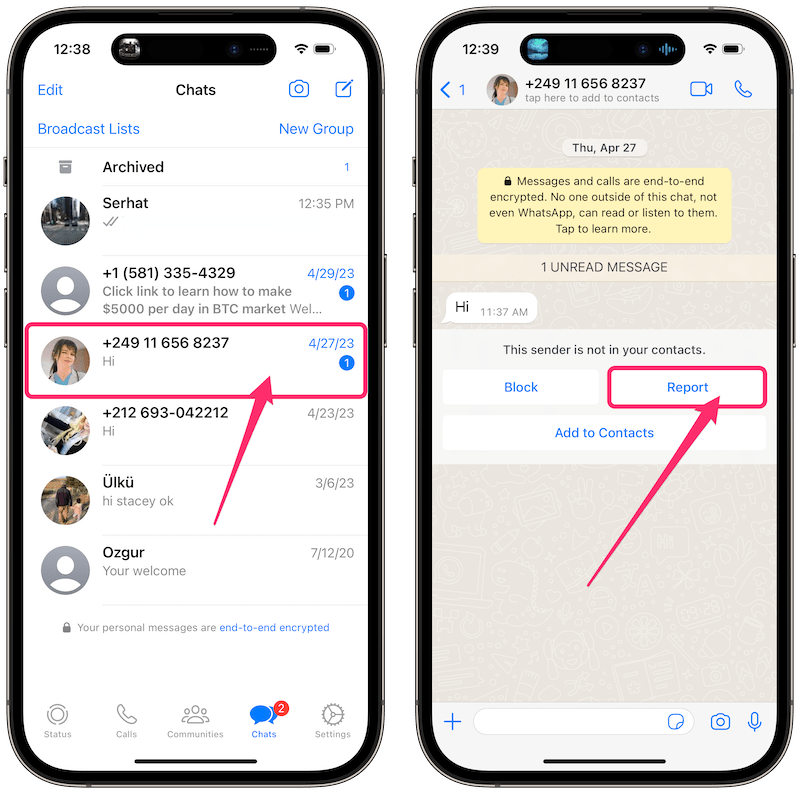 Open WhatsApp on your iPhone, and then open the spam conversation. Don't worry about simply opening the spam message; it is safe to open, just don't tap/click any links.
You can either tap the Report button below the messages in the conversation or tap on the name at the top of the conversation, then scroll down to the bottom and tap on Report [number].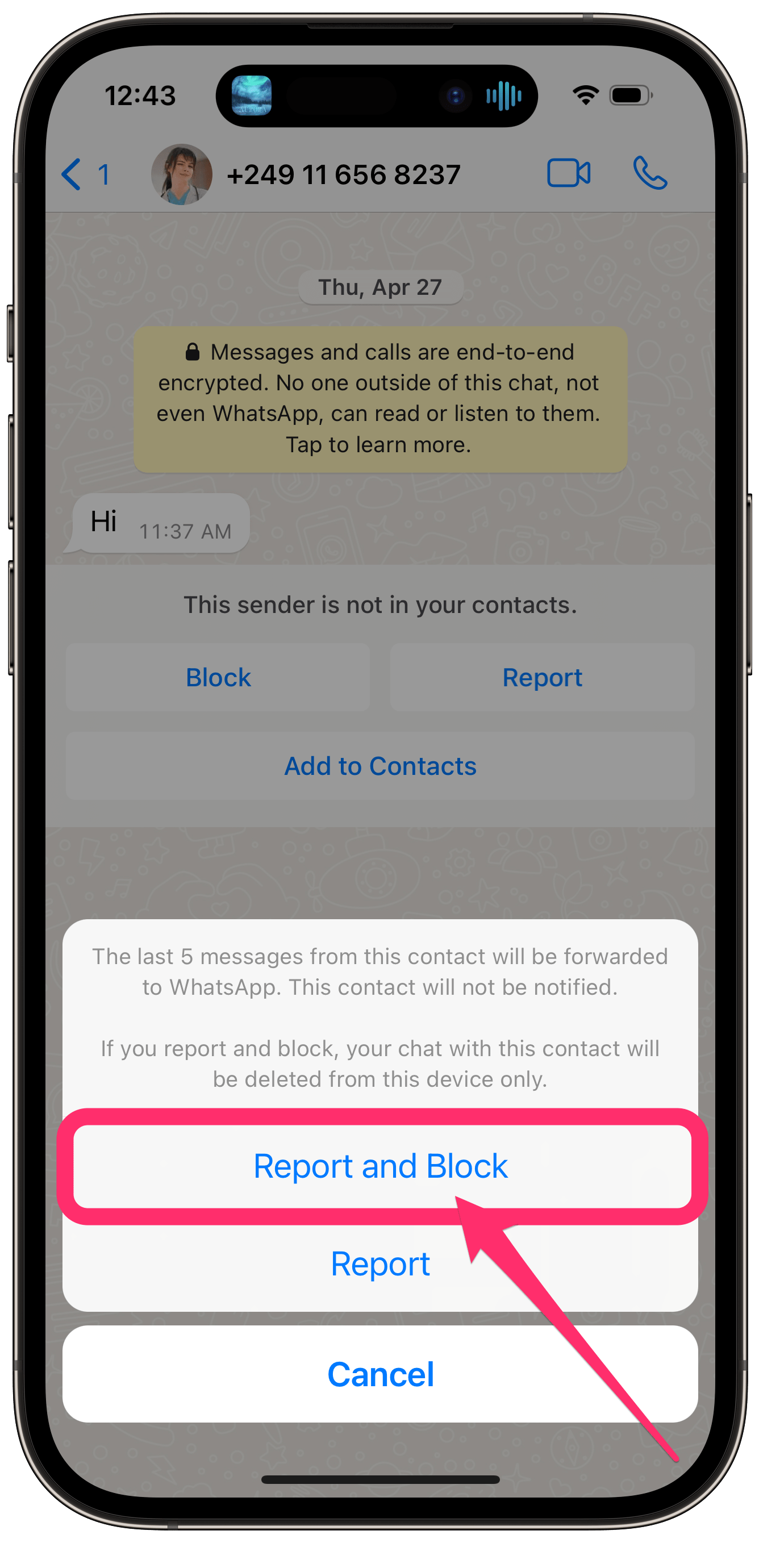 Tap Report and Block to confirm. The conversation will be deleted from your iPhone.
How to delete a spam conversation on iPhone
If you have a conversation that you want to delete from your Chats, swipe left on the conversation, then tap More. Select Delete Chat.
Block and report spam on Mac
Open WhatsApp on your Mac, then click on the spam conversation.
Either click on the Report button or click on the sender number at the top, then scroll down and click on Report [number].
Make sure the "Block Contact" checkbox is checked, then click on Report to confirm and block the contact.
After you report and block the sender, the last 5 messages sent to you from that number will be forwarded to WhatsApp. The sender will not be notified.
2. Change your Groups settings
In WhatsApp, you can choose who is allowed to add you to a group. By default, this setting is set to "Everyone." That means a spammer can add you to a group, along with many other people, then send all of you the same spam message at once. This is convenient for them, so we should change this setting.
On iPhone
Open the WhatsApp app on your iPhone.
From the Chats screen, tap Settings in the lower-right corner.
Tap on Privacy, then on Groups.
Under "Who Can Add Me to Groups," tap on My Contacts to select it. If you have some contact you really don't want adding you to a group, you can choose My Contacts Except… and then exclude them.
On Mac
Open the WhatsApp app on your Mac.
Click on the down-pointing arrow about the chats list, or from the menu bar at the top of your Mac screen, click WhatsApp, then Settings.
Click on Privacy. Scroll down and click on Groups.
Select My contacts (or My contacts except… if you want to exclude someone).
Related WhatsApp articles
Related spam articles