iPhone Hotspot Keeps Disconnecting, Fix
Several users have said that they are unable to use their iPhone as a personal Wi-Fi hotspot because the iPhone keeps disconnecting unexpectedly and sometimes reconnecting itself.
If you have an iPhone, you can share your mobile data by Wi-Fi. You can turn your iPhone into a source for the internet that other nearby Wi-Fi-enabled devices can use as a modem to connect to the internet. If your personal hotspot is having connection issues, then this article is for you. This article explains a number of tips to fix a hotspot that won't stop disconnecting.
It is possible that the problem may be with your iPhone, the other device that needs to connect to your iPhone's Personal Hotspot, or your wireless cellular carrier.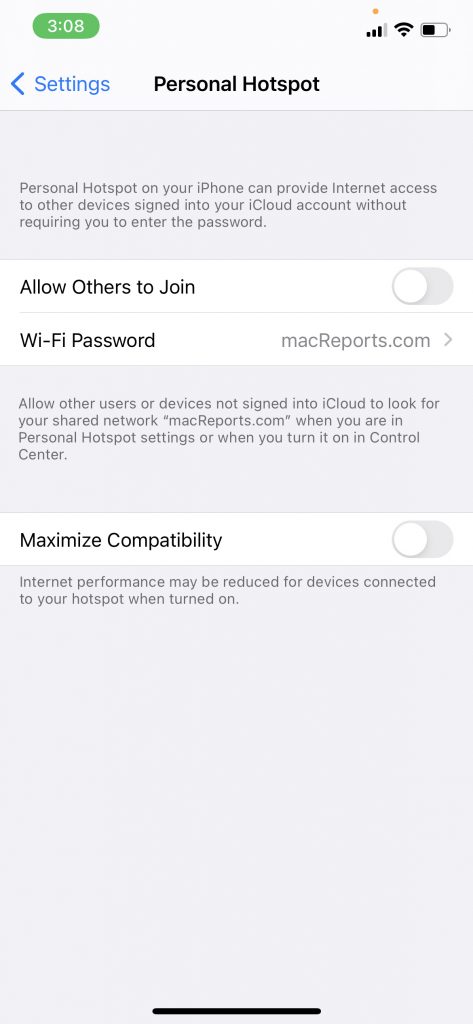 Check these steps first
Using a hotspot (or called tethering) is a carrier service. Most major carriers (AT&T, Verizon, etc) offer this service but it may depend on your service plan and data allowance. Contact your carrier to ensure that it does not impose any restrictions for using a hotspot. For example, some carriers do not support game systems or smart TVs.
If other devices won't connect to your hotspot, it may be because the devices are out of range. Ensure that the other devices and your iOS device are close to each other (within 15 feet).
Check to see if the problem is with the hotspot, your iPhone that provides Personal Hotspot, or the other device(s) that connected to it:

Try connecting a different computer or mobile device to the hotspot. If this device can connect, then the problem is not with the hotspot.
Try connecting it to other Wi-Fi connections, if it cannot connect, then the problem is not the hotspot.
Try visiting another website (e.g., Apple.com or macReports.com). if they can load, then the problem is not the hotspot.

Please ensure that your iPhone has the latest version of the iOS software. You can update (or check for updates) by going to Settings > General > Software Update.
Please ensure that the other device has the latest version of its software/firmware installed. Contact its manufacturer for further help.
Make sure that Personal Hotspot is enabled on your iPhone (Settings > Personal Hotspot). Furthermore, ensure that Allow Others to Join is turned on. And lastly, if you have an iPhone 12 model as the hotspot, ensure that Maximize Compatibility is enabled (Settings > Personal Hotspot).
Restart your iPhone and the other device(s) that keeps disconnecting to your Personal Hotspot.
Turn off Wi-Fi and wait 30 seconds and turn on Wi-Fi on the other device that is trying to connect to your iPhone.
Update your carrier settings
Update your carrier settings on your iPhone. This update may fix your hotspot problem. Here is how:
On your iPhone, tap Settings, then General, and then About.
if a new update is available, you'll see an option (a popup will appear). Then follow the onscreen instructions.
Reset network settings
Reset network settings on your iPhone. Please note that this will erase Wi-Fi networks and passwords, cellular settings, and VPN, proxy and APN settings that you have used before. If your settings are misconfigured, that may cause this problem. Resetting may fix it. You can do that by going to Settings > General > Reset > Reset Network Settings. You will be asked to enter your passcode. And then your iPhone will restart.
Still, need help?
If the hotspot still keeps disconnecting, you may want to:
Contact your carrier.
Contact the manufacturer of the other device.
See also: