How to use Remind Me Later for Mail on iPhone
iOS 16 has some cool new features for Mail. In iOS 16, you can unsend emails, schedule an email to be sent later and set reminders for an email. Setting a reminder for an email is a great way to make sure you get back to that email. It is pretty common for people to see an email show up in their inbox, and maybe even read it, and yet not want to actually respond to it right away; this may be especially true when you first see the email on a mobile device like your iPhone. When you don't send a response immediately, you'll have to remember to get back to it. Now you can set a reminder for yourself right from the Mail app, so you won't have to write yourself a reminder note or leave it up to your memory.
How to set a reminder for an email
Before you start, you must be running iOS 16 or later on your iPhone. You can update by going to Settings > General > Software Update. You can set a reminder from either the email preview (without opening the email) or from the opened email.
Set a reminder from the mailbox previews screen
With the Mail app open on your iPhone, have the email you want a reminder for on the screen in the list of previews for that mailbox; in other words, don't open the email.
Swipe right (left to right) on the email. Swipe just enough to open the options to the left of the email preview.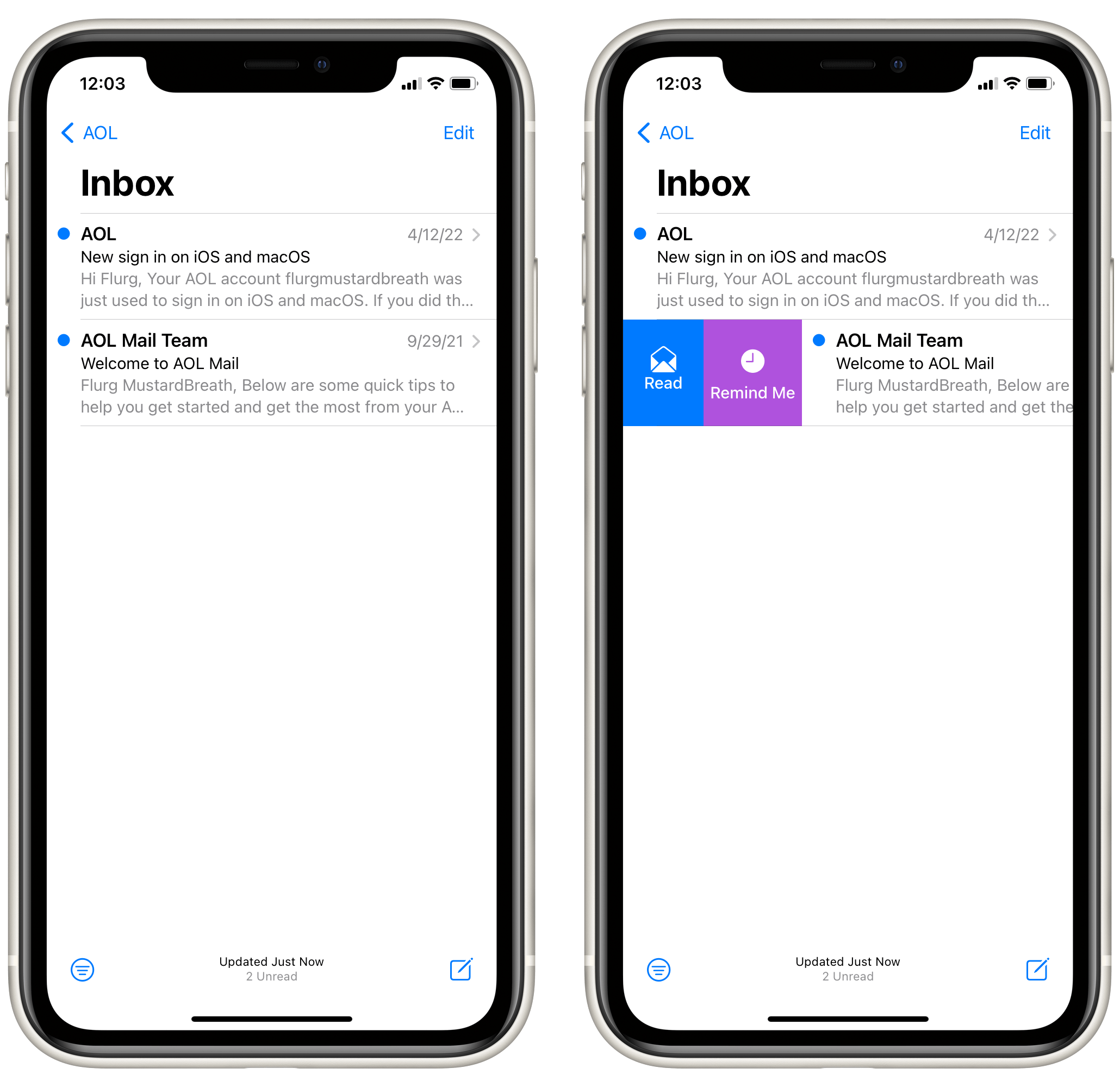 Tap on Remind Me.
Choose one of the Remind Me options. Choose Remind Me Later if you want to set a date and time.
Choose a calendar date, then tap on the toggle switch next to Time to choose a time.
Tap on Done in the upper-right corner of the screen.
You will see a small clock image in the far right part of the email preview to indicate you have set a reminder. And if you swipe right again, you will see the Remind Me has a little checkmark on it. Also, when you open the email, you will see a message about the reminder near the top of the email.
Set a reminder with the email open
You can also set a reminder with the email open.
With the email open, tap on the Reply button.
Choose Remind Me from the list.
Follow the instructions above for setting a reminder, starting with step 4.
Other things to note:
You can remove the reminder. Just follow the same steps, but tap on Remove Reminder underneath the Date and Time settings.
You can set a reminder no matter if you have read the email or not. Also, reading the email after setting the reminder does not change the reminder.
Related articles