iMessage Frequently Asked Questions
The purpose of this article is to provide answers to frequently asked questions about iMessage.
It seems that a lot of Apple users have various questions about the iMessage service. Thus, we decided to compile a list of common questions and answers. You will find this article very helpful if you are unfamiliar with iMessage.
iMessage FAQs
What is iMessage?
iMessage is Apple's own built-in messaging service. iMessage is a free service, however, sending or receiving iMessages uses wireless data. With iMessage, you can easily send texts, photos, or videos, all from the Messages app. They only work on Apple's devices, namely the iPhone, iPad, and Mac. This means that you can send iMessages to other iOS and macOS users. iMessage requires an Internet connection to function: a Wi-Fi network connection or a cellular-data connection.
Apple introduced iMessage in 2011 and then it was included in iOS 5 and OS X Mountain Lion.
How can I use iMessage?
On your iOS device, enable iMessage by going to Settings > Messages > iMessage.
On your Mac, open the Messages app (you can find it in the Dock or in the Applications folder) and sign in with your Apple ID and password.
If you have more than one Apple device, you may want to use the same Apple ID.
See also: How To Create and Manage Group Messages on your iPhone or iPad
You may also want to enable Messages in iCloud to ensure that your messages are in sync between your devices.
On your iPhone, go to Settings > your name > iCloud and turn on Messages.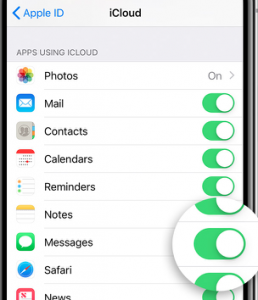 On your Mac, open Messages and click Messages and Preferences. Then click iMessage and select the Enable Messages in iCloud box.
See also: Messages: "Number Changed to Primary" Notification, Fix
What are the basic differences between iMessages and regular text messages (SMS)?
There are some basic differences. Here are some of them:
Unlike the text messages, iMessages offer a lot of extra features, for example:

you can share your location
you can know when your message is delivered and then read
you can include message effects: bubble effects, camera effects, full-screen effects, and handwritten effects (see also: iMessage effects not working?)
Messages will have timestamps
you can see when your recipient is typing in real-time (read receipts not working?)
you can have no character limits (SMS messages are limited to 160 characters)

One really good thing about iMessage is that iMessages are always encrypted while text messages are not.
iMessages appear in blue bubbles while text messages appear in green bubbles. This is Apple's way of letting you know that you're sending an SMS text message (green) or an iMessage (blue).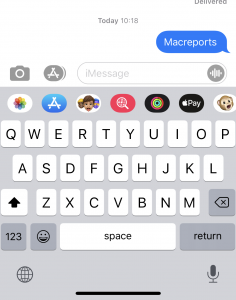 See also: Message Alerts Not Working? Fix
Does iMessage use my data plan?
Yes, it is possible. By default, iMessages will be sent over Wi-Fi. If your device is not connected to a Wi-Fi network, that means that iMessages will be sent over cellular data. This further means that cellular rates may apply. Text messages don't count against your data plan. However, depending on your cellular carrier (e.g., Verizon, AT&T etc) a charge of per-message may apply to messages sent and received. But these charges are usually minimal unless you are sending too many messages. Some data plans have unlimited messaging for no additional charge.
Multimedia messages (photos, audios, and videos) may use data. If you are just sending texts, they are really tiny, but if you are sending photos, videos in text messages, they may consume much more data.
It is important to estimate your data use. You can do that with your iPhone. iPhone can le you know how much cellular data iMessage uses. Here is how:
On your iPhone, tap Settings
Tap Cellular
Find the Cellular Data section
And find the System Services option
Tap System Services
Find Messaging Services.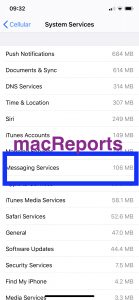 As you can see, in this example, Messaging Services" (iMessage) has used 106MB from the last time these statistics are reset. You can reset this by going to Settings > Cellular and scroll down and tap Reset Statistics.
Do you see a popup message saying "Your carrier may charge for SMS messages used to activate iMessage"? then read this article.
Does iMessage work internationally?
Yes. iMessage works anywhere in the world as long as you have an Internet connection. In fact, it can be said that iMessage can be the best option to use when traveling overseas, especially if you want to avoid roaming charges. You to send unlimited texts over Wi-Fi and a lot of places now offer free Wi-Fi: airports, cafes, busses, etc. Furthermore, international roaming text messaging rates may be high.
This means that you can send and receive messages without the need for an international data plan, which could be difficult (even impossible) and/or expensive to get.
Does iMessage work without Wi-Fi?
Yes. As stated above, if you do not have a Wi-Fi connection, messages will be sent over your cellular network.
Can iMessage work on Android devices?
No. Android devices (e.g, Galaxy, Pixel etc) can't use iMessage. This means that Android users cannot enjoy the cool features of iMessage. If you send a message to someone with an Android device, the message will be delivered as an SMS/text message. Effects and emojis, thus, may not work.
Can iMessage work in Airplane Mode?
Yes. You can send and receive iMessages when you're connected to in-flight Wi-Fi, even if Airplane Mode is enabled. Here is how:
Tap Settings  and turn on Airplane Mode
Turning on Airplane Mode will disable Wi-Fi
Go ahead and enable Wi-Fi by going to Settings > Wi-Fi
Connect your device to a Wi-Fi network (e.g., in-flight Wi-Fi)
Open the Messages app and send a message
You may get a warning message saying something like "turn off Airplane Mode", if you get this message, tap OK.
Now you can send messages to friends and family or you can receive messages from them.
See also: