Does Your iPhone Vibrate for No Reason? Find Out Why
It may seem that your iPhone is vibrating randomly for no reason. This buzzing is an annoying problem. Sometimes this may even occur when vibration is disabled. Your iPhone may exhibit vibrations under some conditions, even when there is no apparent reason. However, most of the time, it is probably that your iPhone is set to vibrate because it is trying to tell you something, although you may not know what. This is normal for many users because you may have forgotten some of your settings, or some of your customizations may have been buried under other Settings details.
You will probably want to get to the root of the issue because this is not only annoying but also causes additional battery use resulting in faster battery drain. In this article, I will show you various iPhone settings or conditions that may cause your iPhone to vibrate.
iPhone vibrations explained
There are basically three types of notifications that your iPhone uses to make you aware of something:
Sound, like your iPhone's ringer volume alert when you get a call.
Visual, like Lock Screen or Banner notifications.
Vibrations, like the shaking action when you receive a message.
Your iPhone will vibrate when you get a call, text, voicemail, email, reminder, calendar alert, or other type of notification if you set it to do so.
There is also a vibration type called Haptics. Haptics are short vibrations you feel when you do certain taps. Not all iPhone models have Haptics. For example, you will feel it when you change a setting switch (on or off) in Settings.
You can also create custom vibrations if you want by going to Settings > Sounds & Haptics or Settings > Sounds.
Did you drop your iPhone in water?
Your iPhone may vibrate or make a buzzing sound if it is wet. If your iPhone made contact with water, you should follow the appropriate steps when you drop your device into water. You should also know that the water may damage your phone. The warranty that came with your iPhone does not cover water damage; however, AppleCare+ covers accidental liquid damage.
Is your iPhone vibrating when it is plugged in?
Is your iPhone vibrating for no reason only when it is connected to a power source? This may occur if your charging port or cable is defective. If your power source keeps disconnecting and then reconnecting, it will create vibrations. Check your cable for visible damage signs. Use a different cable if you have one. If you still have this issue, move to the last section of the article to see the possible Apple support options, as you may have a hardware problem.
Check your vibration settings
Your phone is vibrating because one of the following options is set to trigger a vibration.
Go to Settings > Sounds & Haptics and find the Sounds and Haptic Patterns. Then check each of these options individually:
Ringtone
Text Tone
New Voicemail
New Mail
Sent Mail
Calendar Alerts
Reminder Alerts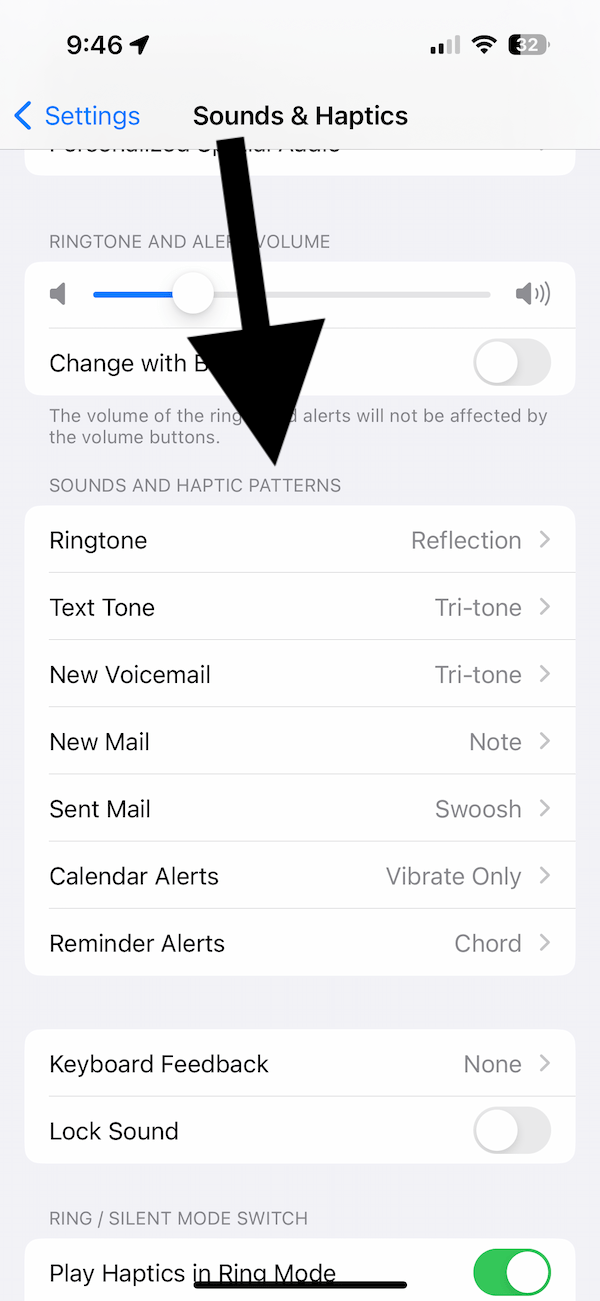 Tap each option individually and then tap Vibration.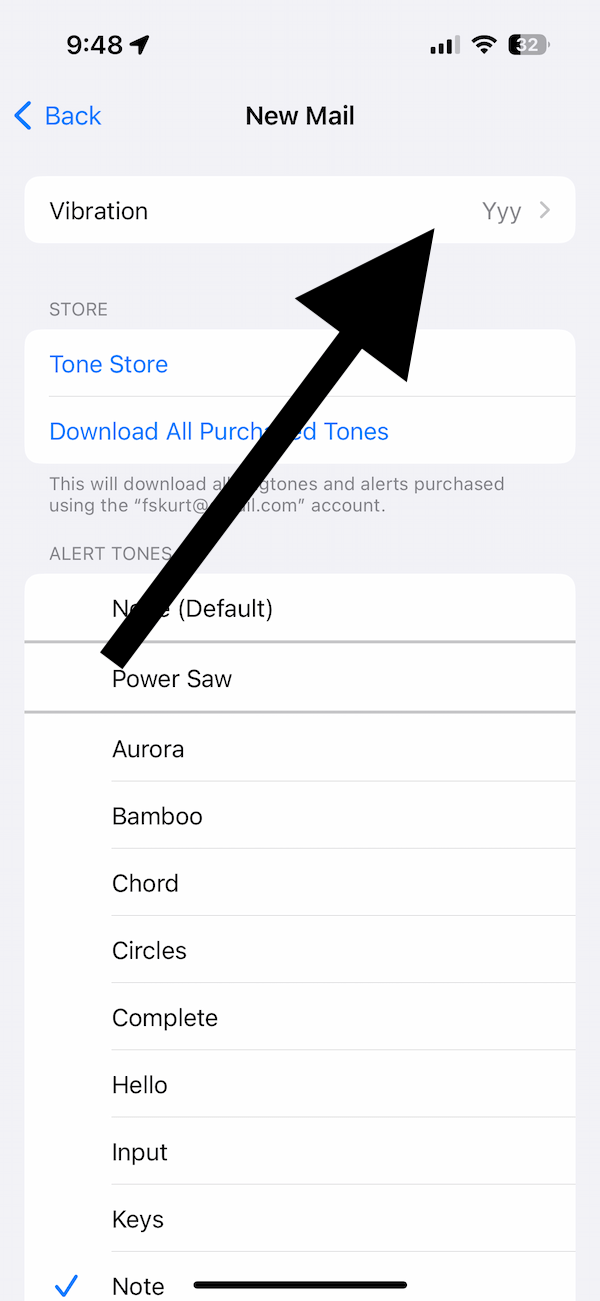 If you do not want vibrations, select None.
You can customize each item individually.
Do you want no vibrations at all on your iPhone?
Vibrations can be helpful. However, you can turn off all vibrations on your iPhone. This includes Haptics as well. This also includes vibrations for emergency alerts. This setting will override all of your other vibration settings. When you do this, you will not feel any vibrations at all. Follow these steps:
Tap Settings.
Tap Accessibility.
Tap Touch.
And turn off Vibration.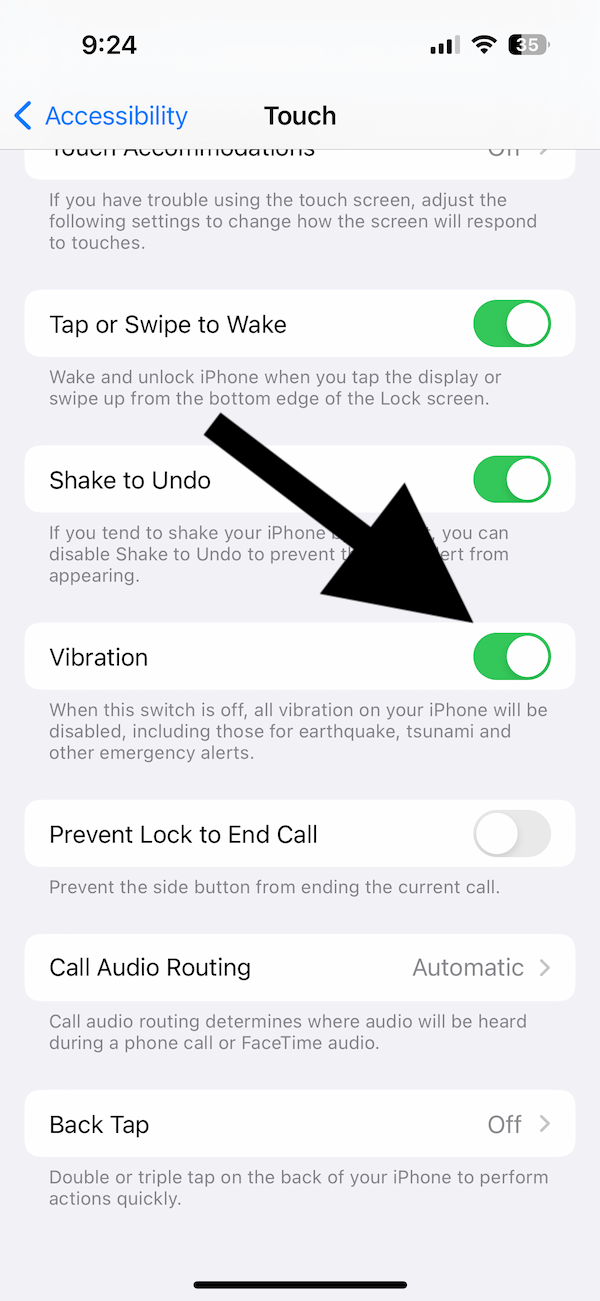 Another option may be to keep vibrations but turn Haptics off. If you only want to turn off Haptics, go to Settings > Sounds & Haptics. Scroll all the way down and turn off System Haptics.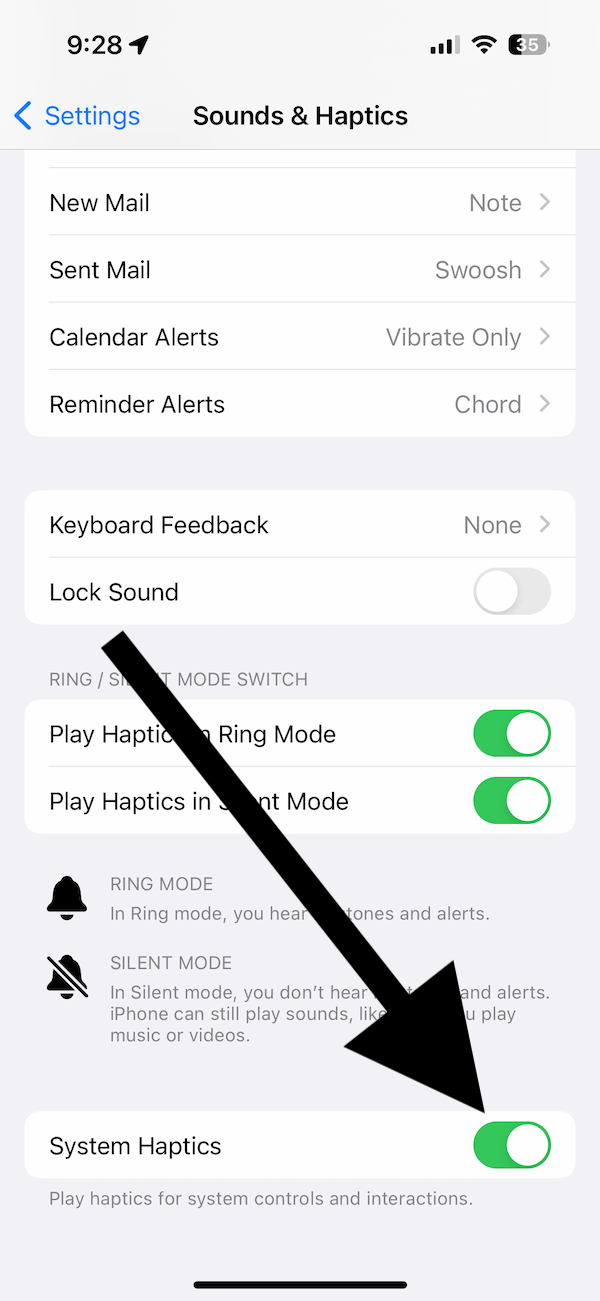 Does your iPhone still vibrate?
After checking all settings and ensuring that your iPhone has no reason to vibrate, do you notice that vibrations continue? This indicates some sort of software or hardware problem. Here is what you can do:
Ensure that your iPhone is up to date (Settings > General > Software Update).
Restart your iPhone.
Force restart your iPhone:

Press and release the volume up button.
Press and release the volume down button.
Press and hold the Side button until the Apple logo appears. Ignore the power-off slider. Keep pushing the Side button until you see the Apple logo.
If the issue continues, you should contact Apple. If you have a hardware issue, you can reserve a Genius Bar appointment to get your device serviced. You can chat with an Apple support technician to find out what options you may have.
Related articles