Apple Watch Temperature Tracking is not Working
Apple Watch Series 8 (and newer) and Apple Watch Ultra introduced a new health feature designed to track your nightly wrist temperature data. The watch has two built-in sensors that can read the temperature of your skin every five seconds to collect data on your sleeping patterns. Apple uses an advanced algorithm to make sense of this data. Then these data can be used to improve your health. This was, in fact, one of the major features that the new Apple Watch models introduced.
Some users have said that they could not get this feature to work. More specifically, users see a No Data or Needs More Data message when they go to Browse > Body Measurements > Wrist Temperature in the Health app on iPhone. Sometimes, you may notice that your watch starts logging your temperature but then it may stop working. It appears that the Apple Watch is not collecting any temperature data. There could be several reasons why this may occur. This article offers steps to help you fix this issue.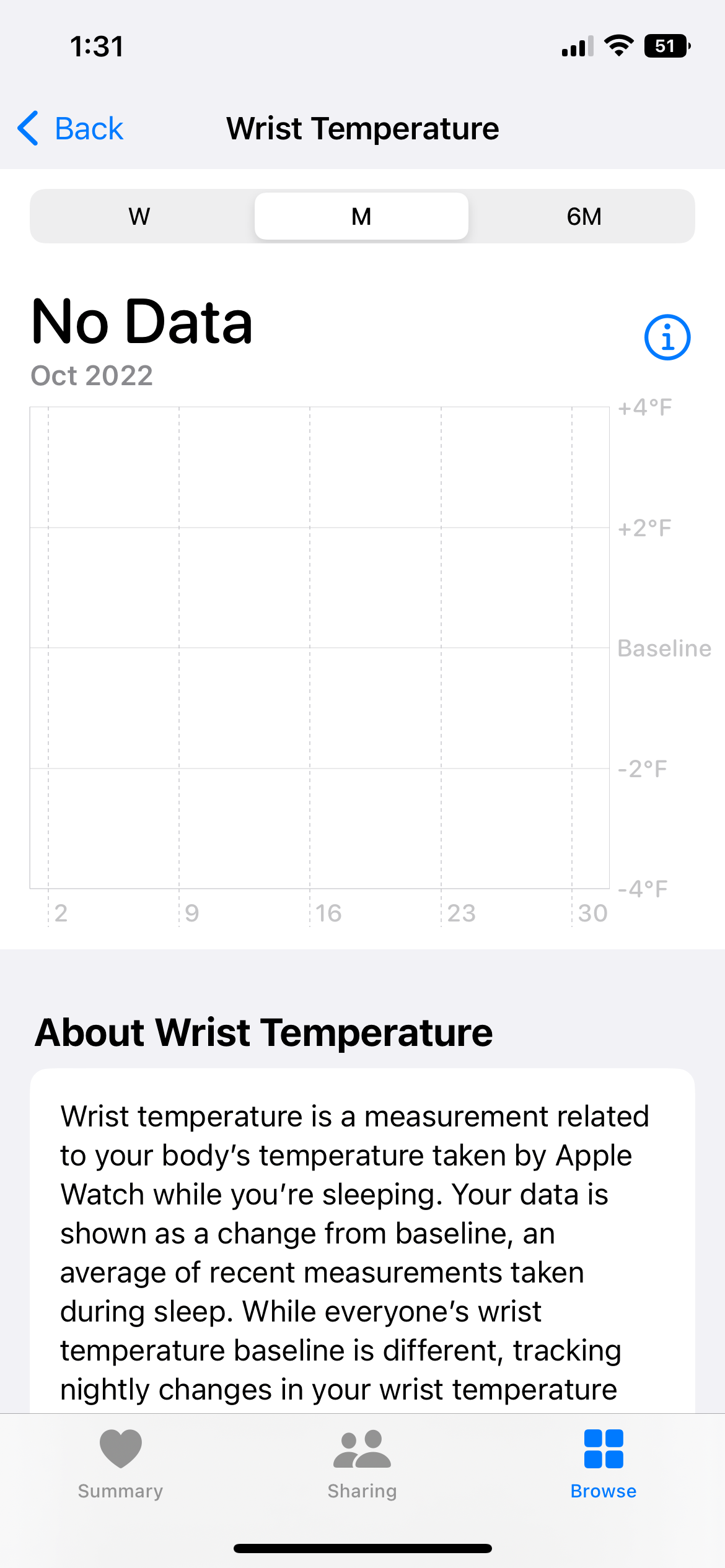 Ensure that your wrist temperature settings are correct
Did you enable wrist detection? You will see this No Data message if it is not turned on. On your iPhone, open the Watch app, then tap Passcode > Wrist Detection.
Did you set up Sleep? If so, did you enable Track Sleep with Apple Watch? You can check these by going to the Health app on your iPhone. Then go to Browse > Sleep > Set Up Sleep.
Did you enable Sleep Focus? This setting is available in Settings > Focus. And further, are you using Sleep Focus for at least 4 hours in a row at night for about five nights?
Ensure that you turn on Schedule by going to Settings > Focus > Sleep > Schedule – Next Schedule and make sure you have a Next Schedule and also a Full Schedule set up.
Ensure that your watch's Focus setting mirrors your iPhone. On your iPhone, open the Watch app and go to My Watch > General >Focus > and enable Mirror my iPhone.
When you are sleeping, ensure that your watch does not run out of battery charge.
Ensure that your watch can read the temperature and it is touching your skin. Ensure that you do not wear your watch too loose and your Apple Watch is snug.
If you have a case, remove it and try again.
Ensure that your watch and iPhone are using the latest version of watchOS and iOS.
Disable wrist temperature tracking and then re-enable
On your iPhone, open the Watch app.
Tap Privacy.
Turn off Wrist Temperature.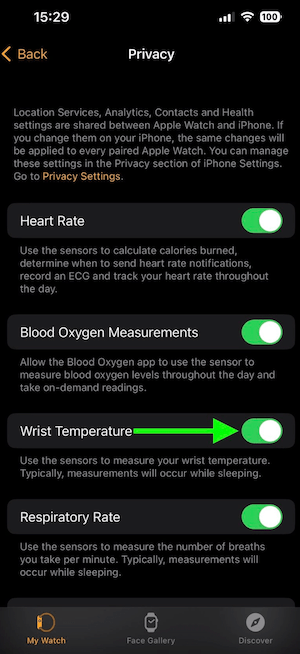 Now, restart your Apple Watch and iPhone. Then turn back on Wrist Temperature.
Reset your Apple Watch
This will unpair your watch and erase everything. This will also initiate a backup of your watch. Follow the steps below:
Bring your iPhone and Apple Watch close to each other.
Delete your sleep schedule from your iPhone.
On your iPhone, open the Watch app.
Tap My Watch and All Watches.
Tap the (i) info button next to your watch.
Tap Unpair Apple Watch.
If your watch is cellular, you will be asked if you want to keep your cellular plan. You will want to keep it because we will pair your watch again.
Follow the onscreen instructions.
After the unpairing is done, pair them again. When you pair, select to restore from a backup. After you are done, test your wrist temperature tracking. Does it work now? If it is still not working, unpair your watch again by following the steps above and re-pair again. But this time, do not use your backup; set it up as new.
Also, note that you can unpair directly from your Apple Watch without your iPhone by going to Settings > General > Reset > Erase All Content and Settings.
Related articles