How to Turn Off Passcode on iPhone or iPad
Most people are just fine with using a Lock Screen passcode on their iPhone or iPad. Most of those people have chosen a passcode that is really easy for them to remember. Although the standard iPhone and iPad passcodes are just six digits, and you can choose something like 000000 for your code, there are still situations when it makes sense just to turn it off.
Maybe a child or elderly adult is having trouble with the code, or maybe you just hate the extra step. No matter the reason, you can easily turn off the Lock Screen passcode on iPhone or iPad. As an alternative, you can also change the passcode to a 4-digit code if that would work better for you.
If you have forgotten your iPhone or iPad passcode and are looking for help unlocking your device, see:
What happens when you turn off the passcode?
You might wonder if there is a downside to having the passcode turned off on your iPhone or iPad.
Here are the things that having a passcode enabled on your device does:
It is difficult for others to open your device and access your data (or steal money via cash apps, etc.).
You need to have a passcode set to use Face ID or Touch ID.
Data protection is turned on. Your iPhone data is encrypted with 256-bit AES encryption.
And if you turn off the passcode on your device:
Your Apple Pay cards will be removed.
Your Apple Watch will not automatically unlock (Apple Watch can unlock automatically when your iPhone is unlocked).
You won't be able to reset your Apple ID password using your passcode.
So if you don't use Apple Pay and you feel like you physically keep your device safe from thieves, removing the passcode may be ok for you. If you often go out or leave your device unattended around people you don't know, you may want to keep using a passcode.
How to turn off the passcode on iPhone or iPad
Open Settings, then select either Touch ID & Passcode or Face ID & Passcode.
Enter your current passcode.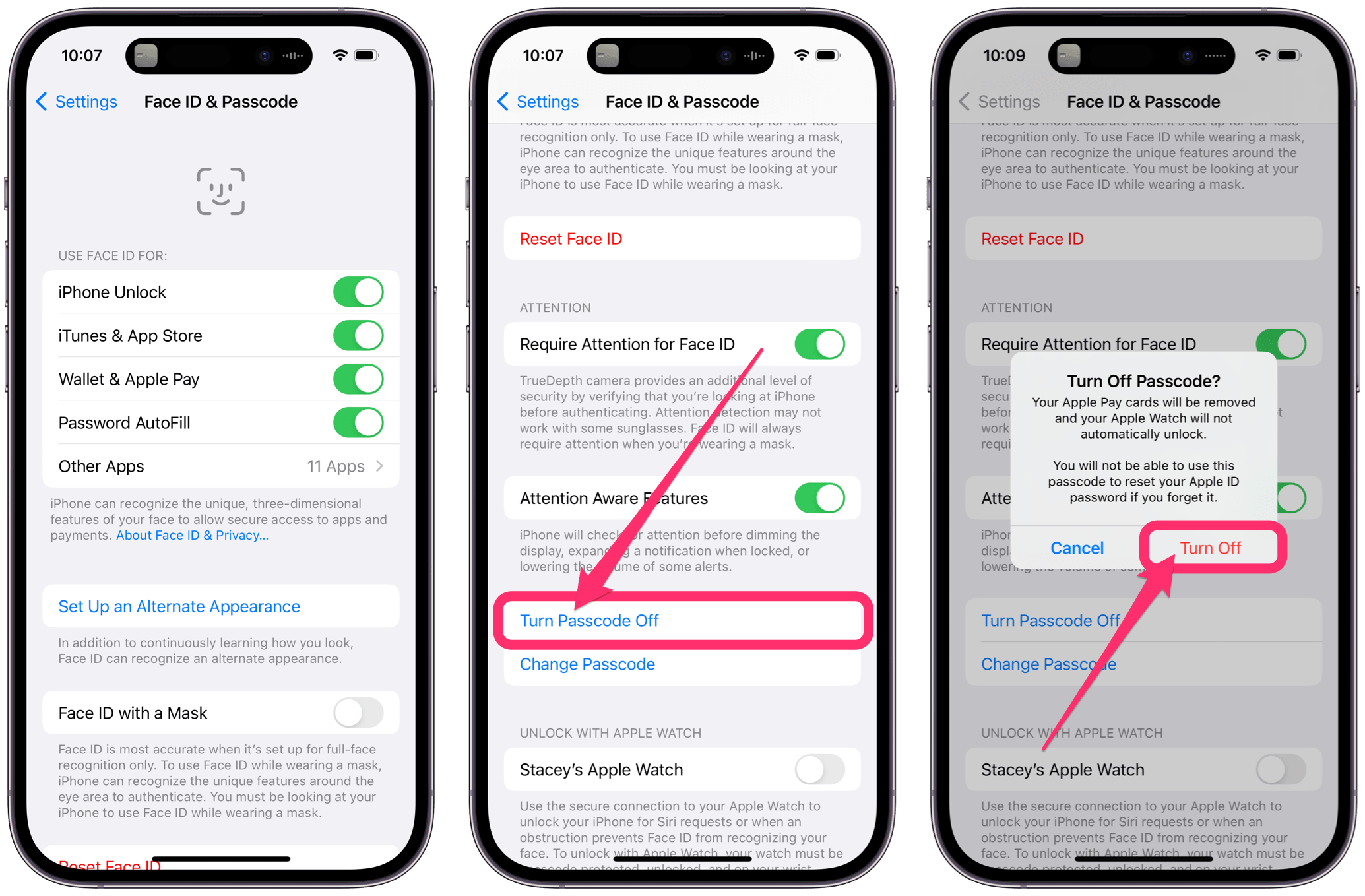 Scroll down and tap on Turn Passcode Off.
Tap Turn Off to confirm.
If you'd rather have a 4-digit passcode
There is an option to use different kinds of passcodes on iPhone and iPad. In addition to the usual 6-digit code, you can choose a 4-digit or an alphanumeric code. For more on changing the passcode format, see How to Change the Passcode on iPhone and iPad.
Related articles