iPhone Vibrates When Music Is Played, Fix
Your iPhone may vibrate when listening to music. Several people have said that they notice a vibration when the sound comes out via speaker. Your iPhone has a built-in speaker system that lets you hear sounds when you play videos or music.
When music is played on your iPhone, you may feel your iPhone's touch screen vibrating. This article explains how you can reduce this vibration.
Several iPhone models (iPhone 7 or later) are water-resistant. Water-resistant means no particles of liquid can get inside. And this requires a specific closed structure. Furthermore, one of the shortcomings of this design is to cause vibration in some conditions such as when the volume level is high. Especially thinner iPhone models experience this problem. Thus slight vibration is normal when music or game sound is high. Louder sounds mean stronger vibrations.
See also: AirPods Sound Volume Issues.
Fix iPhone vibration
Since this is normal behavior, there is no way to completely get rid of it but you can minimize it. Here is how.
Tap Settings.
Tap Accessibility.
Tap Audio/Visual (under the Hearing section).
Find the Balance slider.
Drag the slider all the way to the L.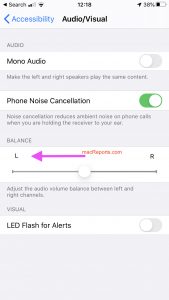 Please note that when you want to listen to iPhone on wireless Bluetooth headphones, speakers, you may want to adjust this slider again (re-center it).
If you feel taps when your iPhone plays music, this is called haptic feedback or system haptics. You can turn this off by going to Settings > Sounds & Haptics and scroll down and turn off System Haptics.
And lastly, if you experience this issue when you listen to music through a third-party app (such as Pandora etc), or when you plan certain games, you may want to contact the app developers.
If you think that your iPhone vibrates excessively, contact Apple Support.