Activity Sharing Not Working, Fix
Several users have said that they are unable to share their Activity progress with their friends or family members. You can share your Apple Watch Activity rings (completed workouts, achievements, and more) and compete with your friends (and these can also be your coach or trainer) using the Activity app. This is a great way to stay motivated.
See also: Fitness+ Says "Apple Watch Unavailable"; Fix
Some users have further said that they receive different "Share Activity" error messages when wanting to use this feature, for example:
There was an error sending your Activity Sharing invitation. Try sending it again. Or,
Couldn't Send Invitation. You can only share Activity with people who also have an Apple Watch.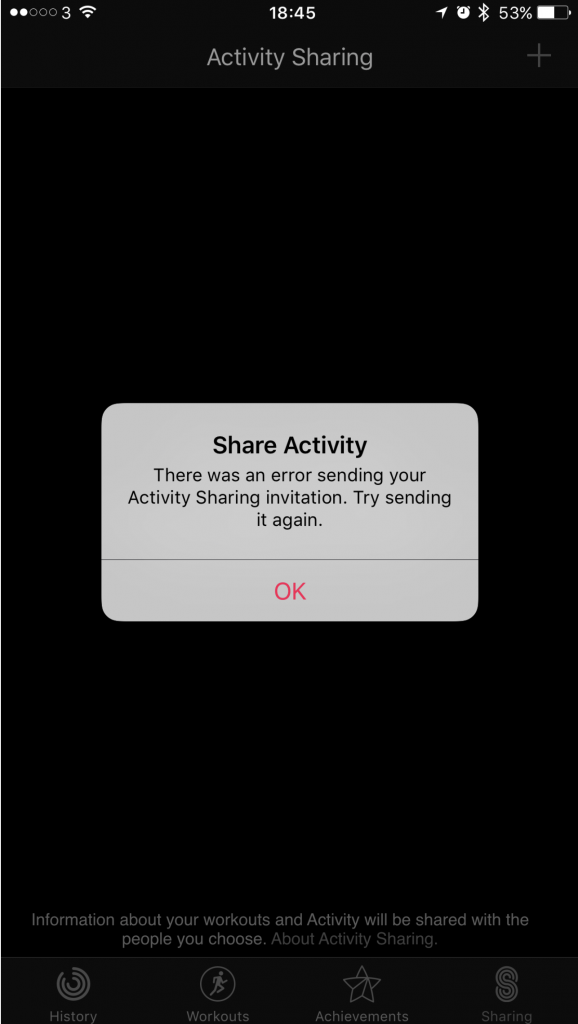 When the Activity App sharing is not working as expected, you may experience one (or more) of the following problems:
Adding or removing your friends is not working.
Unable to view your friend's progress.
The Activity app competition is not working.
Sharing notifications are not sent.
Receiving error messages when trying to add a friend or send an invitation.
Sharing button is not displayed on the screen.
See also: Text Message Notifications Not Working On iPhone When Paired With Apple Watch
If you are experiencing any of the problems above, then this article is for you. This article explains how you can fix the Activity app sharing problems on your iPhone and Apple Watch devices.
If you are experiencing other Activity app problems, please see our article titled Activity App Not Working.
You can also use Apple Watch to track your sleep.
Activity App Sharing Not Working?
Ensure that your system meets the minimum requirements and conditions for sharing and competing:
If you want to use the competing feature, you need iOS 12 (or later) and watchOS 5 (or later). And if you want to use the sharing feature, you need a minimum of iOS 10 and watchOS 3.
If you have multiple Apple Watches paired to your iPhone, all of your watches are running the latest version of watchOS.
If you are unable to add new people, it is important to note that you can only add a maximum of 40 people. If this is the case, you may try removing your old friends. To remove a friend, open the Activity app on your iPhone, tap Sharing, and then tap your friend and tap Remove Friend.
If your friends are unable to see your fitness progress or if you do not see your friend's activity, ensure that you and your friend's iPhone has a Wi-Fi connection to the Internet or a cellular-data connection. Also, ensure that you both are signed in to iCloud.
Furthermore, before trying the tips below, restart your iPhone and Apple Watch.
See also: Apple Watch Workout Route Not Showing in the Activity App
Update
you have each updated to the latest software on both your iPhone and Apple Watch. Here is how you can check for updates and update your devices:
iPhone: Go to Settings > General > Software Update.
Apple Watch: On your iPhone, open the Watch app and then tap My Watch and go to General > Software Update. Alternatively, you can go to Settings > General > Software Update on your watch.
See also: Apple Watch Not Getting Notifications From iPhone, Fix
Unpair-repair
If you are having this problem, unpair your watch from your phone and then pair your watch and phone again. Here is how:
On your iPhone, open the Watch app.
Tap the My Watch tab.
Tap All Watches.
Next to your watch, you will see an info (i) icon, tap that.
Tap Unpair Apple Watch.
If you are asked to keep your cellular plan, keep your plan. And follow the onscreen instructions. An Apple Watch backup will automatically be created.
After the unpairing process is done, hold your Apple Watch close to your iPhone and then follow the instructions to pair them again. If pairing fails, see this article.
iCloud
On your iPhone, sign out of iCloud and then sign in. It seems that this fixes if you are unable to send or receive sharing invitations. Here is how:
Open Settings and tap your name.
Tap Sign Out. And follow the onscreen instructions. You will need to enter your Apple ID password.
After signing out, go to Settings > Sign in to your [device].
If your issue persists, you may want to contact Apple.
See also: