Should you Charge your MacBook to 80% or 90% or 100%?
We get this question often: "Should I charge my Macbook to 70%, 80%, 90%, 100%?" In this article, I will try to answer this question. This is an important question because you can increase your battery's lifespan by following a few simple charging tips.
MacBook, MacBook Air, and MacBook Pro models come with lithium polymer batteries. This battery technology is not fully mature and is still evolving, meaning there are things you can do to help your battery last longer. Lithium batteries chemically age and this diminishes their health, however, you can help your battery age well so that it lasts longer.
Is it bad to keep your MacBook plugged in when it's fully charged?
Yes, it can be because doing so may increase the speed of your battery aging. You should note that the charging stops when your battery reaches 100%, however, if you want to increase the lifespan of your battery, you may pay attention to these facts:
Charging your battery to high levels can cause the battery to age faster and thus reduces its health (unless you are charging your Mac for the first time). According to Battery University, charging your battery to 85% to 90% can increase its discharge cycle limit an extra 1000 recharges. This means that charging your battery to 85% to 90% instead of to 100% can greatly improve your Mac's battery life.
Sometimes you may notice that your Mac won't charge to 100% even after plugged in all night. This is normal. Apple designed this feature to prolong your battery life.
I advise you to turn on Optimized Battery Charging on your Mac. When this is enabled, macOS will learn your charging habits and make changes to slow down the battery aging. You can access this setting by going to System Preferences > Battery. Click Battery in the sidebar and select Optimized battery charging. This setting is available if you are running macOS Big Sur or later.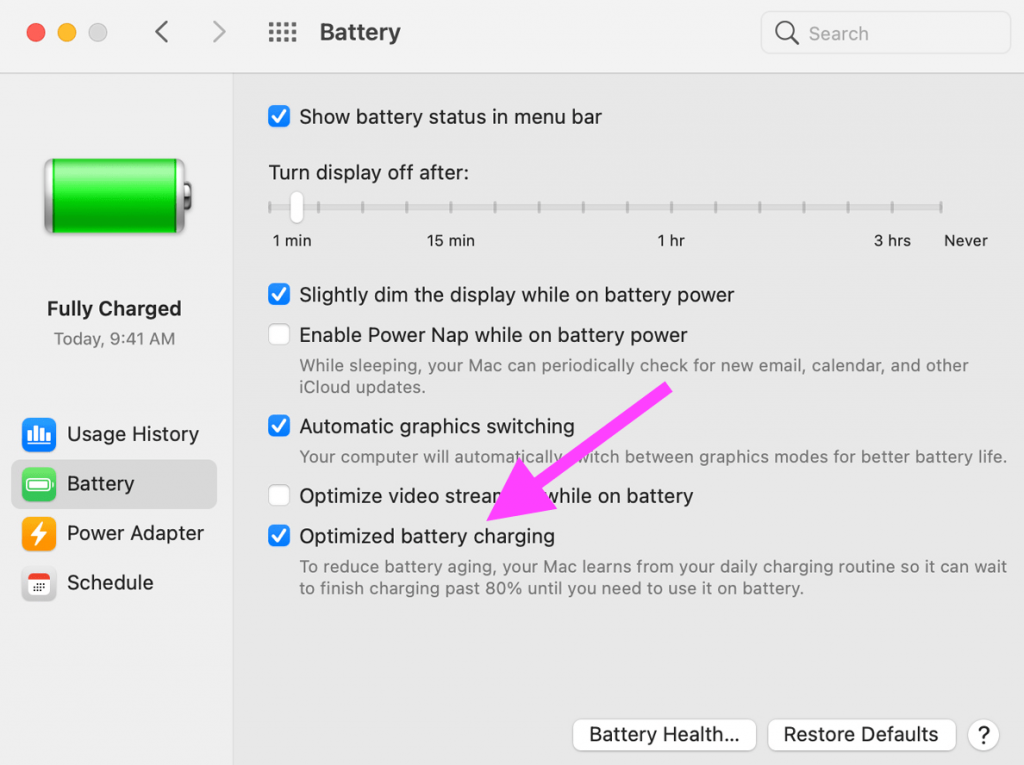 What is the life limit of your MacBook's battery
Most MacBook models have a battery cycle count limit of about 1000. In other words, your battery lasts for about 1000 charges. Depending on your usage and personal preferences, 1000 battery cycles amounts to about 3-6 years for most users.
The cycle count will tell you how many charge cycles your MacBook's battery has experienced. If you want to know your current cycle count, you can:
Go to the Apple  menu in the top menu bar.
Press and hold the Option key, then click System Information.
In the Hardware section in the left sidebar, select Power.
You will see Cycle Count under the Battery Information > Health Information section in the main part of the window.
You will also see the condition status of your battery. It will either say Normal or Service Recommended.
If you want to check your battery health:
Go to Apple  menu > System Preferences.
Click on Battery, then click Battery in the sidebar. Click on the Battery Health button.
You may also see your maximum capacity, like you can see in the screenshot below: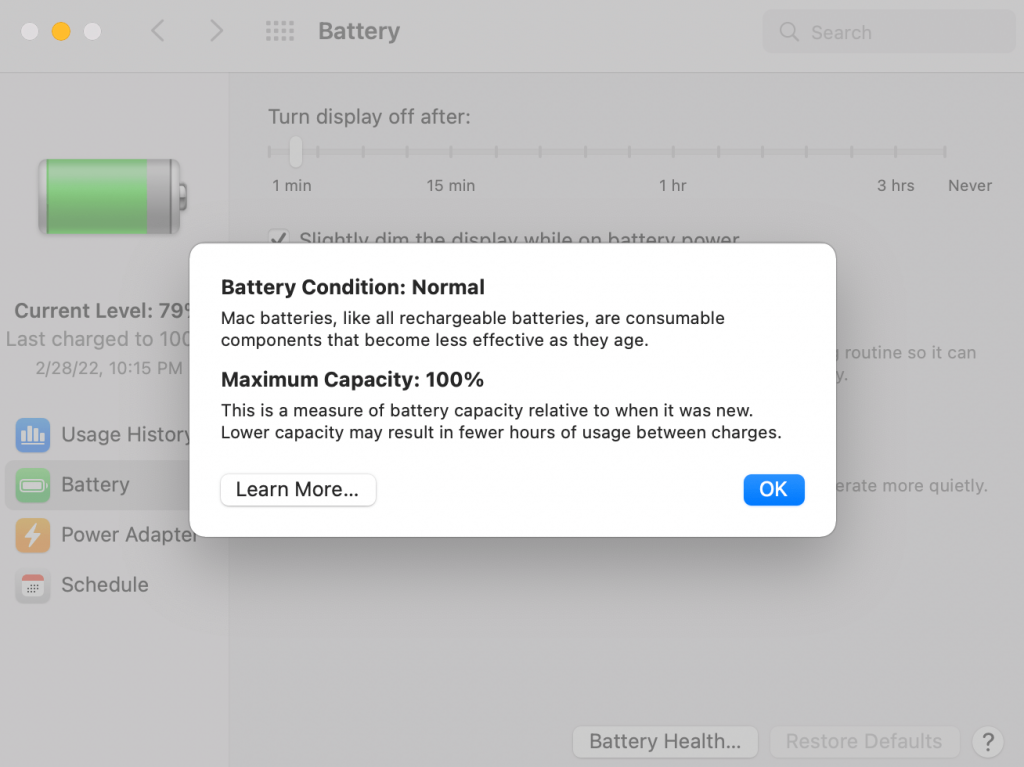 How can you improve your battery's lifespan?
There are several steps you can take:
Ensure that you charge your Mac to less than 100%. Likewise, minimize the time that your battery spends at 0%.
Environmental conditions may affect the life of your battery. Minimize your laptop's exposure to high and low temperatures. For your MacBook, the ideal temperatures are between 50° and 95° Fahrenheit.
Go to System Preferences > Battery and optimize your battery settings so that each charging lasts longer. Also ensure that your display brightness is optimized. You can turn on "Automatically adjust brightness" by going to System Preferences > Displays.
Do not use any chargers or adapters that are not Apple certified.
What is the MacBook battery warranty?
Your device comes with a one-year limited warranty and that includes your battery. If you have AppleCare+, which you can buy separately for an extra fee, your battery can be replaced for free if your battery's capacity diminishes to less than 80%. You can see your capacity by going to System Preferences > Battery > Battery (again) > Battery Health. If you need to service your battery, you can make a Genius Bar appointment and take it to an Apple Store to fix the problem.
Related articles