How to Fix iPhone 15 Pro Not Charging
It appears that some new iPhone 15 Pro owners are having issues with charging their devices. Users are saying that nothing happens when they connect the device to a power source. If your iPhone 15 Pro or iPhone 15 Pro Max isn't charging, follow these tips to figure out why and get it working again.
Users notice that there is no chime-in sound when the iPhone is plugged in, and there is no indication that charging is occurring.
You likely don't give much thought to the act of charging your phone; you simply connect the charging cable and go about your business. However, this changes when your phone refuses to charge upon plugging it in, leading to annoyance or worry and frustrating attempts to troubleshoot the issue.
How to charge an iPhone 15
Here, we'll go over the basic ways to charge your iPhone 15.
You can attach the USB-C cable, like the one in the box, to the port on your iPhone and connect it to a power adapter that is compatible. Afterward, insert the power adapter into a wall socket.
If you have a USB-C power adapter that is 20W or greater, such as the one included with your Mac laptop, you can use it to expedite the charging of your iPhone.
You can charge your iPhone by plugging it into the USB-C port on your computer.
You have the option to connect your iPhone to your iPad, Mac, or other computers in order to charge.
You can charge it wirelessly.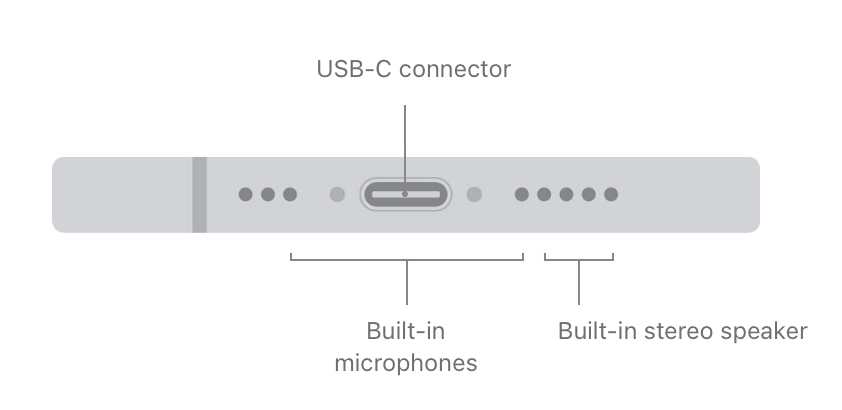 iPhone 15 models and charging limit
iPhone 15 models offer three battery charging options: Optimized Battery Charging, 80% Limit, and None. Depending on your selection, the charging behavior will vary:
If you select the 80% Limit setting, this means that your iPhone will charge up to approximately 80%, at which point charging will cease. If the battery depletes to around 75%, charging will recommence until it reaches approximately 80% once more.
If you select the Optimized Battery Charging option, your iPhone will postpone charging beyond 80% under specific circumstances.
These settings are available when you go to Settings > Battery > Battery Health & Charging > Charging Optimization.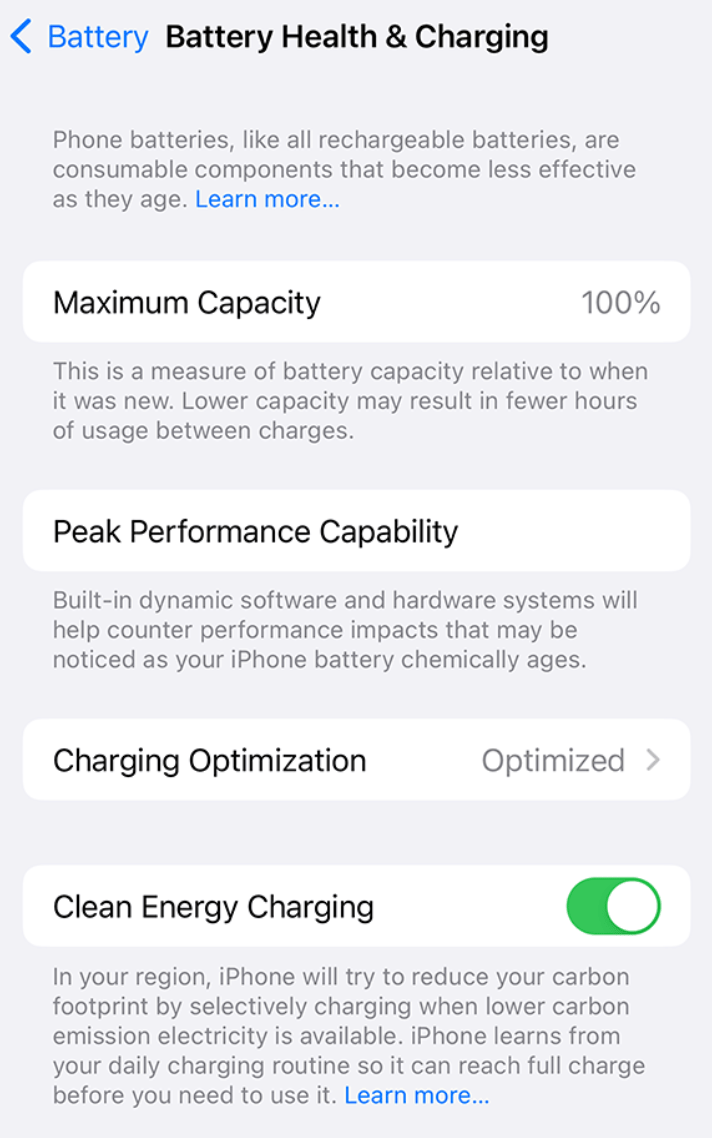 If charging is not working, try the following:
1. Are you using the cable which came in the box?
The iPhone 15 Pro and iPhone 15 Pro Max include a USB-C charging cable designed for fast charging, capable of working seamlessly with USB-C power adapters and computer ports. Ensure that you use this cable. The box does not contain a power adapter, and please ensure to use any compatible USB‑C power adapter.
If you connect your iPhone to a computer to charge it, connect it to a power source directly. If it is still not working, try a different power source.
If you are still having the issue, try to find a different cable or power adapter and try those.
2. Restart your iPhone
To begin troubleshooting, consider powering your phone off and then on again. Frequently, charging issues arise due to minor glitches. By performing a simple reboot, you can eliminate the possibility of a temporary hiccup like this, as restarting your phone has the potential to resolve various issues, including this one.
3. Try a force restart
Follow these steps to force restart your iPhone:
Press and release the volume up button.
Press and release volume down button.
Now hold down the Side button.
Release the side button once the Apple logo appears.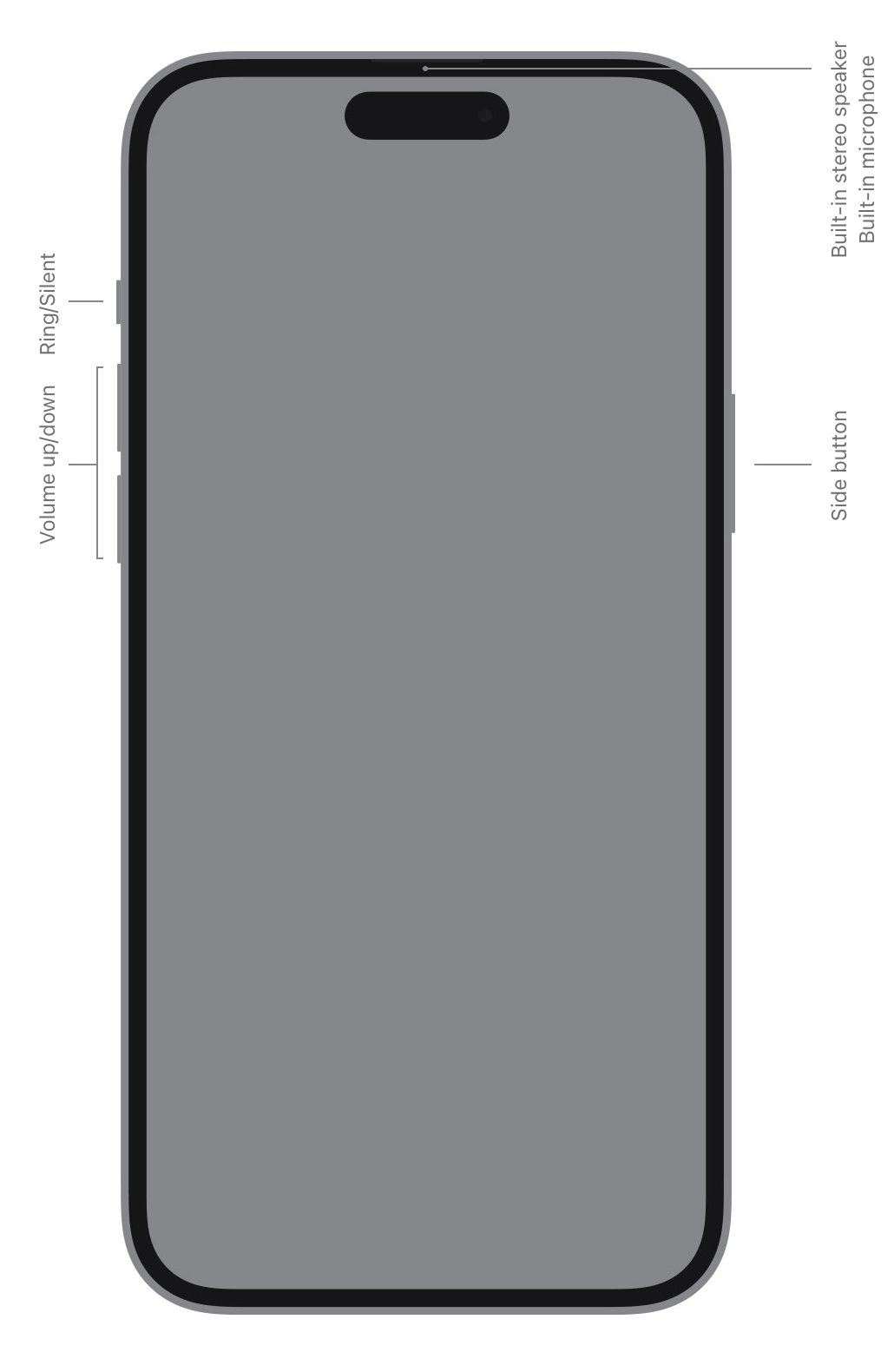 Try charging your iPhone once you've signed back in using your Passcode.
4. Does wireless charging work?
You can also charge your iPhone 15 wirelessly using a MagSafe or other wireless charger. iPhone 15 models support the next-generation Qi2 charging standard. You can try this if you are unable to charge it when using a cable. We have explained before what you can do if MagSafe charging is not working.
If you are still having trouble charging, you should contact Apple because a brand new device should charge either wired or wirelessly. It is possible you have a faulty device. If your device has some issues, this will be covered under warranty. Contacting Apple is super easy. You can ask a live agent your questions.
Related articles