Troubleshoot FaceTime Audio Not Working
In this article, I explain how you can troubleshoot audio issues with the quality of your FaceTime video or audio call. When you make a FaceTime call or when you connect to a FaceTime call, others may claim that they are unable to hear you. Or there may be quality issues with someone's audio. Some of the reported problems include that you may also experience:
You can hear others, but others can't hear you.
Others can hear you but you cannot hear them.
You, your friend or both of you, are experiencing poor audio quality like bad echo or distorted sounds.
There can be several different causes of this problem. A poor internet connection can cause poor-quality audio. Or, it might be your iPhone's, iPad's, or computer's microphone or speakers that are to blame.
The following tips can help you. Before going further, I recommend that you ensure that macOS, iOS, or iPadOS is up to date:
iPhone or iPad: Go to Settings > General > Software Update.
Mac: System Preferences > Software Update.
Check the FaceTime Service Status Page
The first tip you should try is to check the Apple System Status page. This page will let you see if there are any FaceTime outages or service interruptions occurring. If there are issues, you should wait until these are fixed. They may be causing your issue. Apple usually fixes these outages and interruptions quickly.
Restart your device
Simple but effective. Restart your device and then test FaceTime again.
Check your settings
There are a few settings I recommend that you check.
Make sure that your device or your speakers are not muted.
On your device, check your device's sound settings. For example, on your iPhone or iPad, go to Settings > Sounds (or Settings > Sounds & Haptics) and on your Mac, go to System Preferences > Sound. Ensure that the volume slider is not set too low.
Another setting I recommend you to check is your Accessibility settings if you are having this on your iPhone or iPad:
On your device, go to Settings > Accessibility.
Tap Audio/Visual.
Ensure that the Mono Audio setting is disabled (unless of course you need it).
And scroll down and find the Balance section and ensure that your speakers are balanced equally by moving the slider to the middle.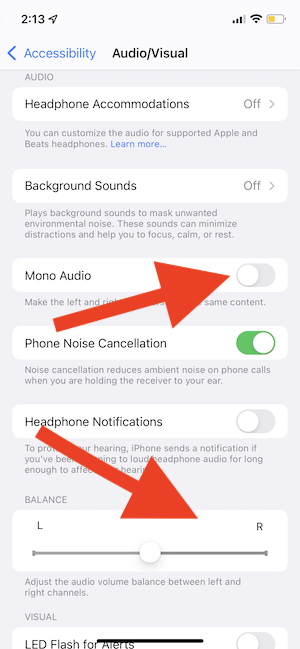 And the last setting you can check is to ensure that you aren't muted in FaceTime. FaceTime has a built-in mute feature. When you enable that, your microphone will be disabled and thus there will be no audio, and no one will hear you. It is also possible you may have turned this on accidentally. See the Microphone icon. If you see a white circle with a microphone in it, then it is not muted. If it is not, tap it to unmute. See the screenshot below: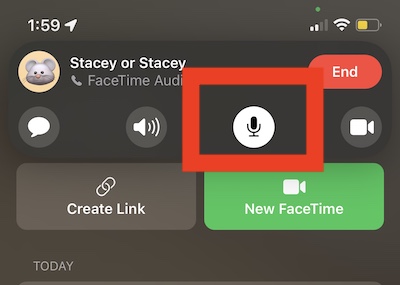 Check your hardware
It is possible that you may have dirt, or other debris keeping the speakers from producing clear audio. Even your case may cause audio issues. Remove your case. Does that make any difference? Then locate your device's receivers and speakers and ensure that they are not blocked or dirty. You can clear any debris from the openings of your iPad or iPhone.
This article may help you: Where Are Your iPhone's Microphones Located? All Models Explained
Check your internet connection
Ensure that your device, iPhone, iPad, Mac, is connected to the Internet. A bad connection can cause poor sound. Make sure that you have a strong Wi-Fi or cellular-data signal. If possible, use a wired connection, for example, if you are having this with your Mac. If you are using FaceTime over Cellular, ensure that Use Cellular Data is enabled for FaceTime by going to Settings > Cellular. Of course, a poor Internet connection will also cause poop video quality.
See also: