'Unable to Communicate with Apple Watch' Error on iPhone, Fix
Some people have said that "Unlock with Apple Watch" is not working, and they see an error notification saying, "Unable to Communicate with Apple Watch. Make sure your Apple Watch is turned on, unlocked, and on your wrist" when they attempt to enable the "unlock with Apple Watch" feature on their iPhone. Because of this, users are unable to turn on the "unlock with Apple Watch" feature.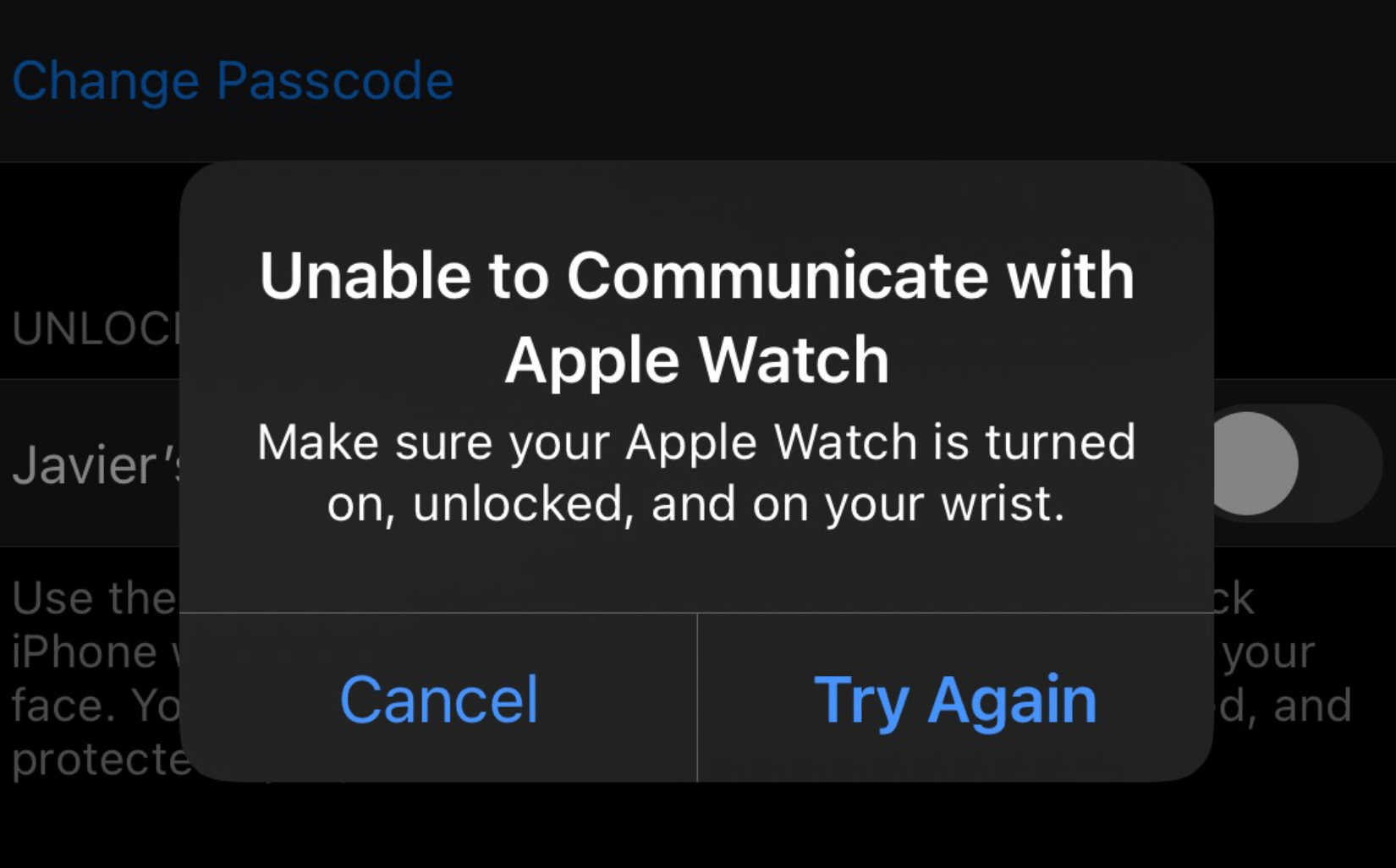 When you unlock your iPhone using Face ID, it scans your face to unlock your device. In some situations, your face may be partially covered, preventing Face ID from working properly. You can use your Apple Watch to unlock your iPhone when your face is partially covered (e.g., when you are wearing a ski mask). You can turn on and off this feature by going to Settings > Face ID & Passcode on your iPhone, shown below.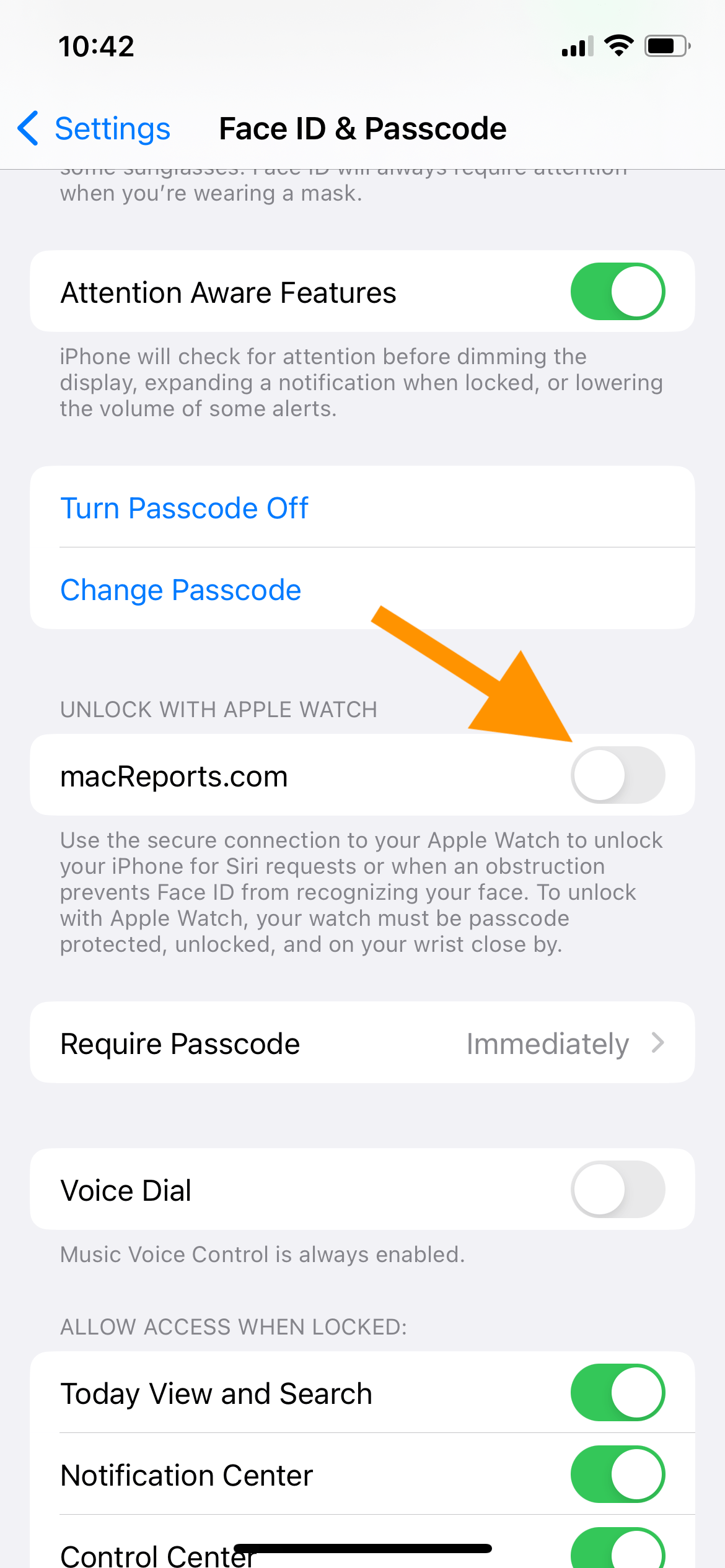 To enable this, you need:
An iPhone with Face ID.
An Apple Watch 3 or later paired to this iPhone.
If you have an iPhone 13, Apple has said that this problem may occur if the software on your iPhone is outdated. Update your iPhone to the latest version to fix this. However, other factors may cause this issue, and you may have this issue on other iPhone models too. If you are unable to activate this feature and have seen this message when you try, follow the steps below to resolve this error.
1: Ensure that these conditions are met
First, ensure that these conditions are met on iPhone and Apple Watch before trying to enable this feature.
Please ensure that Wi-Fi (even if there is no Wi-Fi connection) and Bluetooth are turned on on both devices.
On your Apple Watch, turn on Passcode (Settings > Passcode) and Wrist Detection (Settings > Passcode > Wrist Detection).
Make sure that you are wearing your Apple Watch and that it is unlocked. Then ensure that your iPhone is nearby.
Also, ensure that your iPhone and watch have the newest versions of iOS and watchOS.
2: Basic steps
If all of the conditions above are met, and you are still seeing this message, then before we go further, try the following steps in order.
Turn on Airplane Mode on your iPhone and on your Apple Watch. Wait a few seconds and turn it off again.
Restart your Apple Watch and your iPhone.
Reset network settings. This will remove your network-related settings such as your saved Wi-Fi passwords, VPN configurations, etc. If you want to do this, go to General > Transfer or Reset iPhone > Reset > Reset Network Settings and then follow the onscreen instruction.
3: Unpair and re-pair
If the issue persists, you may want to unpair and re-pair your devices. Here is how:
First, unpair your Apple Watch from your iPhone. Unpairing your Apple Watch means that you are restoring it to the factory settings and erasing everything. You may worry about losing your data, but you do not need to worry; a backup will be created automatically when you do this process. Furthermore, when you back up your iPhone, the backup data also includes your watch data. Follow these steps:

If you have a transit card in the Apple Watch Wallet app, remove it. Open the Wallet app, find the card and tap Remove.
There are two ways to unpair your devices. You can choose one of them.

Unpair from your iPhone: On your iPhone, open the Watch app and go to My Watch > All Watches, then tap the info (i) button next to the watch you want to unpair. Then tap Unpair Apple Watch and follow the onscreen instructions. If you have a data plan (Cellular Apple Watch models), choose to keep your current cellular plan when you are asked because we will re-pair the watch again.
Alternatively, unpair using your Watch: On your watch, go to Settings > General > Reset > Erase All Content and Settings. Again choose to keep your cellular plan when asked if your Apple Watch is a cellular model.

Now it is time to re-pair again. Put your Apple Watch on your wrist and turn it on. Have your iPhone nearby. Your phone will see the watch, then follow the onscreen instructions.
After re-pairing, again go to Settings > Face ID & Passcode, enter your passcode and try to turn on "Unlock with Apple Watch."
Related articles