How To Back Up Apple Watch To iPhone, iCloud Or Computer & Restore From Backup
This article provides details on how you can back up your Apple Watch and restore it from a backup.
You can back up content, data, and settings from your watch to your iPhone, computer, or iCloud account. You can also restore your backed-up information to your Apple Watch, this can be your original watch or a new watch.
See also: Apple Watch Workout Route Not Showing in the Activity App, Fix
This article is important because you can be sure that your important watch data is always synced and protected.
Please note that Apple Watch backups do not include everything. Backups do not include the following:
See also: Facebook Messenger Says Log In From The Paired iPhone, Fix
How to back up to your iPhone
Apple Watch backups occur automatically. Whenever your iPhone and watch is connected via Bluetooth or Wi-Fi, your watch will sync your data to your companion iPhone. The whole process is automatic. You do not need to do anything.
Do you want to initiate a backup? You will need to unpair your watch from your iPhone. There is only one way to manually start a backup on ‌Apple Watch‌: Unpairing. The process of unpairing will always perform a backup first. This may not be an ideal method as it is a time-consuming method. This method involves unpairing and then re-pairing (if you want) your Apple Watch. The process is explained more below. Your iPhone will automatically create a backup when it is unpaired from your iPhone. This itself is a little risky (things do not always work as they are supposed to) and may take a long time.
See also: Apple Watch Battery Life Problems, How To Fix
How to back up your Apple Watch to iCloud or iTunes
You can backup your Apple Watch to iCloud or your computer (iTunes or Finder) by backing up your iPhone. You cannot directly backup your watch to your iCloud account or computer. When you sync the data on your ‌iPhone‌ to ‌iCloud‌ or iTunes, this backup includes your Apple Watch data that you previously backed up. Here is how this process works:
iCloud:
On your iPhone, go to Settings > [your name], and tap iCloud and iCloud Backup. Then tap Back Up Now. Your iPhone will now initiate the backup process. As stated, this will also include your previously backed up watch data.
Computer (iTunes or Finder):
Connect your iPhone to your computer (Mac or PC) using your USB cable. Then if you are using macOS Catalina or later, open Finder, if you are using an earlier version of the macOS software or a PC, then open iTunes. In iTunes or Finder, click your device and click the General tab. If you want the backup to include your Apple Watch Health and Activity data, then select Encrypt [device] backup box (you will need to create a password). Then click the Back Up Now button.
See also: Apple Watch Not Getting Notifications From iPhone, Fix
How to restore your Apple Watch from a backup
You can restore your watch from a stored backup. For this, you will need to erase all of your watch's content. In other words, this will wipe everything from your watch and restore it to its factory settings. Here is how:
Before we start, make sure that your iPhone has the latest version of the iOS software. You can check if there is an update by going to Settings > General > Software Update.
As stated above, when you unpair, your iPhone will create a new backup of your Apple Watch.
Keep your iPhone and Apple Watch close together.
On your iPhone, open the Apple Watch icon then go to My Watch > your Watch > tap the (i) info icon then tap Unpair Apple Watch. Then follow the onscreen instructions. If you do not have your iPhone, on your watch, tap Settings > General > Reset > Erase All Content and Settings. This will unpair your device.
After your device unpairs, you will see the Start Pairing message.
During the setup process, you can restore it from a backup.
See also: Red Dot on Apple Watch? What Does It Mean?
How to view your Apple Watch backups
You can view and delete your previously backed up Apple Watch data on your iPhone. If you have multiple watches, you will see the details: Apple Watch name, when was it made, and its size. Here is how:
On your iPhone, open Settings > General > iPhone Storage. This page contains a list of installed apps and the amount of storage each one uses, including your watch. From the list of apps, find Watch. Tap Watch. You will see all of your Apple Watch backups.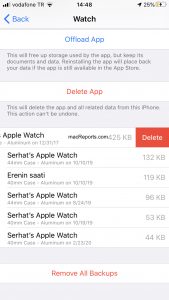 You can remove all of your Apple Watch backups or delete them individually. If you want to delete them individually, find a backup to delete, and swipe left, this will reveal a red Delete button, tap this button to delete. You can also delete all of your backups. Simply scroll down and tap Remove All Backups.
See also: How To Fix Calendar Sync Problems On Your Apple Watch