What does 'Express Cards and Keys Available' Mean?
When your iPhone runs out of charge, it will power off automatically. Your phone will be dead and functionless until you charge it again. When your device dies because it has run out of battery, you will see a red battery icon when you press the power button (or the Home button, depending on the model), indicating you need to plug the iPhone into a power source. You may also see text at the bottom of the screen saying "Express Cars and Keys Available." In this article, I explain why you are seeing this message and what it means.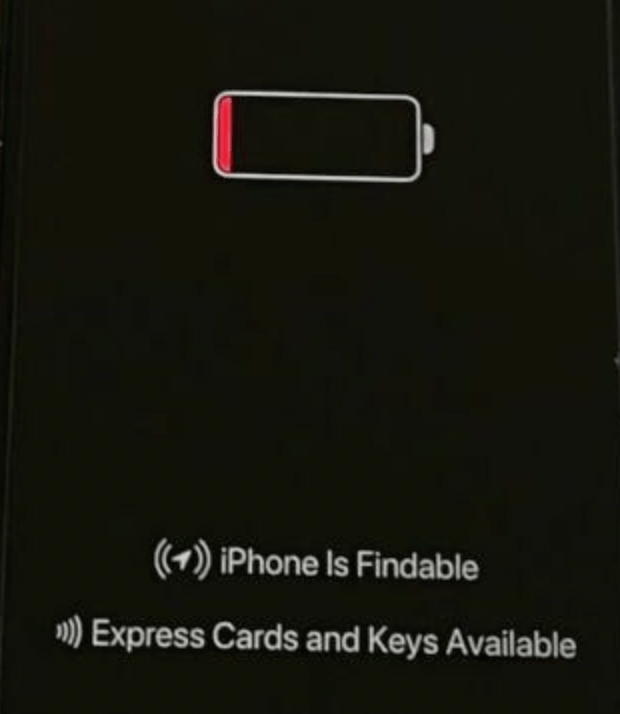 Express Cars and Keys Available message
Basically, this message indicates that Express Cards may be used if you need them. When your iPhone is not running because it needs to be charged, it will look dead. But it was not fully powered off. iOS continues to run in a different state, making it possible to use credit cards and car keys even after the battery dies. iOS reserves a small amount of battery for this. This message will not appear if you turn off the device. In fact, this is a very convenient feature called Express Cards with power reserve. For example, if you are using metro and ride transit with Apple Pay, you will still be able to return home even when your iPhone dies after a long day or night. Or, you can still unlock your car and start it using Keys.
To be able to use Express Cards with power reserve, you need three things:
A supported iPhone model; see below for the list of models.
Compatible cards, passes or keys.
You will also need to have Express Mode enabled. Express Mode enables you to use some of your cards and keys without unlocking your device. You do not need to use Touch ID, Face ID or your passcode.
These iPhone models support using Express Mode when your device needs to be charged:
iPhone SE (2nd generation and later)
iPhone XR
iPhone XS
iPhone XS Max
iPhone 11
iPhone 11 Pro
iPhone 11 Pro Max
iPhone 12 mini
iPhone 12
iPhone 12 Pro
iPhone 12 Pro Max
iPhone 13 mini
iPhone 13
iPhone 13 Pro
iPhone 13 Pro Max
If you have an iPhone model from the above list, you will be able to use Express Mode even when your iPhone is out of battery. If you want to turn on Express Mode, open the Wallet app, select the card or key, tap the more (…) button and then tap Express Transit Settings or Express Mode. Then select a compatible card, pass or key. As I stated above, this is a very useful feature. If your iPhone is out of charge, you will be able to use your express cards and keys for up to five hours. If you are in a situation like this, I recommend not to keep pressing the power or Home button as this significantly reduces the reserved battery.
Related articles