WhatsApp Says Something Went Wrong When Moving Chat History, Fix
You can switch from an Android phone to an iPhone using Apple's Move to iOS app. You may also want to migrate your WhatsApp chat history so that you can keep your WhatsApp data too. The Move to iOS app for Android phones enables you to transfer your WhatsApp chat history from your old Android phone to your new ‌iPhone‌. Your chat history includes your account information, profile photo, chat data and media (photos, videos, voice messages). Some users have said that they could not migrate their WhatsApp data from Android to iPhone and run into an error message saying, "Something went wrong. An unknown error occurred. Please try again or continue without importing." with two options: Skip Import or Retry, as you can see below.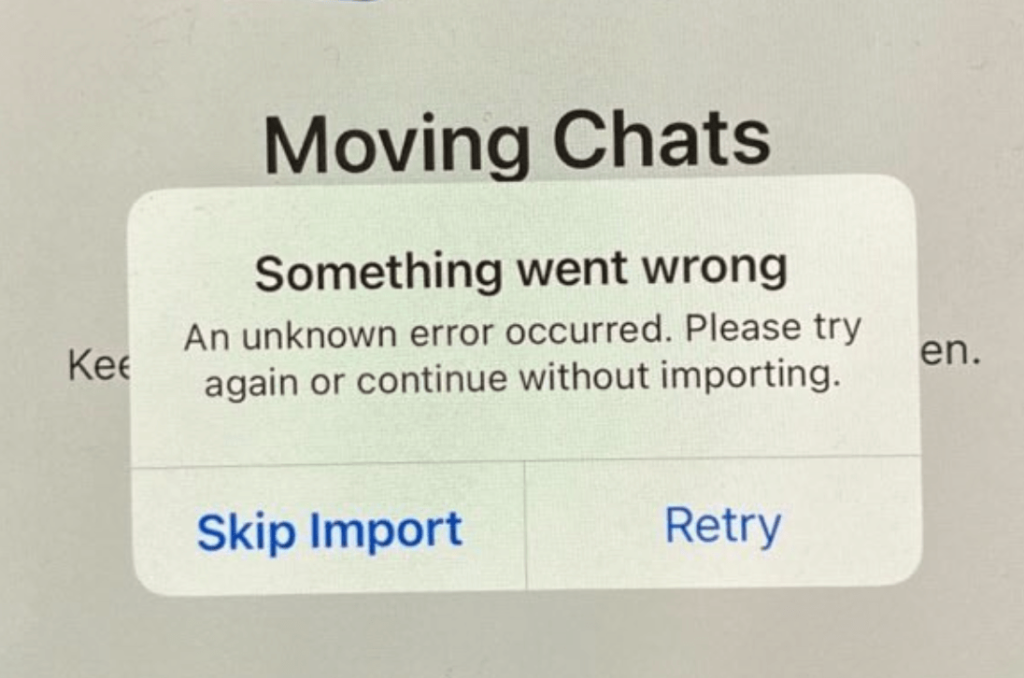 It appears that this error occurs in the middle of the import process. Here is what you can do:
Unable to transfer WhatsApp?
Ensure that these are correct for you:
Make sure that you are using the official Move to iOS app on the Android phone.
Ensure that both devices are connected to the same Wi-Fi network, or if there is no Wi-Fi, your Android phone must be connected to the iPhone's hotspot. Ensure that your Wi-Fi connection is working.
Keep both devices connected to a power source during the process.
Your iPhone must use the same phone number as your Android phone.
Ensure that you have the latest version of WhatsApp on Android.
Ensure that you have a recent backup for your Android device.
Still issues?
There may be a connection problem. If you are using a Wi-Fi connection, restart your router and modem. You can do so by unplugging from power and then plugging back into power.
Try a Wi-Fi connection, if possible. Then try a different Wi-Fi connection, if possible.
On your Android, disable auto-lock. Ensure that your Android phone won't go to sleep; otherwise, your transfer won't be completed.
Similar to the auto-lock one, ensure that the Move to iOS app stays on on the Android phone at all times. Do not open another app, and do not use your Android phone. If you get a call, even this may cause to transfer to stop.
Restart your devices (both the Android phone and the iPhone) and try again.
If you are still having issues, on your Android phone, turn off the cellular connection and then try again by going to Settings > Network & internet, Mobile Networks or Connections. You may also want to turn on Airplane Mode while keeping the Wi-Fi on.
Check if any settings or connections are interfering with your Wi-Fi connections. For example, disable Smart Network Switch.
If you are using a VPN, disable it and then try again.
Related articles