Apple Cash Setup Not Working, How to Fix
There are a lot of things you can do with Apple Cash. For example, you can send someone money in Messages or Wallet, or you can use it to buy stuff with Apple Pay. However, before you can do all of those, you will need to set up Apple Cash. Sometimes, problems may arise when trying to set up Apple Cash. A common problem is the "Could Not Set Up Apple Cash" error message. Here is how you can fix things when Apple Cash setup is not working.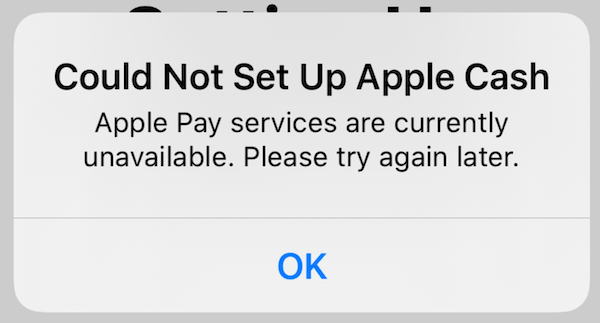 To set up Apple Cash, you will need to go to Settings and Wallet & Apple Pay, then turn on Apple Cash and follow the onscreen instructions. You can also set up Apple Cash Family for the members of your family.
Check for Apple Cash requirements
When the Apple Cash setup isn't working, you should check that you and your device meet these minimum requirements:
Are you living in the USA? Apple Cash is currently only available for US residents.
Ensure that your device supports Apple Cash. The following devices support Apple Cash:

iPhones with Face ID
iPhones with Touch ID, except iPhone 5S
iPads with Face or Touch ID.
All Apple Watch models except the first generation model.

Is two-factor authentication for your Apple ID turned on? If not, set this up first.
To send money, you will need to add a debit card in Wallet. If you are unable to add it, see this article: Unable to Add a Card to Apple Wallet.
If you are under 18, you cannot set up Apple Cash for yourself, but an eligible family member can do this for you by setting up Apple Cash Family.
Check Apple System Status
When you are trying to set up Apple Cash, your device connects to remote Apple servers to finish the process. If the Apple servers are down or not working, then the process can not be completed. Apple servers may occasionally go down for a brief period of time. If this is the case, the problem is out of your control. You will need to wait for Apple to fix it. Apple usually fixes things quickly.
You can check the Apple System Status page to see if Apple Cash and Apple Pay services are working or not. As you can see in the screenshot below, at this time, Apple Pay and Wallet services were recently having outages. Apple also when the outage has been resolved.
Further troubleshooting
If your issue continues, follow these steps:
First, go to Settings > General > Language & Region. And ensure that your region is set correctly to the USA.
Then go to Settings > Wallet & Apple Pay and turn off Apple Cash. If it is already off, turn it on and then off.
Now, restart your iPhone or iPad.
Go to Settings > Wallet & Apple Pay and turn on Apple Cash, then follow the instructions there.
Related articles