Apple Watch Answering Phone Calls Automatically? Fix
Some users have said that their Apple Watch is answering incoming phone calls itself automatically without pressing the Answer button on the watch to connect the call. In other words, the Apple Watch connects calls unexpectedly without any user input. If you are having this problem, you will find it very annoying. Your watch accepting incoming calls automatically can create unwanted situations.
However, first let me explain that this is not a bug, this is in fact a feature. You can easily turn on or off this feature anytime you want. This is an accessibility feature called "Auto-Answer Calls". When it is turned on, your watch will automatically connect all incoming calls without asking if you want to take the call.
Even though some users find this feature annoying, some others may find it beneficial. For example, you may want this feature when your hands are dirty, oily or wet (like when you are showering) so that you can answer your calls without touching your watch. This lets you pick up your calls so you can simply start speaking without pressing any buttons.
How to turn on Auto-Answer or stop your watch from automatically answering your calls
As I stated above, you can tell your watch to answer incoming calls. This includes regular calls, FaceTime calls, and calls via third-party apps that support this feature such as WhatsApp or Skype.
Before going further, ensure that your iPhone and Apple Watch have the latest version of iOS and watchOS. If you want to turn off or on this auto answering feature, follow these steps. You can do this on your iPhone or watch:
Turn off or on Auto-Answer on Watch
On your watch, tap Settings.
Scroll down and tap Accessibility.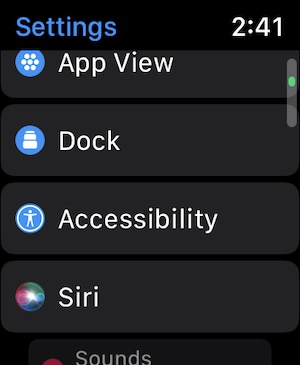 Scroll down and tap Auto-Answer Calls.
Now you can turn off and on this feature. If you turn on, you will also change the time limit after which calls are answered. This is where you can set the number of seconds in which a call is automatically answered. Your watch will wait this duration before answering it. You can choose any seconds from 1 second to 60 seconds. This may give you enough time to reject calls if needed. Tap the plus (+) or minus (-) icons.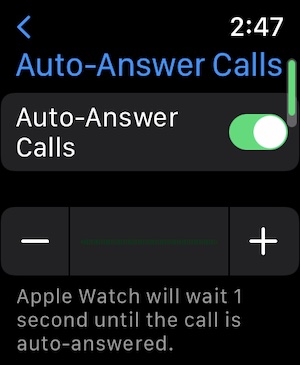 Turn on or off Auto-Answer on iPhone
You can also turn on or off this feature via the Watch app on your iPhone. Here is how:
Open the Watch app on your iPhone and tap My Watch tab then tap Accessibility.
Scroll down and tap Auto-Answer Calls.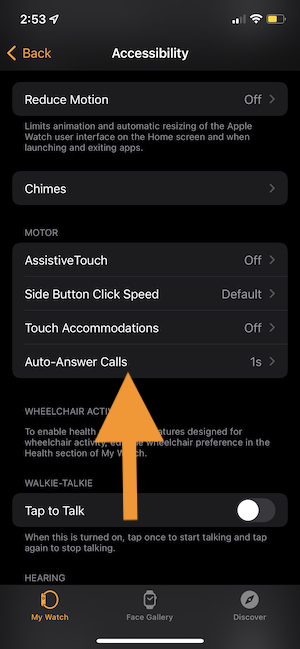 And then again, you can turn off or on this feature. You can also set the time duration in seconds.
See also: