Can't Sign in to FaceTime? This Account Has No Reachable Addresses
Several users have said that they are unable to use FaceTime because they are experiencing an error indicating "This account has no reachable addresses. Please sign in to appleid.apple.com in order to add one" when trying to sign in to FaceTime on your Mac.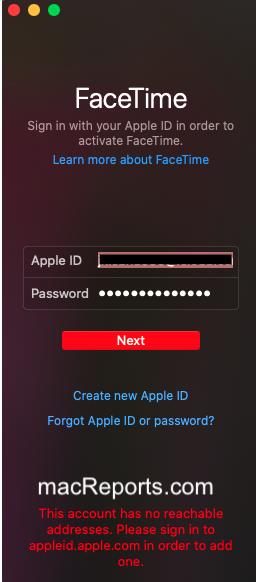 If you are unable to sign in to FaceTime because of this error, then this article is for you.
This guide will take you through some troubleshooting steps. Please note that the steps below are listed in order. After trying each step below, open FaceTime and try to sign in again to see if you've fixed your issue.
Before you do anything, please restart your Mac. Simply restarting your Mac may fix your problem.
See also: Could Not Sign In To iMessage or FaceTime on Mac
Update your Mac
Update your computer to the latest version of macOS. This will ensure that you install the latest software updates. Since the FaceTime app is part of the macOS software, updating macOS will also update FaceTime. Here is how you can check for updates and then update your device.
If you're using macOS Mojave or later: Go to Apple menu > System Preferences > Software Update. And if there is an update available, follow the instructions.
If you are using macOS High Sierra or earlier: On your Mac, open the App Store app on your Mac and click Updates.
See also: FaceTime Poor Connection Error on iPhone, iPad or Mac
System status
Go to Apple's System Status page (direct link) to see if there's an outage for the FaceTime service. This happened to me too. I could not sign in and the problem was some of the Apple services were down.
Apple may regularly perform maintenance or run upgrades. And some of these may temporarily interfere with services such as FaceTime or Apple ID.
If this is the case, there is little you can do but wait. Apple will resolve this.
See also: FaceTime Black Screen On Mac
Can you sign in at appleid.apple.com?
As the error message indicates, go to the Apple ID website and ensure that you can sign in. Furthermore, make sure that you have an email address shown under the Reachable at the section of the Apple ID website. Follow the steps below:
On your Mac, open Safari and visit appleid.apple.com. (If you are unable to sign in, first check the System Status page, and if there are no issues, you may need to find your Apple ID (if you forgot) or reset your password).
Sign in with your Apple ID and password.
In the Account section, find "Reachable at". Do you see your Apple ID email there? If not, click the Edit button. Then click Add More. Follow the onscreen instructions.
Date and time
Please ensure that the date and time settings on your Mac are set correctly for your time zone. Here is how:
On your Mac, click the Apple menu, which is located in the top-left corner of the screen.
System Preferences, then choose Date & Time.
Click the Date & Time tab.
If you see that the date and time are incorrect, update them. You may want to turn on the option to "Set date and time automatically" by checking its box. You may have to click the lock icon to unlock and make changes.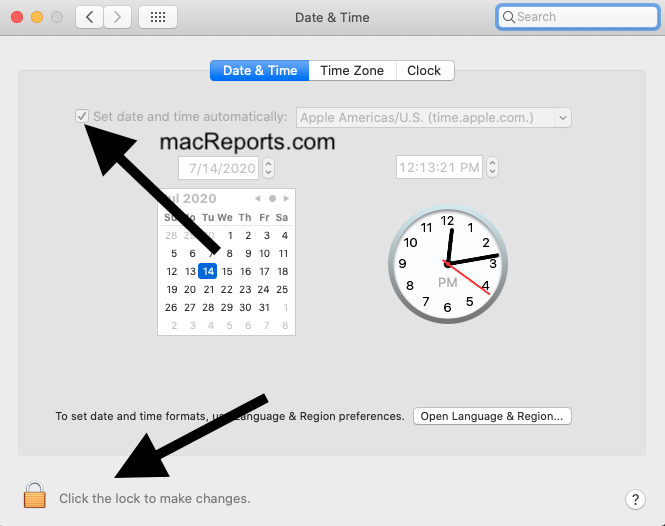 Reset NVRAM or PRAM
On your Mac, try resetting NVRAM or PRAM. This is a simple process. Here is how:
Turn off your Mac.
Locate the following keys (do not press them yet): Option, Command, P, and R.
Turn on your Mac. And immediately press and hold these four keys.
Keep holding the keys for 20 seconds.
Then release the keys. Your Mac will appear to be restarting.

See also: Group FaceTime Calls Not Working? Fix
Have you changed your Apple ID?
You can change your Apple ID email or password. Have you changed your Apple ID email or password recently? If this is the case, then try the following:
On your Mac, open FaceTime.
From the top menu bar, go to FaceTime > Preferences.
Check to see if you are signed out, If you are, then enter your new Apple ID and password. If you are still signed in, then click Sign Out and then sign in with your updated Apple ID or password.