iPhone: Cellular Update Failed Error, Fix
Several users have said that they see the error message below on the iPhone:
Cellular Update Failed. Your iPhone cannot make and receive cellular data until it has been updated.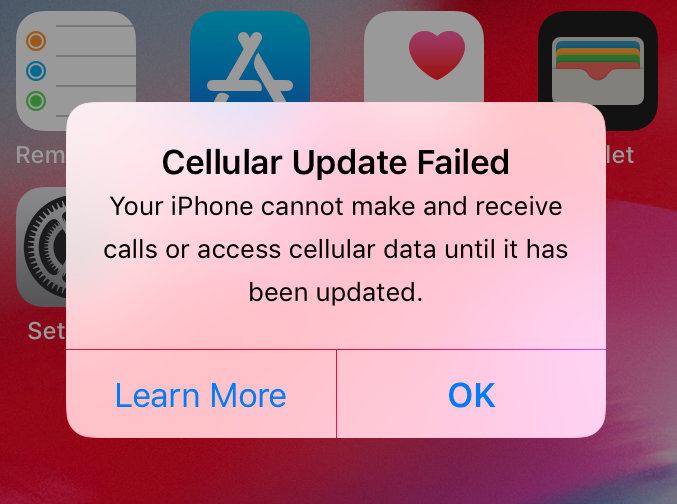 If you are seeing this error, you will not be able to make or receive phone calls, send text messages and you will not be able to connect to a cellular network or cellular data even if cellular coverage is available. You will also see a "No Service" notification in the status bar on the top of your iPhone's screen. It is for your iPhone to maintain reliable service.
Please try each step one at a time, until your issue is resolved:
Note: Is this an iPhone 7? If so, Apple offers an iPhone 7 repair program. It is known that some iPhone 7 models may experience this problem due to faulty hardware. Check this website to learn more: https://support.apple.com/iphone-7-no-service
1. Turn on Airplane Mode and wait about a minute and then turn it off (Settings > Airplane Mode). And also on your device go to Settings > About. You may see a popup within 10 seconds if there is a carrier update. If there is, update.
2. Update your iPhone. Here is how:
Turn off cellular data by going to Settings > Cellular Data
Connect your device to a Wi-Fi network
Now go to Settings > General > Software Update. If there is an update available, update your phone.
3. Reinstall the SIM card on your iPhone. Here is how:
Turn off your phone.
Gently insert a small paperclip (or a SIM eject tool) into the small hole opening in the SIM tray found on the side of your iPhone. Gently push. The SIM tray will open. Remove the SIM card.
Place the SIM card into the iPhone again
Now turn on your iPhone.
Does reinstalling the SIM fix your "No Service" problem? If not, continue.
See also: No SIM Card Installed
4. Changing some cellular settings may resolve this "Update Failed" problem. Here is how:
 On your iPhone, tap Settings > Cellular
Tap Wi-Fi Calling and turn this off (see this article if Wi-Fi calling is not working)
Now tap Cellular Data Options
And select VoLTE off.
Exit Settings
If this fixes your problem (or if this does not solve the problem), you can go back and change the settings to the originals.
5. Reset Network Settings. Please note that doing so will erase your network settings like your Wi-Fi passwords etc. You can reset network settings by going to Settings > General > Reset > Reset Network Settings.
(See also: If you want to reset network settings on Mac)
6. Complete the steps below. You may want to back up your iPhone first. The easiest way to backup is iCloud by going to Settings > Your Name > iCloud > iCloud Back Up. Following the steps below will reinstall the current iOS version:
Connect your iPhone to your Mac. Make sure that your Mac is running the latest version of the macOS software.
On your iPhone, you may see a notification alert asking you if you trust this computer. Select Trust This Computer
In a Finder window, your device will appear in the sidebar. Select your device.
Click the General tab (if you have not backed up already, you can here also backup by clicking the Back Up Now button, this backup will be saved on your computer, after the backup, proceed)
Command-click the Check for Update button and follow the onscreen instructions.
If nothing above helps you, then it is time to contact Apple. You may also want to visit an Apple store if you make a Genius bar appointment. You can also ask Apple the best support option for you via live chat.