Your Payment Method Was Declined. Please Enter Another Payment Method
Several users have said that their payment method is declined in the App Store or iTunes Store and when they want to change or update the payment method, they are encountering the following error message:
Your payment method was declined. Please enter another payment method.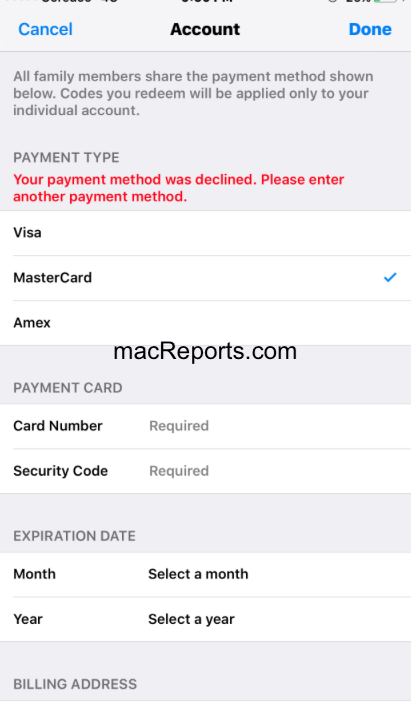 This is an important problem. This will prevent you from paying for Google products. This means you will not be able to use the App Store, iTunes Store, iCloud, and more.
You can update or change your Apple ID payment method in Settings on your iPhone, iPad, or iPod touch, or in iTunes on your Mac or PC.
Please note that before doing anything please ensure that you update your device to the latest version of iOS or iPadOS or macOS. You can easily check for updates:
iOS or iPadOS: Settings > General > Software Update.
macOS (Mojave or later): System Preferences > Software Update.
If there is an update, follow the onscreen instructions, if there is no update available, then restart your device. Here is how you can restart your device:
Mac: Click the Apple menu and choose Restart.
iPhone X, 11, or later and iPad with Face ID models: Press and hold the side or top and the volume up or down buttons together until you see the power off slider. Then drag the slider. Wait for your device to turn off. Then press and hold the side button until the Apple logo appears.
Other iPhone and iPad models: Press and hold the side or top button until the power off slider appears. Drag the on-screen slider. Then press and hold the side or top button to turn your device back on.
See also: Please Contact iTunes Support to Complete This Transaction
Payment declined error message
If you see an unexpected charge, you can request a refund. If you see this error message, it usually indicates that there may be a problem with your debit or credit card issuer.
See also: How To Cancel Apple Subscriptions
Please ensure that you enter your credit card number, expiration date, billing address, security (verification) code, and phone number correctly. Also, make sure that your address and zip code that you entered must match those associated with your bank.
Make sure that your name must match EXACTLY as on your card,
Please ensure that:

Your card is not expired or closed.
If you have a daily spending limit, the payment is not exceeding it.
Your card has not been locked or suspended by your issuing institution.

Contact your bank or payment provider for help. Your bank can help you find out why your payment was declined. For example, banks and financial institutions are constantly monitoring your credit card transactions to detect fraud. It is possible that your account has been flagged for fraud. Or, your card may have specific restrictions that cause this problem.
Make sure that your Apple ID country or region (App Store and iTunes country) matches the country or region of your card. For example, if your Apple ID account country is the USA, then your billing address and the card issuer should be the USA also. If they do not match, you may need to update or change. You can see the current country or region by going to the Apple ID website (appleid.apple.com). And sign in. Find the Account section. You will see your country or region. If you need to change this, click the Edit button. You can also change this, if needed, on your iPhone or iPad by going to Settings > Your Name > iTunes & App Store > Your Apple ID > View Apple ID > Country/Region.
In some places, you may not be able to use a debit card. Try using a credit card.
See also: App Store Keeps Asking For Credit Card Info? Fix
If your primary payment method does not work, you can add an additional payment method. Here is how:
On your iPhone or iPad: Go to Settings > Your Name > iTunes & App Store > your Apple ID > View Apple ID > Manage Payments > Add Payment Method.
On your Mac: Open the App Store app and sign in by clicking your name. Then click View Information > Manage Payments. And Click Add Payment.
See also: How To Create an Apple ID Without an Apple Device & Credit Card
You can also contact Apple (https://support.apple.com/contact) if the problem persists.