How to Get a Refund for your App and In-app Purchases
Apple may give you a refund for your recent app or in-app purchases that you made on your Apple TV, iPhone, iPad or Mac from the App Store or iTunes Store. You may ask for a refund for various reasons, for example:
A friend or family member of yours made the purchase accidentally using your account.
App or in-app purchases may not work as you expected.
You bought the app or the in-app content by accident.
You may have been charged twice for the same item.
The app is not as expected – you may feel that the app you purchased is not what the developer said it was.
In this article, I explain how you can request a refund from Apple for an app or in-app purchase. The process to request a refund for a purchased app or in-app purchase is the same. Apple will decide whether to approve your request or not. In most cases, when Apple approves the refund, people get their money back within a week.
There are a lot of apps available on the App Store and on the Mac App Store. Many of them are free, but there are also many paid apps and games available. Furthermore, some apps may be free but offer in-app purchases to access extra content or features.
Refunds for Apps and in-App Purchases
This is really pretty simple. Just follow the steps below:
On your device – Mac, iPhone or iPad – open a browser like Safari.
Go to the Report a Problem page and sign in using your Apple ID.
Open the "I'd like to" drop-down menu which is under the "What can we help you with?" heading.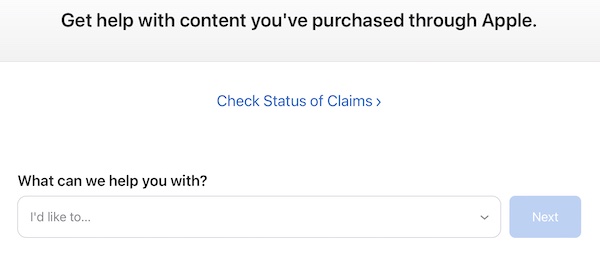 From the menu, select "Request a refund." This will open a new menu saying "Tell us more…"
From this menu, select the appropriate reason. If your reason is not listed, select Other, then click Next.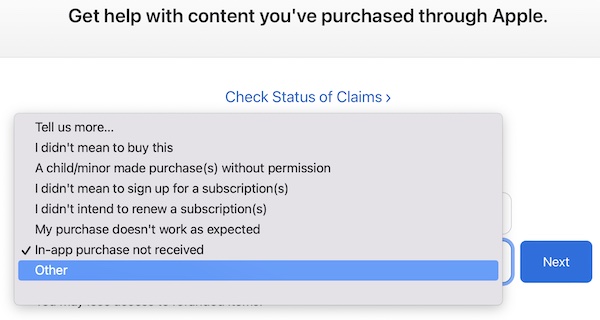 Now check the button next to the purchase(s) for which you would like the refund and click Submit. If you select the Other option in the previous step, you will be asked to enter your issue.
You will then see a message saying "Your request has been submitted. Allow up to 48 hours for an update."
Apple will send you an email to your Apple ID confirming that your refund request has been received.
Now just wait.
Apple's refund policy
Apple's return policy differs by country, but the following are common in most places:
There is no guarantee that you will get a refund. Apple says all sales are final. This is only a request. Apple does not have a "no questions asked" policy.
Apple's support team will manually review every request.
Some in-app purchases may not be refundable.
Apple usually responds to your refund request within 2 days. If your request is approved, it can take up to 30 days for the refund to appear on your credit or debit card.
If you receive a refund, you may lose access to purchased app or content.
You can request a refund for any app purchased from the App Store within the last 90 days, but it is probably better that you ask for a refund sooner, as opposed to like weeks later.
Refunds are applied to the original payment option.
You can learn more about Apple's policies on the "Apple Media Services Terms and Conditions" page.
Check your refund request status
Apple will send you an email when a decision on the refund request is made. This email will come from iTunes. It will say that there has been an update and you can review the update. However, you can check your status before receiving this email too. Here is how:
Open a browser on your device, it can be your Mac, iPhone, iPad or PC.
Visit the Report a Problem page.
Sign in using your Apple ID.
Click "Check Status of Claims" near the top of the page.
This will show all of your refund requests.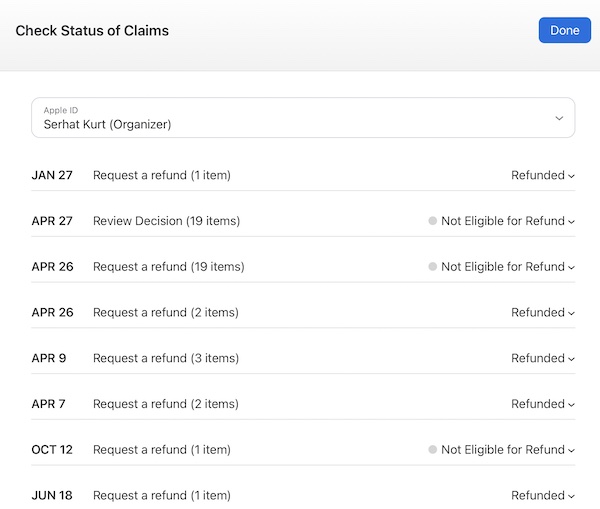 Related articles: