How to Know if Apple Watch is Charging
Sometimes, you may place your Apple Watch on its charger, and nothing seems to happen. When you hear the familiar charging chime, you know that your watch has started to charge. But do you see nothing on the watch screen, and there's no sound at all when attempting to charge? You may wonder how you can know if your Apple Watch is actually charging or not. Your watch is designed to have an all-day battery life of up to 18 hours after charging it overnight. Your watch can be charged fully in about two to three hours.
There are a number of charging apparatuses for Apple Watch. Their speed of charging may vary. You can use a charger (Apple Watch Magnetic Fast Charger for Apple Watch Series 7 and Apple Watch Series 8) or a charging cable (Apple Watch Magnetic Charging Cable for other Watch models). You can also buy a MagSafe Duo Charger or Apple Watch Magnetic Charging Dock to charge your watch.
This article explains how you can figure out if your Apple Watch is charging when it is placed on its charger. If you determine that your watch is not charging, we will explain how you can get it charged again.
How to tell if your watch is charging
These will occur when you connect your Apple Watch with a charging cable and power.
A chime (if it is not in silent mode) should play, and a green lightning bolt will appear on the screen. This will occur if your Apple Watch is not in Low Power Mode.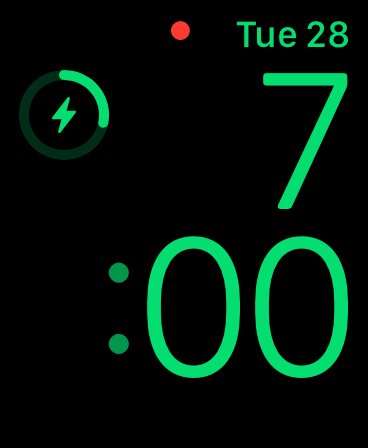 If your Watch is in Low Power Mode, the lightning bolt, time and date will be in yellow, as you can see below: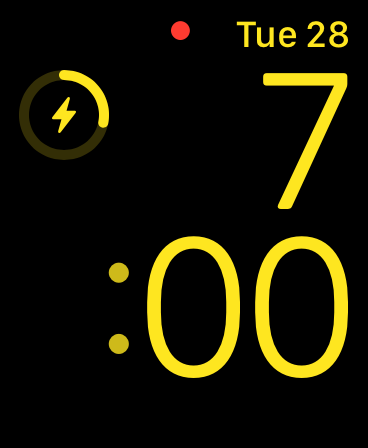 When your watch is charging, it will go into Nightstand mode, where only the date, time and the charging icon are shown on your watch screen.
If your Apple Watch is out of charge, the lightning bolt may not appear immediately. Keep your Watch connected to the power source for a few minutes for it to appear.
If your battery level is too low, a red lightning bolt may appear, indicating your watch requires charging. As you charge, the lightning bolt will change to green or yellow. If your screen is blank, press the Side button so that the Apple Watch face appears. If your screen is blank and nothing happens when you press the Side button, see the next step.
If your battery level is critically low, your watch will need to start charging from a very low battery level. You may see a blank screen or the charging cable icon with a red lightning bolt. Keep your watch connected to the charger or cable for up to 30 minutes for your watch to turn on. If, after 30 minutes, your watch appears to be dead, see the next section.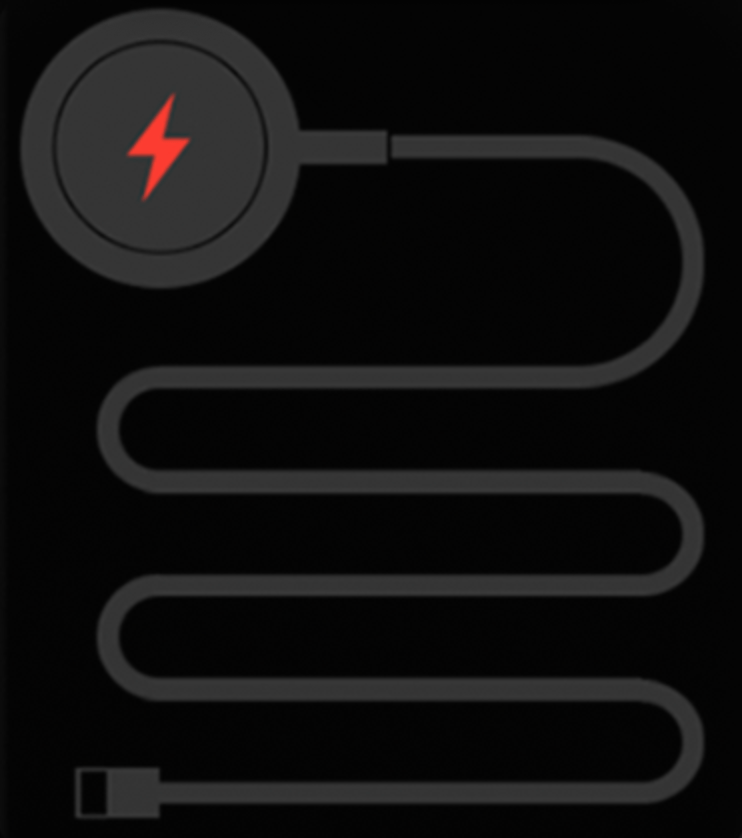 Why isn't your watch charging?
There can be a variety of reasons your watch may not be charging up.
Check cables for damages. If your cable is damaged or frayed, this could be the reason your watch is not charging.
Is your charger working or power source working? Try to use a different charger and power source (different USB ports or power outlets, etc.).
Change the position of the back of your Apple Watch on the charger to ensure that the charger's magnet and Apple Watch align correctly until the lightning bolt appears.
Try to force-restart your watch. To do this, press and hold the Side button and the Digital Crown for about 10 seconds until you see the Apple logo.
If nothing works, you may want to contact Apple for further support.
Apple also explains how you can properly charge your watch.
Related articles