Safari is Crashing on macOS Monterey, Fix
Some users have said that Safari crashes unexpectedly and won't start on macOS Monterey. Apple has recently launched its latest macOS version. I think that a bug in the update is crashing the Safari browser. If you have been facing similar issues, then do not worry, this article is for you. This article explains how to fix the crashing issues on the Mac.
Safari is one of the best and most used browsers on Mac devices. It continues to get better. The good news is that this strange crashing issue affects only a small number of users.
Before continuing with the steps below, see these articles first to see if they can help you fix this problem. If not, then I think it is a good idea to follow the steps below:
Try these:
Before you delete something, I recommend trying these basic troubleshooting tips first. They may help you:
Restart your Mac. You can restart your Mac by going to the Apple menu > Restart.
Update your Mac. Safari is part of the macOS software. Thus updating your Mac will update Safari. This will ensure that you are running the newest version of Safari.
If you have Safari extensions, please check them to see if they are up to date.
Temporarily turn off your Safari extension to see if they are causing the problem. If not, turn them back on. You can find your extensions settings by going to Safari > Preferences > Extensions.
Restart your Mac in Safe Mode. Test Safari in Safe Mode. Exit Safe Mode. And test again.
Delete Preference files
Follow these steps and delete these files. Then open Safari to test if you have fixed the Safari problem.
1. Quit Safari if it is running (Safari > Quit Safari).
2. Open the Library folder. In Finder, press and hold the Option key and click Go and Library. Or you can click Go > Go to Folder. Enter ~/Library and click Go. This will open your Library folder.
3. When you open the Library folder, go to Containers > Safari > Data > Library > Safari.
4. Find the following files and delete them by moving them to the Trash, or you can put them on your Desktop as a backup, in case the result breaks something:
safaritabs.db
safaritabs.db-shm
safaritabs.db-wal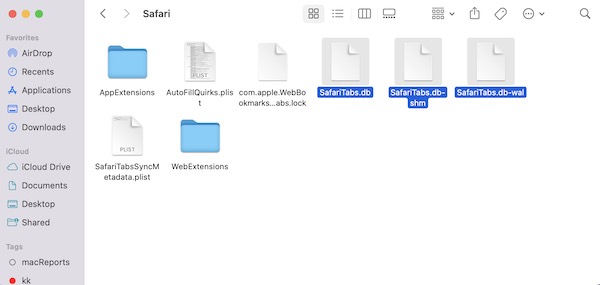 5. Then restart your Mac. Go to the Apple menu and Restart.
6. Open Safari and test. Does it crash now?