iPad Could Not Be Restored, an Unknown Error Occurred (4045), How to Fix
Some users said that they were unable to restore their iPad due to an unknown 4045 error message. You may have to restore your iPad for various reasons. For example, if your iPad is locked due to mistyping your passcode too many times, you may have to restore your iPad to gain access again. This process involves erasing the iPad and then restoring it from a backup using a computer. Users have reported that they are unable to complete the restore process and keep getting this strange error message saying:
The iPad "iPad Name" could not be restored. An unknown error occurred (4045).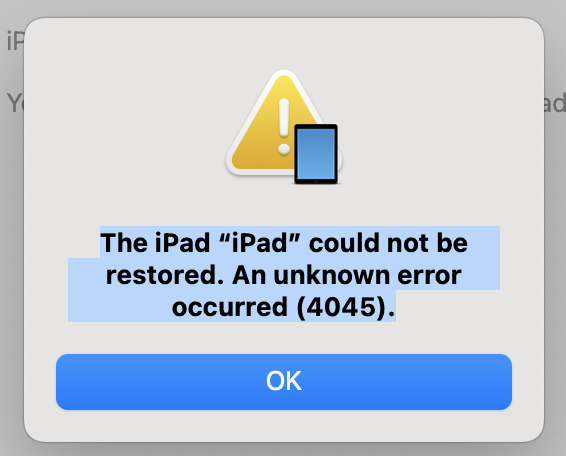 See also: The iPhone could not be restored. An unknown error occurred (9) or (4013)
Update iTunes on PC or update your Mac
As I stated above, this step requires a PC or Mac. If this is a PC, ensure you have the latest Windows updates (Windows 8 and later). Furthermore, ensure that your PC has the latest version of iTunes installed. If this is a Mac, ensure you have the latest version of macOS. On your Mac, you can check for updates by going to System Settings > General > Software Update (or System Preferences > Software Update). If there are updates, follow the onscreen instructions to update your Mac. After ensuring that you have updated the essential software, try to restore your iPad again.
Error #4045
Apple documentation includes a lot of error messages and possible troubleshooting steps; however, there is no 4045 error documentation. We do know that error messages in the 4000s often deal with connection problems. There are two types of connections when you connect your iPad to your computer. The first one is the wireless connection from the computer to Apple Servers. If for some reason there are connection issues reaching the Apple Server, the restore will fail. The following steps will address this:
Go to the Apple System Status page (direct link) to see if any of the Apple Services are down.
It is possible that your firewall or antivirus software is preventing the proper connection. Do you have any type of antivirus, firewall, or cleaning app? If so, disable it and then try again.
VPN or proxy servers may cause issues. If you are using a VPN or proxy, disable it and try again.
Check your cables
As I said above, there are two connections. One is between the computer and the Apple servers, and the other is between your iPad and your computer. This is a wired USB connection. Improper connections are known to cause issues. Try the following:
There may be a problem with your computer. Try to use a different computer if possible.
There may be a problem with your computer's USB port. Try to use a different port on your computer.
Ensure that your USB cables are working and Apple certified. If possible, try to use another cable.
Use a USB-A cable (this is the standard connector).
If your Mac has only USB-C, get an adapter to connect USB-C to USB-A. If you have a USB-C to lightning, this may not work. Get an adapter.
Related articles