iPhone 13 AirDrop Not Working, Fix
You won't be able to use AirDrop on your iPhone 13 and you do not know why. In this article, I explain how you can fix the problem when your iPhone 13 is exhibiting AirDrop problems.
It appears that various iPhone 13 models, such as Pro or Pro Max, may experience this problem. When you experience this problem, you may not be able to send or receive AirDrop files. More specifically, you may experience one or more of the following behaviors:
Unable to send or receive a file from an iPhone 13 using AirDrop.
Unable to detect other devices.
AirDrop transfers are failed or declined.
AirDrop lets you send and receive photos, videos, documents, contacts, passwords and more and it can be used between Macs, iPhones, and iPads.
AirDrop uses Bluetooth to discover the nearby devices and Wi-Fi to wirelessly share and receive the content. I use AirDrop frequently to share things quickly and it is a great feature when it works.
iPhone 13 AirDrop problem fix
Please try these steps on your device:
1. Check your settings
If the other Apple devices nearby cannot AirDrop to you or if you cannot send files via AirDrop, the first thing to check is to make sure that your settings are correct:
The first thing you should check is that your iPhone 13 is discoverable. On your device, go to Settings > General > AirDrop and ensure that "Receiving Off" is not selected.
Make sure that Bluetooth is turned on your iPhone 13. Go to Settings > Bluetooth and check. If you see a button saying "Allow New Connections", tap the button to turn on Bluetooth.
Make sure that Wi-Fi is enabled. If it is not, enable it by going to Settings > Wi-Fi.
If you or the person you are AirDropping are hosting a Personal Hotspot, turn off Personal Hotspot. Go to Settings > Personal Hotspot.
And make sure that you and the other person you are sending files to are within a certain range (which is about 10 meters or 33 feet). You may want to bring the devices closer to each other.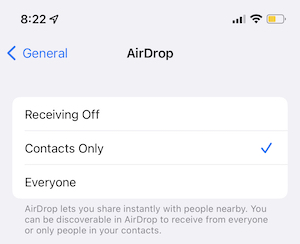 2. Basic troubleshooting
After checking off your settings, if you are still having this problem, try these steps in this order. After trying each step, check to see if you can AirDrop files again.
Turn on Airplane Mode, wait a few seconds and then turn it off.
Turn off Bluetooth and turn it on.
Turn off Wi-Fi and turn it on.
Restart your Wi-Fi router/modem.You can restart it by unplugging and then replugging the power cord.
Restart your device.
Ensure that your iPhone 13 has the latest version of iOS. Go to Settings > General > Software Update to check this.
3. Check your blocked list
If you are still having this problem, you may want to check your blocked list. You may unknowingly block a number or contact which may cause this problem. Here is how:
On your device, go to Settings > Phone and tap Blocked Contacts.
Review your blocked contacts and then check if the person you're sending to is not blocked. And ensure that the other person has not blocked your number.
4. iCloud Contacts
It appears that sometimes this issue may occur because your iPhone contacts may not match with your iCloud contacts if the AirDrop setting is set to receive from Contacts Only. You can merge your contacts to fix this issue. Here is how:
On your iPhone, go to Settings > Your Name > iCloud.
Turn on Contacts, if it is turned off.
When you are asked, tap Merge.
If Contacts were already enabled:
Go to Settings > Your Name > iCloud.
Turn Contacts off. And select "Keep on My iPhone".
Turn on Contacts and then select Merge.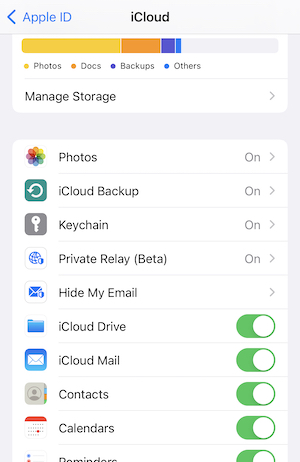 5. Reset your network settings
After trying all of the steps above, you may want to reset your network settings. Please note that this will erase all of your network settings such as your Wi-Fi passwords, Bluetooth connections etc. Here is how:
On your device, Settings > General > Transfer or Reset iPhone > Reset > Reset Network Settings. And follow the onscreen instructions.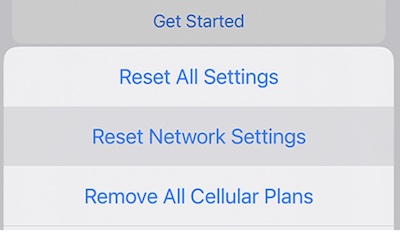 See also: