Mail Delivery Subsystem Emails: What They Mean, How to Stop Them
You may have gotten one or more emails from Mail Delivery Subsystem and wondered what that was about. There are several possibilities for why you have received these emails. In this article, we will explain why you may get email from Mail Delivery Subsystem and what you can do to stop them.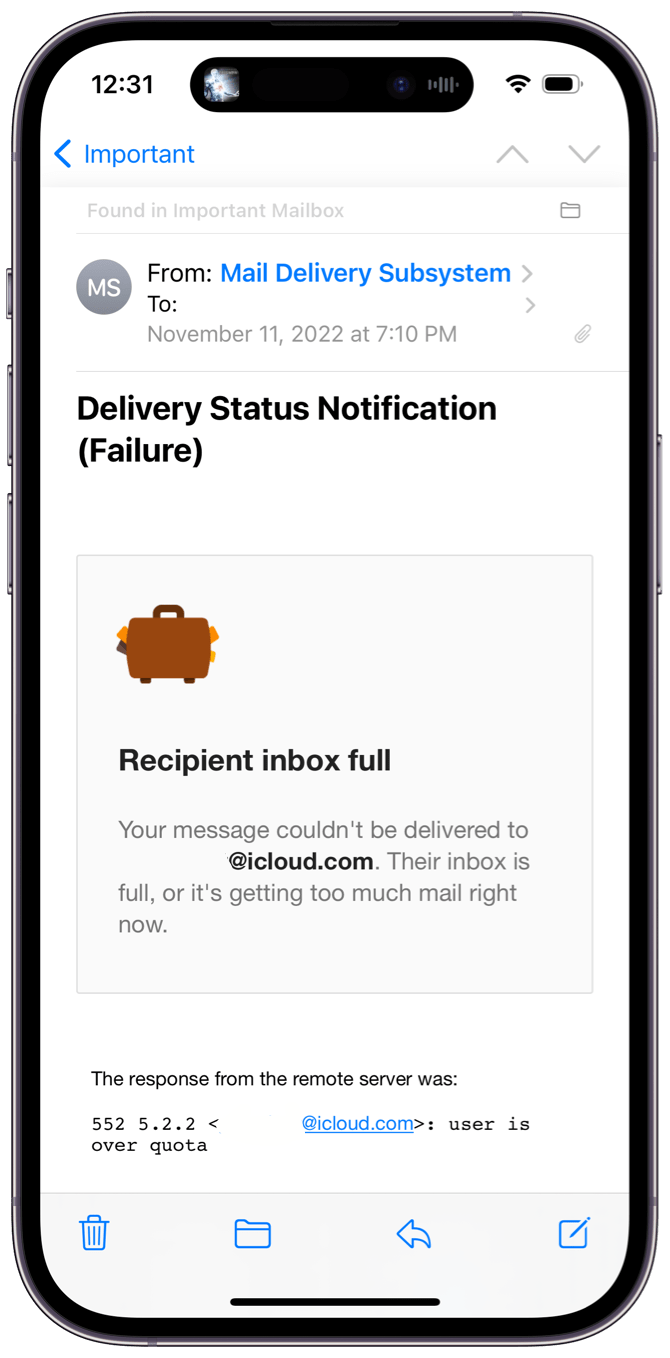 If you have received one of these emails from Mail Delivery Subsystem, and you are unsure if it is legitimate, don't click on any of the links or attachments in the email.
What is Mail Delivery Subsystem
Mail Delivery Subsystem is a name for the mailer daemon that is responsible for delivering your emails.
If you are using Gmail (this doesn't necessarily mean you're using an @gmail address), you may get an email from Mail Delivery Subsystem, whose email address is [email protected]. This is an email from google mail itself.
Why does Mail Delivery Subsystem send you emails?
You may get one or more emails from Mail Delivery Subsystem due to a problem with an email you have sent. This message is known as a "bounce message" because instead of being delivered, the email "bounced" back to you. For example, I recently received two Mail Delivery Subsystem emails after sending a couple of calendar invites.
If you have received many of these kinds of emails and you don't believe you have even sent any of the emails in the first place, you may have a problem. See the How to stop Mail Delivery Subsystem emails section below for more information on how to proceed.
Delivery Status Notification (Failure)
At the top of the email I received was written "Delivery Status Notification (Failure)." This tells me that an email I tried to send failed. In the body of the email was the reason for the failure:
Recipient inbox full

Your message couldn't be delivered to [email protected]. Their inbox is full, or it's getting too much mail right now.
It seems my friend's iCloud storage was full and so they could not receive any emails until they increased their iCloud storage.
Address not found
This is another common message type from Mail Delivery Subsystem. It usually indicates a problem with the address, such as some part of the address being mistyped. Similar messages may have a different wording:
Mailbox unavailable
Unknown user
Unrouteable domain
Host unknown
Message blocked
This means your message was blocked for some reason. This can happen when you add too many recipients to CC or BCC or if you have a "suspicious" looking URL link in your email.
Error codes
The message from Mail Delivery Subsystem may contain an error code. This code can be accompanied by a message. Codes in the 400s usually indicate a temporary issue, and those in the 500s mean that something will need to be done/changed in order for the sender to receive your email. For the email I received, the message was:
The response from the remote server was:

552 5.2.2 <[email protected]>: user is over quota
This tells me pretty much the same thing as the message above — Recipient inbox full.
How to stop Mail Delivery Subsystem emails
The way to approach this problem will differ depending on your situation:
If you have only received a few emails
If the following are true:
You have only received a few Mail Delivery Subsystem emails.
The body of the email lists the failure for the same recipient's email address.
You know you have sent (or tried to) that individual the emails that have failed.
Then the email is most likely legitimate (otherwise, see below). A couple of common problems are:
The recipient's mail is full
If you see anything in the email message indicating this, then the individual to whom you are trying to send the emails should check with their email provider. They are likely not receiving emails from anyone and need to take action to fix the situation. For example, my friend needed to increase their iCloud storage. If you have no other way to contact the person you are trying to email, you can try to send them a very short email with no attachments, letting them know about the problem. It may or may not go through.
You have the address wrong
If your Mail Delivery Subsystem email indicates that the address, mailbox, user, domain or host is not found, unknown, unavailable or unrouteable, then you need to double-check the email address you are using.
If you received Mail Delivery System emails for mail you didn't send
There are known scams involving this kind of email. It usually takes the form of phishing. Do not click on links or open any attachments from these emails.
If you have received a lot of emails
This indicates a problem called mailer daemon spam. There are a couple of possibilities here:
Someone is spoofing your email address and sending lots of spam to other addresses, some of which bounce back to you. In this case, your email account has not been hacked.
Your email account has been hacked, and someone is sending spam to your contacts (or others). This can happen if you gave out your information to a phisher or if you opened an attachment containing malware.
Steps you need to take
If there is a possibility that your email account or your computer has been compromised, you should do the following to stop the problem:
Especially if you are using a PC, you will want to make sure your antivirus/anti-malware software is up to date and running. Scan your computer and follow the suggestions given by your antivirus software.
Change your email password (after running antivirus). Use a secure password that you are not using anywhere else.
If your email account was being used to send phishing/spam to your contacts, you should warn them, or else they may find themselves with the same problem.
If you are using Gmail:

You can report phishing: Go to Gmail and open the phishing email. Click on the More (three dots) button next to the Reply button. Select Report phishing.
You may want to check your forwarding settings: Open Gmail in a browser and click on the Settings (gear) button. Click on See All Settings. Click on Forwarding and POP/IMAP. Check the forwarding section. Disable forwarding if you don't want it or you didn't set it up.
Related articles