PayPal Apple Services Charge, What Is This?
You may notice a payment from Apple Services in your PayPal account. For example, you may receive an email from PayPal saying, "You sent a payment of [dollar amount] USD to Apple Services," as you can see in the screenshot below. You may wonder what this is for and if it is a legitimate charge. It is important that you report any suspected instances of PayPal fraud. You should also know that this charge could be an authorized charge that you just did not recognize. In this article, we will explain what these PayPal Apple Services charges could be for.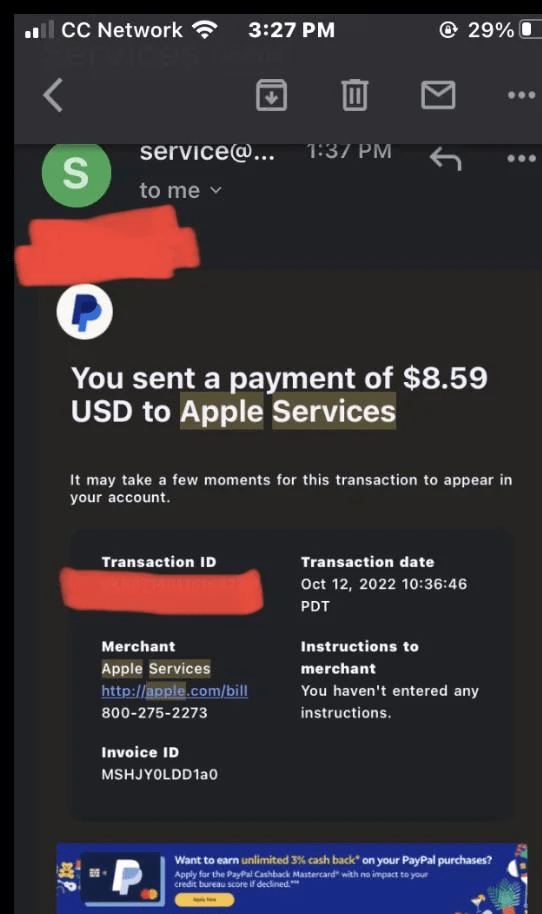 What could the Apple Services charge be?
There are a few possible scenarios. We will start with the most likely.
You used PayPal as a payment method for Apple ID purchases, such as an app or in-app purchase or subscription. This is very likely.
The PayPal notification you received is fake, and this is a phishing attempt to steal your PayPal credentials.
Without your consent, someone accessed your PayPal account.
How to check if a PayPal charge is legitimate
You can have your PayPal account on file and use it to buy stuff from Apple instead of, or in addition to, your debit or credit card. Thus, this could be a charge you made but perhaps don't recognize. You can check your purchase history to see if you can identify this PayPal charge. Here is how:
Open a web browser and visit reportaproblem.apple.com.
Using your Apple ID credentials, sign in.
You will see a list of purchases linked to your Apple ID. You can also view the purchase receipts.
If you have multiple Apple IDs, repeat these steps for each of them.
Were you able to find a purchase that matches the PayPal Apple Services charge? Please note that the dates may not match. Apple's date may be a few days later than the PayPal date. This is normal. Do you see a charge in the exact amount around the same date? If yes, this is a legitimate charge. This could be a subscription or a one-time payment. If not, keep reading.
The "report a problem" page also lets you request a refund and check for your refund status.
Is this a phishing attempt?
After checking the purchase history, let us check if this email is really from Apple or PayPal. Here is how to spot a fake notification:
Fake notices usually include generic greetings like Hi, Hello or Dear instead of your full name.
If you feel an urgency in the message, like urging you to change your password immediately, it may be a phishing email.
If the notice includes a link, do not click it. But hover over it to see the URL. Does the URL belong to apple.com or paypal.com?
If the message contains typos or grammar errors, they are fake because neither PayPal nor Apple would have typos or other errors in their communications.
Is someone using your PayPal account?
Someone could have used your PayPal account. You might have been the victim of a phishing attempt previously, and your passwords could be compromised. Log in to your PayPal account and change your password now. Then, report the charge and get a refund. Here is how:
Via the PayPal website:
Log in to your PayPal account and visit the Resolution center (paypal.com/disputes/).
Click Report a problem.
Select the unauthorized charge and click Continue.
Choose I want to report unauthorized activity and follow the onscreen instructions.
Via the PayPal app:
Select Wallet and Activity.
Select the payment you want to report.
Tap Report a Problem and follow the onscreen instructions.
Related articles