Safari "This Connection Is Not Private" Warning
This article explains how you can fix the "this connection is not private" error in iOS and macOS Safari. You are seeing this message because the security check on the site certificate by Safari is failed. This could be about https vs. http. This is likely because the website's SSL certificate is missing, expired or not issued by a legitimate certificate authority.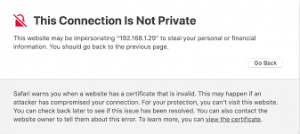 Safari will say 'Not Secure' when the website you visit does not use the HTTPS protocol.
You may get error messages when you are trying to visit websites. Safari has built-in security features to protect you against deceptive, harmful and suspicious websites. Visiting this type of websites may potentially harm or damage your computer. One of the warning messages you get is this 'connection is not private' message. When you see this message, it is recommended that you do not visit this particular web site.
See also: How To See The Full Web Site Address In Safari URL Bar
If you think that you are seeing this warning message even though the site you are visiting is not deceptive, then there a few tips that you can try. There a few reasons for a failed secure connection between the user and the web site's server:
You can bypass this message (make sure that you know what you are doing) by clicking 'Show Details' and clicking 'Visit this website'.
See also: How To Fully Reset Safari On Mac
Please try each step until your issue is resolved:
Connection Not Private Error Message
1. Restart everything:
Restart your Mac
Restart your iPhone or iPad
Restart your Wi-Fi modem and router.
2. On your iOS or macOS device. make sure that the date, time, and time zone are set correctly. Here is how you can check this:
iPhone, iPad: Settings > General > Date & Time. You may want to tap "Set Automatically".
On your Mac, click the Apple menu > System Preferences > Date & Time. Check to see if your date, time and time zone information is set correctly. Again you may want to check the "set date and time automatically' box. If you want to make changes, you need to click the lock icon and then enter your password.
3. Third-party security (e.g., antivirus software) tools may cause this error by mistake. Try disabling them to see if this resolves your problem.
4. Corrupted Safari cache and website data may cause this. Try clearing them. Here is how:
iOS or iPadOS: Settings > Safari, and tap Clear History and Website Data.
macOS: Open Safari and click Safari > Preferences > Privacy and then click the Manage Website Data button and click Remove. You may also want to remove your browsing history by going to Safari > History > Clear History.
5. Try visiting the website with the Private Browsing mode turned on. Copy the URL and visit the URL in Private Mode. Then try to visit the same URL normally (not in Private Mode). Here is how:
iPhone or iPad: Open Safari and tap the tabs icon and then select Private. Private Browsing Button Missing?
Mac: Open Safari and click File and New private Window.
6. If you are using a VPN service, that may also cause this problem. Try disabling them and re-try again.
7. if you are having this problem on your Mac, open the Keychain Access app. Then find the certificate. double click it and click Trust and set this to 'Always Trust' (when using this certificate section).
Similarly, you may also see a very similar message when you visit websites in-app browsers. You may experience this when an app (e.g., Reddit) wanted to show you a web site. This message says:
"This connection is not secure. This website could be impersonating 'www.macreports.com' in an attempt to steal your personal or financial information. You should go back to the previous page or open the page in Safari for more detail on why this connection  is not secure"
You may just tap Open in Safari.
See also: Safari kCFErrorDomainCFNetwork Error, Blank Page Fix