Contacts App Not Working on Mac, Fix
Some Mac users have said the Contacts app is not working properly on their computer. We receive different type of problems, for example, users have complained that the Contacts app:
Keeps crashing. Some said it crashes when they open it and others said that it crashes after being used for a short period of time.
Keeps freezing and stops responding.
Shows an empty page. The app is not displaying the contacts and contact details are not loading. Thus users are unable to view or edit them.
Does not let you edit, save, delete the contacts.

The Contacts app on your Mac lets you manage your individual and group contacts. It can store all of your contacts in one location. Using Contacts, you can call, FaceTime, text, or email a contact directly from the app. Furthermore, the app integrates in a lot of ways with Siri, Maps and more.
In this article, I explain how you can fix your Contacts app problems. I recommend that after each step, open Contacts to see if you have fixed the issue.
Update and Restart
The first step is to ensure that your Mac is updated to the macOS software. On your Mac, click System Preferences > Software Update. If there is an update, follow the onscreen instructions. The Contacts app is part of macOS. When you update your Mac, Contacts will be updated too.
If your Mac is already up to date, I recommend that you restart your Mac. On your Mac, click the Apple menu and Restart. After restarting, open Contacts and try again.
Check Contacts preferences
If the Contacts app is not showing some of the contacts, you may want to review your settings and preferences. The first thing you should check is whether your account is enabled or not. Here is how you can do this:
Open Contacts.
Click Contacts (menu bar) and select Preferences.
Click the Accounts tab.
Ensure that your account is added and enabled. Also ensure that your default account is correct.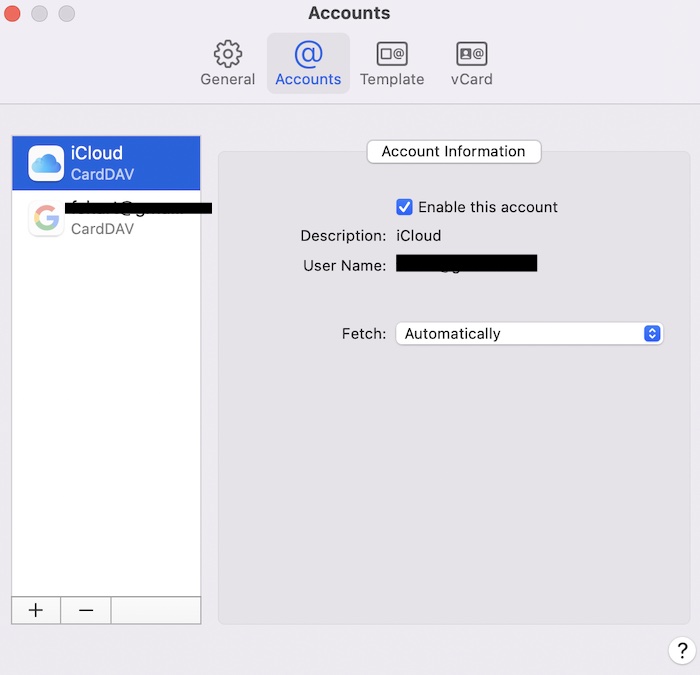 Safe Mode
Simply restarting your Mac in Safe Mode may help you with this contact problem. Here is how:
Intel Mac: Turn off your Mac. Turn on your Mac and immediately press and hold the Shift key until you see the login screen.
Apple silicon: Turn off your Mac. Press and hold the power button until you see the startup options screen appears. Select your startup. Press and hold the Shift key and click "Continue in Safe Mode".
Note: You can determine if your Mac is an Intel or Apple silicon based computer by going to Apple menu > About This Mac > Overview, if you do not know.
Now, you should check your Contacts app.
When you are done, restart your Mac. Open Contacts again to test.
Fix Contacts database
It is possible that your contacts may not be loading or the app keeps freezing or crashing due to a corrupted database. I will show you how you can rebuild your database to fix this. By rebuilding, what I mean is that we will delete the current database (index files) and the Contacts app will automatically build a new one.
Since we will delete the database, I strongly recommend that you create a Contacts backup. Here is how:
Open Contacts.
Click File > Export.
Then save the file you exported.
After this, now it is time to delete the index file. Here is how:
Quit Contacts, if it is running (Contacts > Quit Contacts).
Go to the Finder.
Click Go in the menu bar, and select Go To Folder.
Enter the following file pathname:
~/Library/Application Support/AddressBook
This will open your address book folder. Then locate these files:
addressbook-v22.abcddb
addressbook-v22.abcddb-wal
addressbook-v22.abcddb-shm
Delete these files by moving them to the trash (if you want, you can save these files somewhere else as a backup measure).
Open Contacts and test to see if the app is working properly.

Note that the method above will reset your contacts if they are saved on your Mac. If you are having issues with cloud based contacts, remove the account and add it back again. Here is how:
Open Contacts.
Click Contacts and Preferences.
Click Accounts.
Then select the account and then click the (-) remove button to remove it. Follow the onscreen instructions.
After removing, using the same steps, add it back again.
See also: