Time Machine Not Working on Mac, How to Fix
Several users have reported that Time Machine is not working properly on the Mac. And this prevents users from backing up or restoring the Mac using Time Machine. Users have reported the following problems:
Time Machine is stuck in the "preparing", "preparing backup" stage
Time Machine freezes or is not responding.
Time Machine is very slow and the process takes a lot of time.
Time Machine is not deleting older backups.
Time Machine is not recognizing your backup disk. (see also: SD Card not Showing up or Detected on Mac)
If you are having this problem or a similar problem, then this article is for you. This article explains what you can do when Time Machine is not working.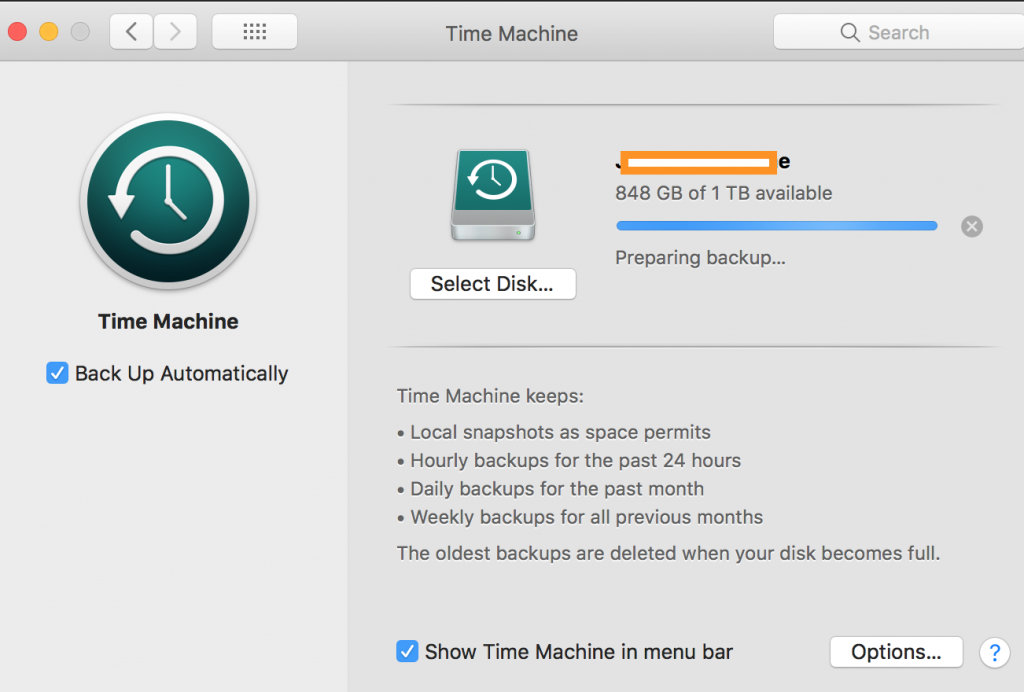 Time Machine is Apple's built-in backup technology. You can use it to backup your Mac. Backups are great way to keep your data protected. There can be several reasons why you may have issues with it. The following steps address them.
Basic Time Machine troubleshooting steps
Please try these steps first:
Restart your Mac and then try again (Apple menu > Restart).
Make sure that your backup drive is properly connected (if you are using a network, ensure that your Mac and disk are on the same network) and turned on and plugged into a power source.
Ensure that your Mac is running the latest version of macOS. You can check for updates and update your Mac by going to System Preferences > Software Update.
Ensure that your backup disk is supported by Time Machine. Supported disks may include:

Time Capsule,
USB or Thunderbolt drive,
Network-attached storage (NAS) device.

Likewise, ensure that your disk file system is compatible with Time Machine. Time Machine can't back up to a disk formatted for Windows (FAT and NTFS). APFS or APFS Encrypted disks are the preferred formats. It also supports the Mac OS Extended format (Journaled) format. To find out the external drive's format:

Connect your drive to your Mac.
Select it in Finder and click Get Info.
Open the General section if it is not.
Check its format.

Ensure that your backup disk has enough available storage.
Your disk may have errors. You may want to repair it using Disk Utility. And run First Aid on the Time Machine backup disk.
Stuck on "Preparing"
Sometimes you may experience an issue where a very long preparation phase may occur in Time Machine and it may seem to be stuck. When you go to System Preferences > Time Machine, you may see a message saying "Scanning xx items," "Preparing," or "Preparing backup" message. If you are experiencing this, try the steps below:
The length of preparation time Time Machine needs may change due to a lot of factors such as the size of your backup. What you can do is in the evening so that the backup can be completed overnight. If your Mac cannot pass this stage, then move to the next step below.
If you are using malware or antivirus software on your Mac, it can cause this problem. Open your virus or malware software setting and ensure that your backup disk ("Backups.backupdb") is excluded from automatic virus or malware scanning. Also likewise, ensure that you are running the latest version of the software.
If you are still having this issue, please try the steps below:

Stop the current backup by clicking the x icon (System Preferences > Time Machine), see the image below. And ensure that the backup stops. Then uncheck the "Back Up Automatically" box, if it is checked.
Delete the "inProgress" File. Here is how:

Open the Backups.backupd folder by opening the Time Machine backup drive in the Finder (/TimeMachineBackupDrive / Backups.backupdb/).
Find the backup that is stuck on preparing. It will be named like this: "year-month-day-random numbners.inProgress" like "xx-xx-xx-xxxxxx.inProgress".
Delete this file.

Restart your Mac. You may now select the "Back Up Automatically" box.
Attempt to back up again to see you have fixed it.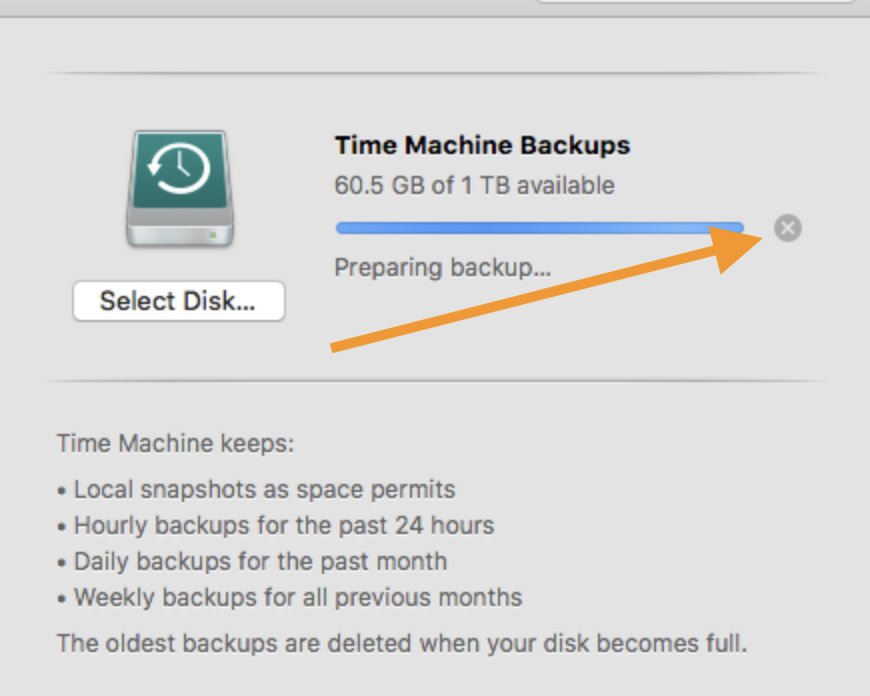 Time Machine is slow
The first time you use Time Machine, it can be slow. This is normal. The next backups will be faster.
If you are running macOS Big Sur, ensure that you are using an APFS-formatted backup disk.If your disk is not APFS, you can use Disk Utility to erase and reformat your disk. Please note that this will delete everything. After this, you can set up Time Machine again.
Very large files or folders may take longer to back up. You can exclude larger files from your backup. Simply go to System Preferences > Time Machine > Options and then click the "Add" (+) button to add a (larger) file, apps, or folder to be excluded.
If you are using Wi-Fi to backup, ensure that you do not have Wi-Fi problems. You can fix slow Wi-Fi or no Internet connection problems on your Mac.
See also: