Trackpad Not Working After macOS Monterey Update
Some users have reported having problems with their Trackpads after updating their Macs to the latest macOS Monterey. They have said that after updating, they are unable to use the Multi-Touch gestures on their Mac. There are several Multi-Touch gestures that can be used with a Trackpad, such as tap, swipe, scroll, zoom, and rotate. In this article, I will explain how you can fix the issues with your Mac's Trackpad.
Trackpad fix on Monterey
First, please ensure that your Mac has the latest version of macOS. Go to System Preferences > Software Update. This window will check for updates. If there is an update, click Update Now and follow the onscreen instructions.
Check your settings
Go to Apple menu > System Preferences > Trackpad and review all options to ensure that the Trackpad preferences reflect your desired choices. For example, if just lightly tapping the Trackpad to click does not work, ensure that the Tap to click option is selected. Some users have said that some of the gestures are not working even when they are enabled. If this is also your problem, follow the steps below.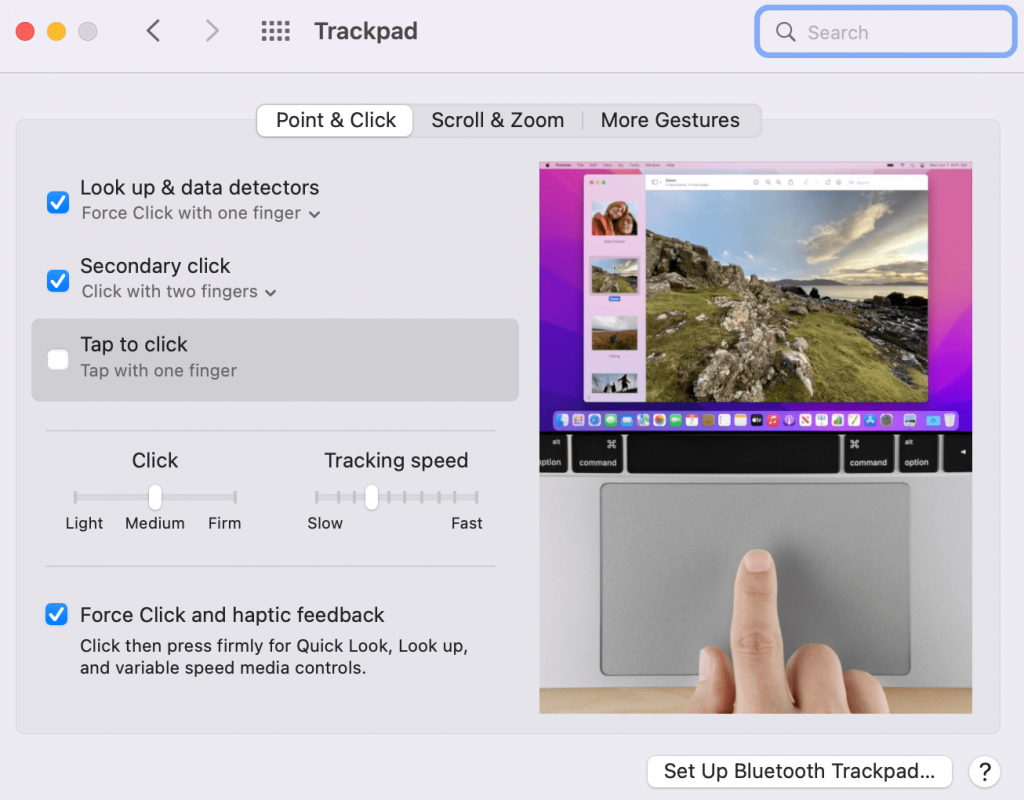 On your Mac, go to System Preferences > Accessibility > Pointer Control > Mouse & Trackpad. Check to see if the Ignore built-in trackpad when mouse or wireless trackpad is present is turned on. If it is turned on, your Trackpad won't work if you are using a mouse. If you haven't intentionally selected this setting, turn it off. It could be the cause of your problem.
If your Trackpad does not move the pointer, go to Apple menu > System Preferences > Trackpad > Point & Click. Do you see an option called Ignore accidental trackpad input. If this is selected, two fingers won't move the cursor. If this is the problem you are having, disable this option.
Restart the Dock
It seems that restarting the Dock may fix this problem. Here is how:
Open Activity Monitor (Applications > Utilities).
In the search field, type Dock.
In the results, select Dock and click the Quit (X) button.
Then select Quit.
The Dock will restart automatically.
Test to see if your Trackpad is working now.
Alternatively, you can also restart the Dock via Terminal:
Open Terminal (Applications > Utilities).
Enter the following command and press Enter:
killall Dock
Your Dock will restart.
If you are still having issues, it could be caused by faulty hardware. It would be a good idea to have your device checked. You can make a Genius Bar appointment to have Apple check your device's hardware.
Related articles