What Does Reset Network Settings Do on Your iPhone or iPad?
You may already know that your iPhone or iPad offers a few different reset options. These options exist because resetting a device can fix various issues by restoring your settings. There are different reset options because they do different things. This ensures that you can only reset what you need.
The most drastic reset option is the Erase All Content and Settings option. This will delete everything, and you will lose all of your data and content unless you have a backup. Another reset option we have written about previously is the Reset All Settings option. This will delete your settings while your data and content will stay intact.
Basically, resetting involves clearing your customizations and bringing your device back to factory settings. In this article, I will explain what will happen when you select the Reset Network Settings option. When you Reset Network Settings, only network settings are deleted. But you may wonder what exactly are those network settings and you may need to know what the impact will be when you do a network reset.
How to Reset Network Settings
The steps are the same for the iPhone and iPad:
For iOS or iPadOS 15 and later: Settings > General > Transfer or Reset iPhone or iPad > Reset > Reset Network Settings.
For iOS or iPadOS 14 and earlier: Settings > General > Reset > Reset Network Settings.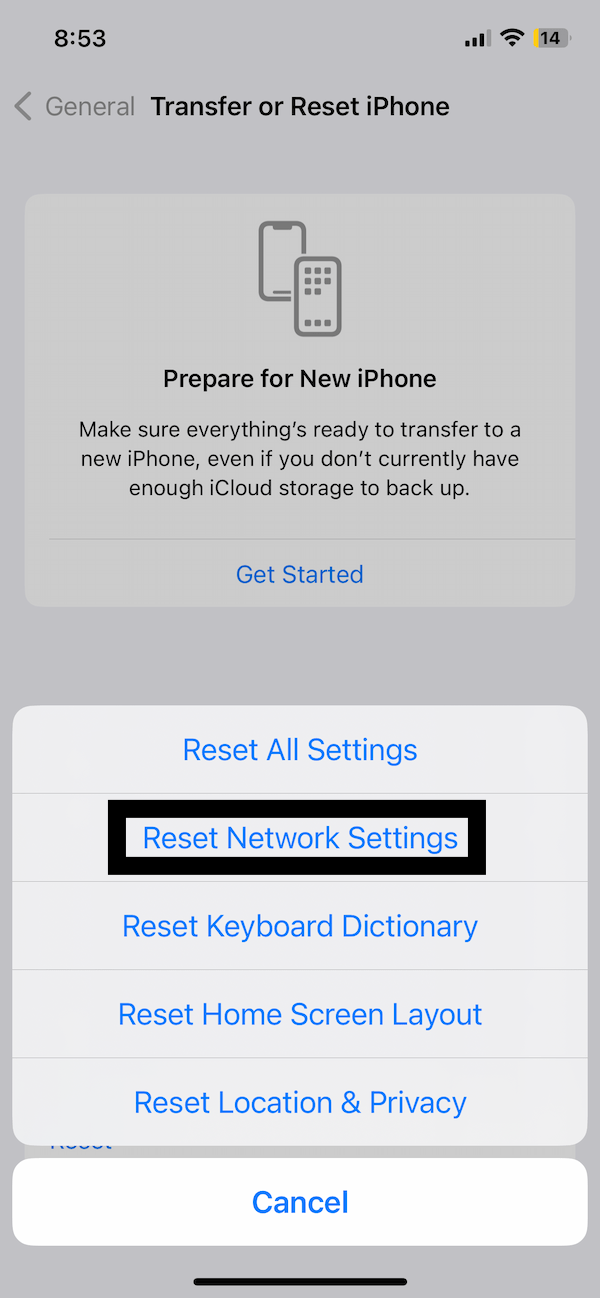 If you do not know your software version, go to Settings > General > About. You can also go to Settings > General > Software Update to check for updates.
What does Reset Network Settings Do?
This is not a complete removal of your settings and content. But the following will occur: Note that some of these may not be applicable if you have a Wi-Fi iPad (without cellular).
Your saved Wi-Fi names and passwords will be deleted. It may be a good idea to take note of your saved Wi-Fi passwords. Your iPhone or iPad lets you view your Wi-Fi passwords (in iOS/iPadOS 16 or later).
Custom DNS settings, if any, will be deleted.
Cellular preferences will be removed. Your cellular data usage will be reset (Settings > Cellular > Usage).
Bluetooth preferences will be deleted. All of your saved paired connections will be removed.
If you are using a VPN, your VPN settings (server names, passwords, etc.) will be deleted.
Your iPhone name (Settings > General > About) will be reset to the default, which is iPhone or iPad.
What Reset Network Settings does not do
Your content will not be deleted. This means that, for example:

Your photos, videos, files or folders, etc., will stay.
Your email and email accounts will stay.
Your messages will stay.

Your other settings will not be changed. These include, but are not limited to:

Home screen layout.
Location and privacy settings.
Apple Pay cards.
Your app settings.
Your iCloud or Apple ID settings.
Your sound settings (notifications, etc.).
Display settings (wallpaper, etc.).

Phone calls, the ability to send texts or iMessages, and other classic telephone services are not affected. These are already pre-configured.
When to Reset Network Settings
All reset options, including the network one, are a last resort after you have done other troubleshooting steps (I list some below) without success. The most common reason for resetting network settings is to fix network connection problems. These may include, but are not limited to:
If you cannot connect to Wi-Fi. For example, if you cannot use services that require an active Internet connection, such as browsing the web or using FaceTime.
If you are having cellular issues. For example, if you see No Service, Searching or SOS on your screen.
If you cannot make or receive phone calls.
Again, if you run into issues like these, before resetting your device, exhaust all other troubleshooting steps. Some of the general strategies for fixing network problems include:
Restarting your iPhone or iPad.
Updating to the latest version of iOS or iPadOS.
Restarting your modem or router.
Turning off and on Airplane Mode.
Related articles