Which Gas Stations Take Apple Pay and Which Do Not
There are many gas stations that accept Apple Pay, but there are also a limited number of gas stations that do not take Apple Pay. Apple Pay makes it very easy to fill up your car. If you can use Apple Pay, there is no need to go inside, insert your credit card, enter a zip code or complete other verification steps, which sometimes be a hassle.
Having a list of gas stations that accept Apple Pay can be especially useful if you are planning to take a road trip. If you use your Apple Card with Apple Pay at a gas station, you will get 2% Daily Cash which you can then transfer to your bank or to your Apple Savings account.
Most gas stations that accept Apple Pay have integrated the technology at their pumps. However, sometimes you may need to go inside and see a cashier to use Apple Pay.
You may also be interested in our general list of places that take Apple Pay.
It is easy to know if a location accepts Apple Pay
If you are not sure if a gas station takes Apple Pay or not, it is pretty easy to figure out. If you see the contactless payment icon or the Apple Pay icon, as you can see in the photo below, Apple Pay can be used. In the image below, Apple Pay, Google Pay and Samsung Pay are accepted. You can use your iPhone or Apple Watch to purchase gas.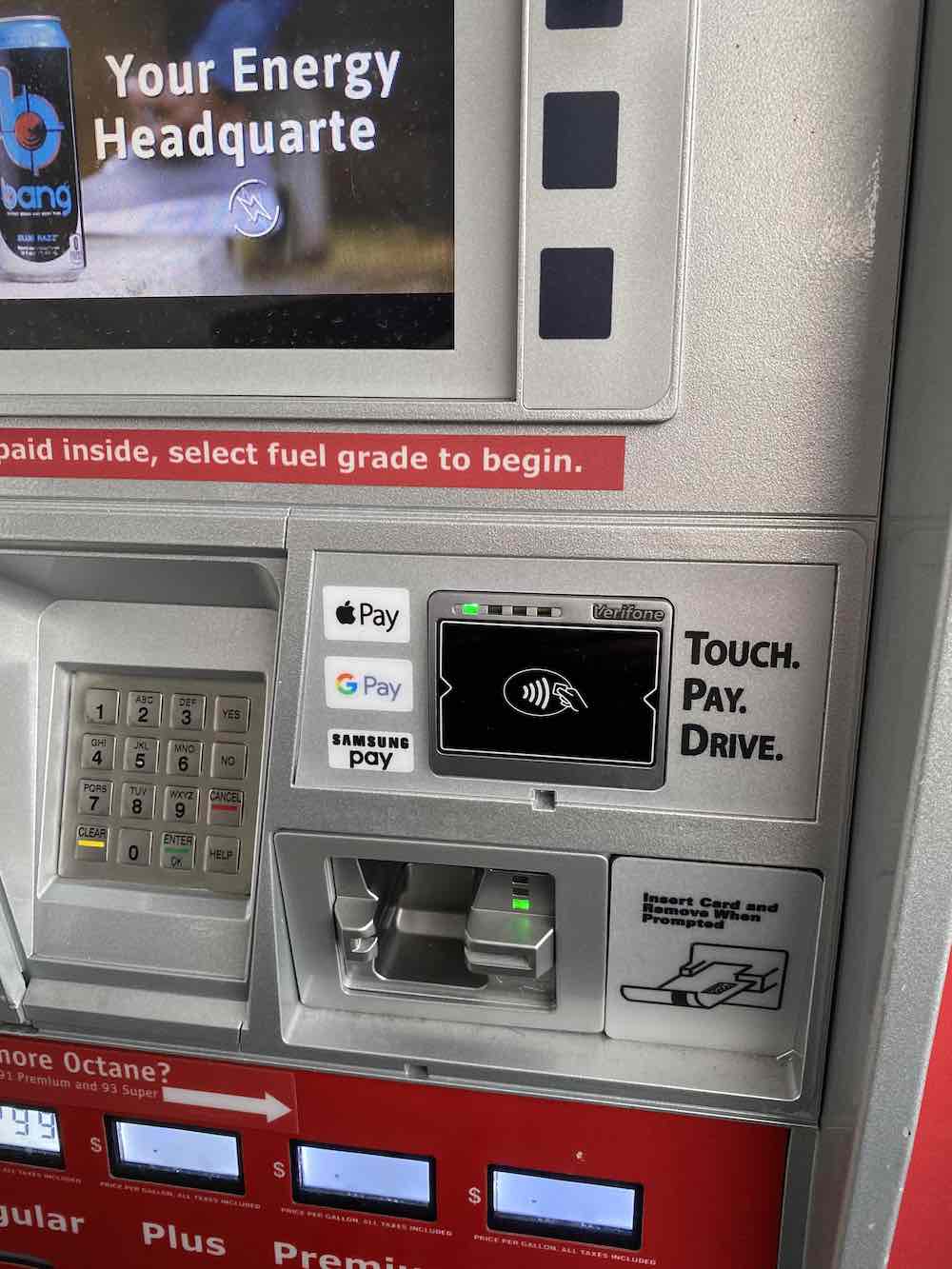 Gas stations that take Apple Pay
The gas stations listed are chains. There are two important things you should know:
Although the following stations accept Apple Pay, sometimes not all branches of that gas station chain accept Apple Pay. Some branches may be outdated, and wireless payment technology may not be integrated yet.
For Apple Pay to work, the gas station must accept the payment and payment network. Some gas stations may only accept debit cards or certain types of credit cards. For example, Costco accepts Apple Pay at their pumps. However, if your Apple Pay is linked to a Master Card (Apple credit card is a Master Card) or a Discover card, it won't work, as Costco gas stations only take Visa or debit cards.
Here is the list of gas stations that accept Apple Pay:
76
7-Eleven
Alon
ARCO
BP / Amoco
Casey's General Store
Chevron
Circle K
CITGO
Conoco
Costco
Cumberland Farms
Delta Sonic
Exxon Mobil
Family Express
Hele
Holiday Oil
Irving Oil
King Soopers
Kum & Go
Kwik Fill
Kwik Trip or Kwik Star
Love's Travel Stops
Marathon
Maverik
Meijer gas stations
Philips 66
QuikTrip
RaceTrac
Raceway
Red Apple
Sheetz
Shell
Speedway
Sunoco
Texaco
Thorntons
Travel Centers of America
Valero
Wawa
Gas stations that do not take Apple Pay
Billups
Clark Brands
Sam's Club gas stations
Walmart gas stations
Related articles