YouTube Website Not Opening in Safari on Mac, Fix
I was having this problem too. Basically my problem was this: I open Safari on my Mac and type youtube.com and press enter and nothing happens. The Youtube website does not load. In fact, nothing loads, it is just an empty blank page. For some reason, Safari did not complete the most straightforward task of loading Youtube.
However, I was able to fix this problem. This article explains what you can do when Safari does not open the Youtube website on your Mac. If you are having this problem too, it is important to resolve it before you can watch your videos.
Please each step below until you fix the Youtube problem.
Youtube is not opening
Before we start, this article assumes that you are having this problem with Youtube only. If Safari cannot open all of the websites you visit, you may be having a connection problem. You may want to address possible Wi-Fi issues.
Furthermore, try force-quitting (Apple menu > Force Quit) Safari and then try opening it again to see if this fixes your problem. If this does not solve it, restart your Mac. if you are still having this problem, then see the tips below:
1. It is highly likely that this issue is caused by Safari extensions or something saved in your cache or browser data. Let's try to troubleshoot these:
We can test to see if an extension is causing the problem by turning on Private Browsing On your Mac, open Safari.
Choose File > New Private Window. This will open a new Private Browsing window.
In the Private Browsing window, visit Youtube.
Does Youtube load in Private Mode? If it does, follow the steps below:
Open a regular (not private) Safari window.
Turn off all Safari extensions. To do that, first, go to the extensions management settings by choosing Safari > Preferences > Extensions. Then turn off each extension.
Now reload Safari and try to visit Youtube and if Youtube opens without an issue, then follow the steps below. If Safari still does not work, you may need to clear your browsing data (see number #2 below). You can also enable your extensions because we now know that extensions are not the problem.
So when you disable all the extensions, Safari works. This means that one or more of your extensions are causing this problem. You may want to test each extension individually to find the problematic one.
Turn on one extension and reload the page and try to visit youtube.com. if Youtube opens, now turn on the next extension until you find the extension causing the problem. When you find that remove that extension and your problem is solved. You can also enable all of your extensions now.
See also: Top Sites not working?
2. If you are still having this problem, try clearing your browser data. One disadvantage of this tip is that this will erase some of your settings for websites, like your history or passwords. However, you can also choose to erase only Youtube data. Here is how:
Open Safari.
In the Safari app on your Mac, click Safari > Preferences.
Click the Privacy tab and then the Manage Website Data button.
This will open a new window saying Loading Website Data. If you have a lot of data, this may take a few minutes to load. Just wait until it loads.
You can click the Remove All button. But this will remove all data. If you do not want this, you may choose to delete only the Youtube data.
Scroll and find Youtube and then select it.
Then click Remove and Done.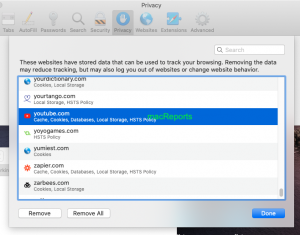 If you are still having this problem, you may want to reset Safari.