How to Charge your AirPods Max and Check the Battery Level
AirPods Max, the headphones version of Apple's AirPods, have a much longer battery life than any of the other AirPods in Apple's lineup. The latest, 3rd generation, version of AirPods has a battery life up to 6 hours. For the AirPods Pro, it's even less, with up to 4.5 hours. The AirPods Max, however, will let you listen for up to 20 hours on a single charge. Even so, you will still need to charge them from time to time. In this article, we will go over how to charge your AirPods Max, how to use the built-in power saving modes, and how to check your AirPods' charge status.
Expected Battery Life and How to Preserve Charge
AirPods Max charge should last for up to 20 hours of use.
For each 5 minutes of charging, you should get about 1 1/2 hours of listening time.
When you are done listening with your AirPods Max, they will go into low power mode after 5 minutes of being left undisturbed – they have to remain stationary or else they will stay active. Your AirPods will go into an even lower power mode after 72 hours.
When AirPods are in their Smart Case, they are automatically put into a low power mode. After 18 hours in the Smart Case, they go into an ultralow power mode.
How to Charge
The AirPods Max come with a lightning port for charging, just like the iPhone. You connect the lightning cable to the bottom of the right AirPod. Although the AirPods Max comes with its own lightning to USB-C cable, you can use any lightning cable to charge your AirPods. You can then connect the other end of your lightning cable to a USB-C (or USB) charging brick port, or into another charging source, such as your Mac, or the USB port in your car.
You can charge your AirPods Max when they are in their Smart Case; Just make sure the lightning port is accessible through the slit in the AirPods' case. When the AirPods are in their Smart Case, they are automatically put into a low power mode, which will preserve their battery.
How to Learn the Charge Level on AirPods Max
You find out about your AirPods Max's charge level on your iOS device, or on the AirPods themselves.
On iPhone or iPad
You will get a low charge notification on your iPhone for your AirPods Max when the charge is at 20, 10 or 5 percent.
To see the battery charge percent on your iPhone screen, you can either:

Pick up your iPhone – if it doesn't appear automatically, press the noise control button on your AirPods to see the "connected Bluetooth device pop-up."
Swipe left to right on your screen to open Today View (the one with all the widgets). The Batteries widget will show your AirPods Max charge status.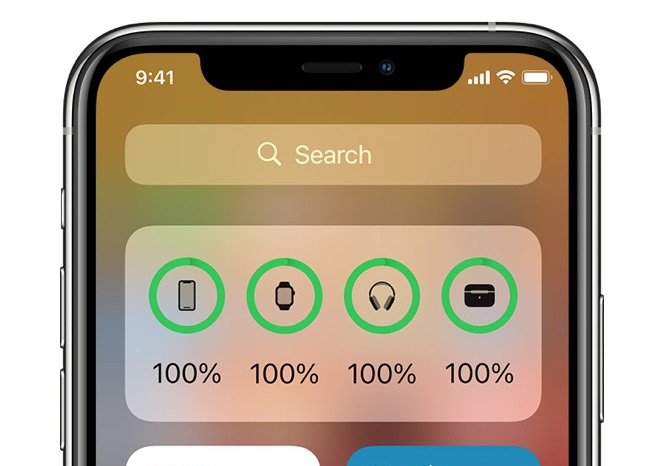 On AirPods Max
When your AirPods have only 10 percent charge left, they will emit a warning beep. They will only do this once, until the AirPods' charge is so low they are about to turn off, then they will emit the tone again.
There is a status light on the right earphone.

When your AirPods are connected to a power source, you can press the noise control button to see the status. It will show green when the charge is 95 percent or more, and show amber when the charge is less than 95 percent.
When you press the noise control button and your AirPods are not connected to a power source, the light will show green when there is 15 percent or more charge, amber when there is less than 15 percent.
Related Articles: