How to get AirPods Pro with Static, Crackling Replaced for Free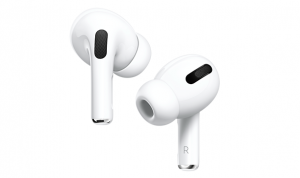 Apple has issued a service program for AirPods Pro that are experiencing sound issues. The affected AirPods Pros were manufactured before October 2020. What this means, is that if you have AirPods Pro with the Static or Crackling sound problem, Apple will replace the defective units for free. This article will describe the issue, including which AirPods Pro qualify, and explain how to get your replacement AirPods.
See also:
Description of the Problem
For AirPods Pro manufactured before October 2020, the affected units display one or both of the following:
Crackling or static sounds. These noises may increase when:

The surrounding environmental noise is louder.
While exercising with AirPods.
While on a phone call.

Active Noise Cancellation doesn't work as it should.

Bass may be diminished.
Background noises may actually become louder, rather than reduced.
See also: AirPods Keep Disconnecting, Fix
Active Noise Cancellation
Active Noise Cancellation technology is available on AirPods Pro and AirPods Max. It uses microphones to detect both external and internal sounds. The unwanted sounds are then cancelled with an anti-noise before you hear them.
The AirPods Pro has three noise-cancelling settings to choose from:
Active Noise Cancellation which works to cancel unwanted external and internal noise.
Transparency Mode which allows external sounds in so you can hear the noises coming from your surroundings. This allows you to remain aware of your environment.
Off. Essentially, no noise cancellation is enabled on your AirPods.
See also: Red Exclamation Point On AirPods, Fix
How to Switch Settings
To switch the noise cancellation settings on your AirPods Pro you can use your iPhone (or iPad) or do it directly from your AirPods.
On your iPhone
Go to Settings > Bluetooth. 
Find your AirPods in the list of devices, then tap the info (i) button next to your AirPods.
Choose Noise Cancellation, Transparency, Off.
On your AirPods Pro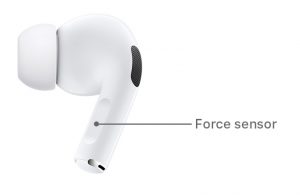 On either one of your AirPods, press and hold the force sensor on the stem of your AirPods Pro.
A chime will sound to indicate the change. Press again to toggle through the three noise cancellation settings.
See also: AirPods Wireless Charging Not Working, Fix
How to Get Service (Replacement)
There are three different routes you may take to get your AirPods serviced. Before your AirPods are actually serviced, they will be examined to determine if they are eligible for the service program. AirPods Pro that have a confirmed static/crackling sound issue as it is described in this article, will be replaced, free of charge.
The affected AirPod (L, R, or both) will be replaced.
The AirPods Pro case is not affected, and so will not be replaced.
This service program or having your AirPod(s) replaced does not affect the warranty coverage for the AirPod(s). See How To Check Your Apple Warranty Status, to find out more about your coverage.
You must make use of this service program within 2 years of purchasing your AirPods Pro.
See also: What does AppleCare+ for AirPods Cover? Is it Worth it?
Service Options
Choose one of these options to start the service process.
To prepare for your service appointment, you may need the receipt for your AirPods purchase.
Recent Articles: