How to Download an Apple iPhone User Guide
Many who are new to iPhone may want to have a user manual. Back in the day, everything came with a user manual, and some products still do; however, these days, Apple devices and most other computer and mobile devices do not come with a physical guide. There are some options for those wanting a guide for their new device:
You can look at the official iPhone user guide from Apple, which is available online.
You can download a copy of the official user guide onto your iPhone (or other Apple device). With this option, you can view the guide offline.
There are also numerous other websites and books available to help you learn about your new device.
In this article, we will outline how to use each of these options so that you can have the iPhone user guide you want, in the form you want it.
The official Apple iPhone User Guide available online
The official iPhone user guide is available at https://support.apple.com/guide/iphone. You can access this guide on any of your devices. After you go to the site, you can use the search field to search for a topic, or you can click or tap on the Table of Contents link to open a table of contents for the user guide.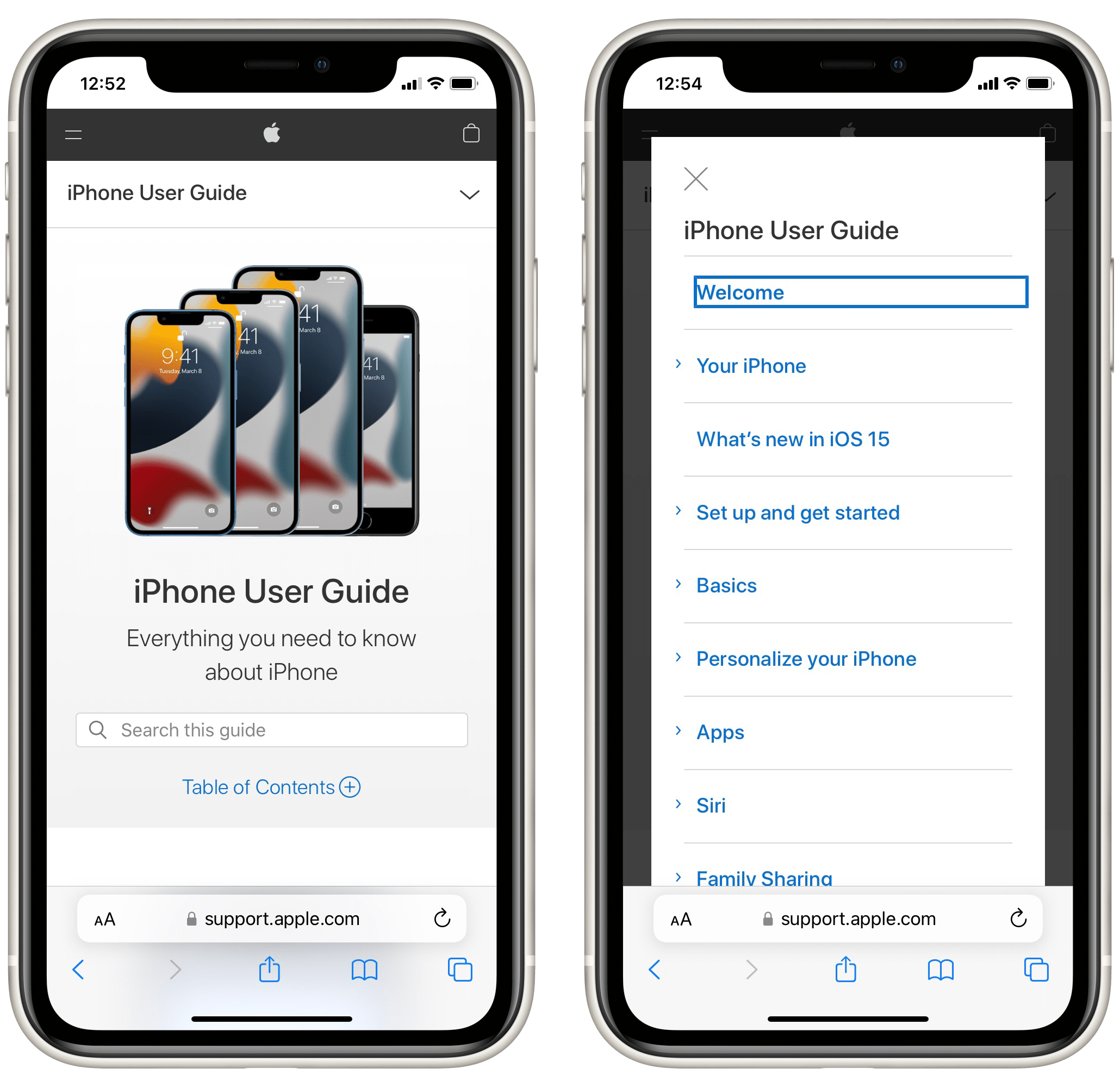 If you select the Table of Contents link, you will see a variety of topics you can browse. Here is what you will find in a few of these options that are most relevant for new iPhone users:
Your iPhone: Look here if you need to know the basics about your iPhone model. You will find info on the location of the various buttons, the camera features, the SIM tray and the charging port.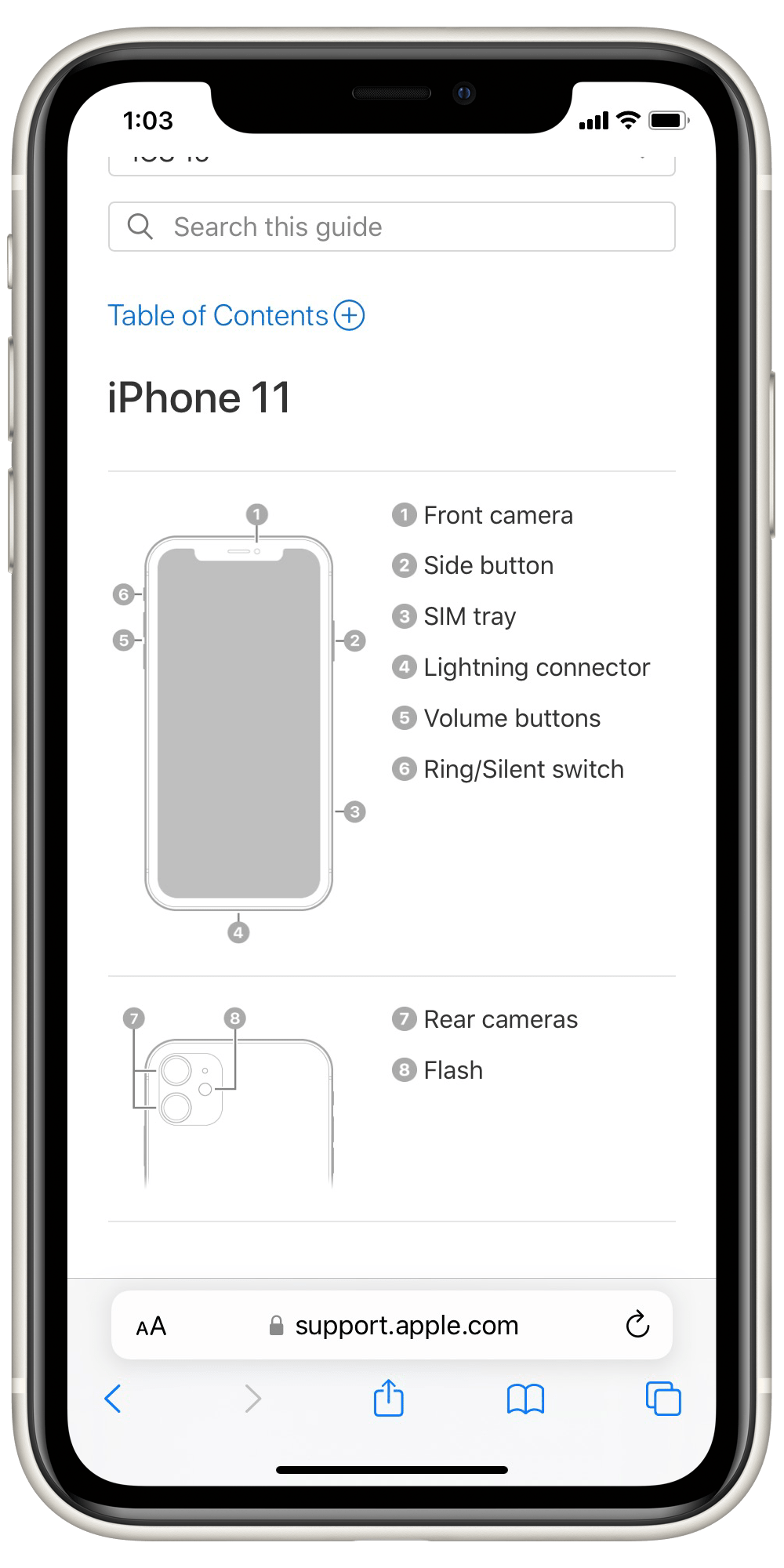 Set up and get started: The information in this section will tell you everything you need to know to get your iPhone up and running. You will learn how to turn on your phone, set up cell service, connect to the internet, set up your Apple ID and iCloud and how to set up your email accounts and your contacts.
Basics: There is a variety of information in this section. It would be worth browsing if you are new to iPhone. You may not want or need everything from this section, despite it being titled "Basics."
Personalize your iPhone: This is where you want to go for information on how to change any of the settings to something you find more suitable. You can find information on how to change sounds, wallpaper and on how to arrange your Home screen.
How to download a copy of Apple's iPhone User Guide
The one way that Apple gives you to download the iPhone user guide is through Apple Books.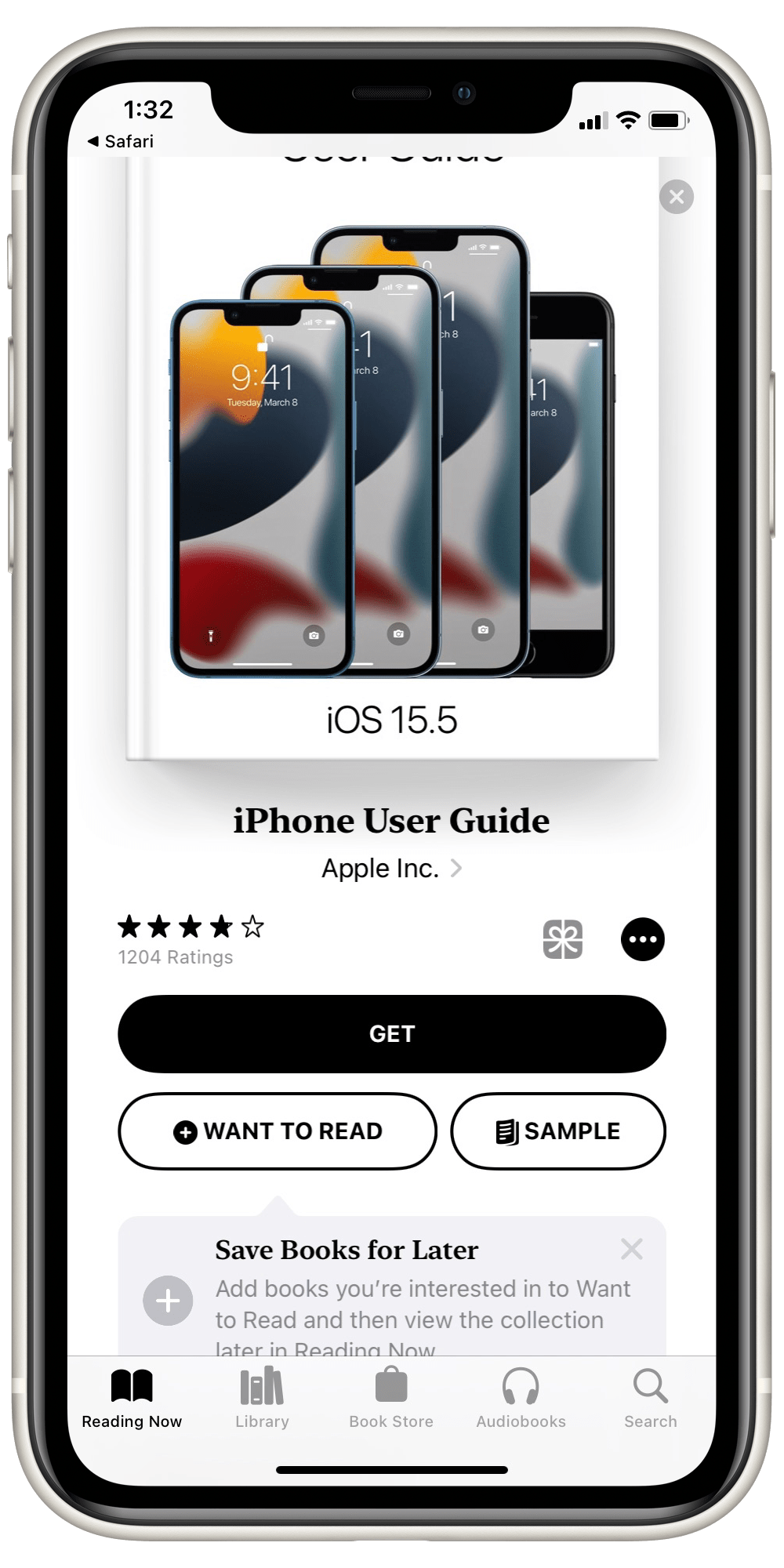 You can follow the link above to the iPhone User Guide webpage, then scroll down to the bottom of the page to find the link, or use this link: download the guide.

If you don't have Apple Books installed, you will see a message about first installing Apple Books. Tap on Show in App Store, then tap on the download icon for Apple Books from the App Store. Once it is installed, go back and tap on the download link again.

You will see a link to download the user guide in Apple Books. Tap on Get, then use the appropriate authentication method to confirm (Face/Touch ID, etc.).
Now the user guide will be in your Apple Books library (on all your devices).
There is a note next to the download link on the user guide page. It says "where available." If you have trouble accessing the guide through Apple Books, it's possible that it isn't available in your area.
Other ways to find information about using your iPhone
Web searches
There is so much information out there on the web (as I am sure you know). If you know exactly what you are searching for, this can be great; just open up your favorite browser and search for your topic. However, it may not be so helpful if your question sounds like, "How do I use this (iPhone) thing?"
Books
There are many books out there. Some are better than others. If you go to Amazon, you can take a look at the ratings to get an idea of whether that book is a good choice. With books, there are a few things to keep in mind:
You don't want to get an outdated book. Most of the basics remain the same from year to year; however, some things may change.
Some books are written for a specific iPhone model. Most of the information will be relevant to any current model; however, there are some differences. Right now, most of the differences are found between models that have a Home button (iPhone SE models and those prior to iPhone X) and all other iPhone models (such as iPhone 11, 12 or 13).
Related articles