How to Create, View, Edit, and Restore Bookmarks in Safari on Mac
Bookmarks are shortcuts to your favorite web pages so that you can navigate to them in seconds. This article explains how you can create, view, edit, and restore your Bookmarks in Safari on your Mac.
Using Bookmarks is a great way to save and organize websites so you can easily visit them later. If Safari is enabled in iCloud Preferences on your Mac, Safari will use iCloud to synchronize your bookmarks across multiple devices. You can use iCloud.com to restore your bookmarks from an earlier version that was automatically archived in iCloud. In other words, this will let you recover your bookmarks you accidentally deleted.
See also: How to Import Chrome or Firefox Passwords to iCloud Keychain on Mac
How to Create a Bookmark
There are several ways to add a bookmark:
Use the Share button
Launch Safari and open the desired website that you want to bookmark.
Click the Share button in the toolbar.
Click Add Bookmark. And a dialog box will appear saying "add this page to".
Choose a folder (you can create folders see the "how to manage bookmarks" section below). The default folder is Favorites. You can change its name and add a description.
When you are done, click the blue Add button.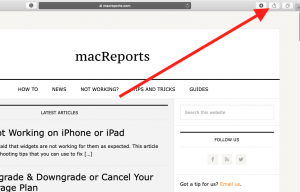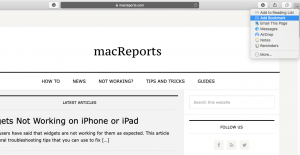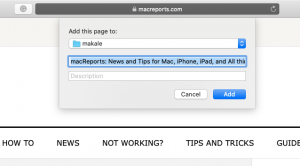 See also: Safari Top Sites Not Working On Mac, Fix
Use the Smart Search field
With the wanted website open in Safari, move your mouse over the Smart Search field (this is the address field where you enter URLs), do not click yet.
A circle (+) icon will appear at the left side of the field. Then click and hold this button.
And choose Bookmarks.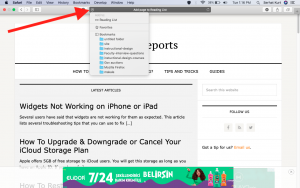 Safari menu bar
If you use this met dog, you can add multiple bookmarks at once. Here is how:
In Safari, open a website you want to bookmark. If you want to bookmark multiple sites, use tabs, and open more than one site.
From the Safari menu bar, click Bookmarks.
From the drop-down menu, select Add Bookmark or Add Bookmarks for These X Tabs. Then again you may add description etc and click Add.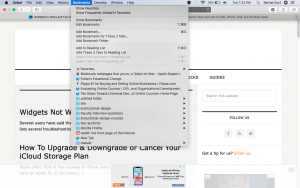 See also: How To Change Default Search Engine in Safari (iOS and macOS)
Shortcut
This is arguably the easiest way. You can simply use the keyboard shortcut to add a bookmark. Here is how:
Open the desired website in Safari.
On your keyboard, press the Command-D keys together.
This will open the Bookmark dialog. Select a folder and then click Add.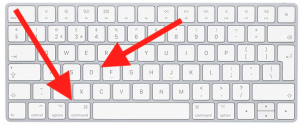 Now you may choose a method and then you may repeat this step for all your favorite sites.
See also: How To Manage Downloads In Safari On iPhone And iPad
How to view bookmarks
So you have added your desired websites to your bookmarks. Here is how you can find and view your bookmarks:
In Safari, click the Sidebar button in the toolbar. And then click the Bookmarks tab. Or alternatively, click Bookmarks and choose Show Bookmarks.
You will see all of your bookmarks and bookmark folders. You can click a bookmark to visit.
You will see a search field at the top which you can use to search your bookmarks. If you do not see the search field, scroll down to open it.
To close this sidebar, you can click the Sidebar icon again. Or you can choose the Hide Bookmarks option from Bookmarks.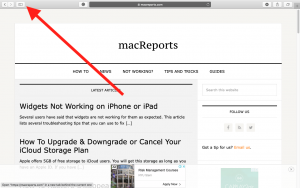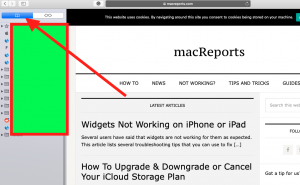 Alternatively, you can view your Bookmarks by clicking the Bookmarks in the menu bar.
See also: Safari kCFErrorDomainCFNetwork Error, Blank Page Fix
How to manage bookmarks
You can manage your bookmarks. You can:
edit, copy and delete your bookmarks or folders.
edit a bookmark's description
create folders and organize your bookmarks.
Edit, rename or delete your bookmarks or folders
In safari, open the bookmark sidebar by clicking the Sidebar icon and then clicking the Bookmark icon.
Select a bookmark or bookmark folder to modify.
Right-click (or control-click) the bookmark or folder.
A menu will appear. Select one of the options: Rename, Edit Address (this will let you change the URL address of the bookmark), Copy, and Delete.
Edit description
If you want to change a bookmarks description, you can do that as well:
In Safari, open the Bookmark sidebar and then double-click a folder where the bookmark you want to change its description is located. If you have not created a bookmark, then double-click Favorites.
This will open all of the bookmarks in that folder.
Select a bookmark and then control-click (or right-click) it.
This time you will see an option saying "Edit Description", select that.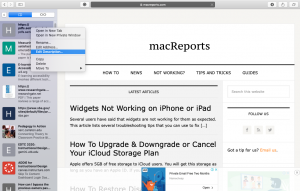 You can also move your bookmarks to different folders by using your mouse to drag them there.
See also: Safari Says: Not Secure. What Does It Mean?
Create bookmark folders
You can create bookmark folders. This will let you organize your bookmarks. This will also make your bookmarks easier to find. You can create new bookmark folders many different ways, for example:
In Safari, click the Sidebar icon Open the Bookmark sidebar. Then click the Bookmark tab. Control-click (or right-click) anywhere inside the sidebar and then select New Folder.
Alternatively, in Safari, click Bookmarks and then Edit Bookmarks. This will open a bookmark window. Click the New Folder button (top-right corner of the screen). Or, to open this bookmark window, you can use its shortcut. On your keyboard, press these three keys together: Option(alt)-Command-b.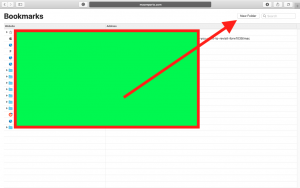 How to restore bookmarks
If you have ever accidentally deleted a bookmark, it can be incredibly frustrating. The good news is that, if you are using iCloud, you can restore your bookmarks to recover them by using iCloud.com. Follow the steps below:
Open Safari on your Mac and visit iCloud.com.
Sign in with your Apple ID. Then follow the onscreen instructions (verifying your identity etc).
Click Account Settings.
Scroll down and find the Advanced section.
Click Restore Bookmarks. You will see all of the available bookmarks. You can sort them by "Date Deleted", "Name", or "Folder".
Select one or more then click Restore. Then click Done.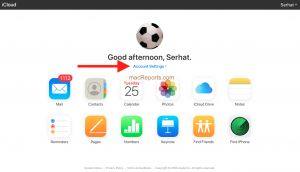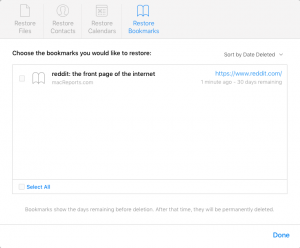 See also: How To Recover Deleted Contacts