How to Transfer an Apple Music Playlist to Spotify for Free
Many people use Apple Music. Many more use Spotify. You may want to transfer your music from one service to another for your own use, or you may want to share a playlist with a friend who doesn't use Apple Music. Although Apple Music offers a way to share a playlist with another Apple Music user, there is no built-in way to share a playlist to another platform.
Fortunately, there is an easy and free way to share a playlist from Apple Music to Spotify using a third-party app. In this article, we will tell you how to download and use an app called SongShift on your iPhone to share your playlists.
The best app to convert a playlist: SongShift
With SongShift, you can transfer albums, playlists and songs between music services such as Apple Music, Spotify, Pandora and more. With the Pro version, you can also share playlists directly with friends.
Transfer an Apple Music Playlist to Spotify
You can use the free version of SongShare to transfer an Apple Music playlist from your Apple Music to your Spotify. If you want to share the playlist with a friend, you will then need to share the playlist from the Spotify app.
If you don't already have Spotify, you will need to download the app and sign up for a Spotify account (free).
Download the SongShift app on your iPhone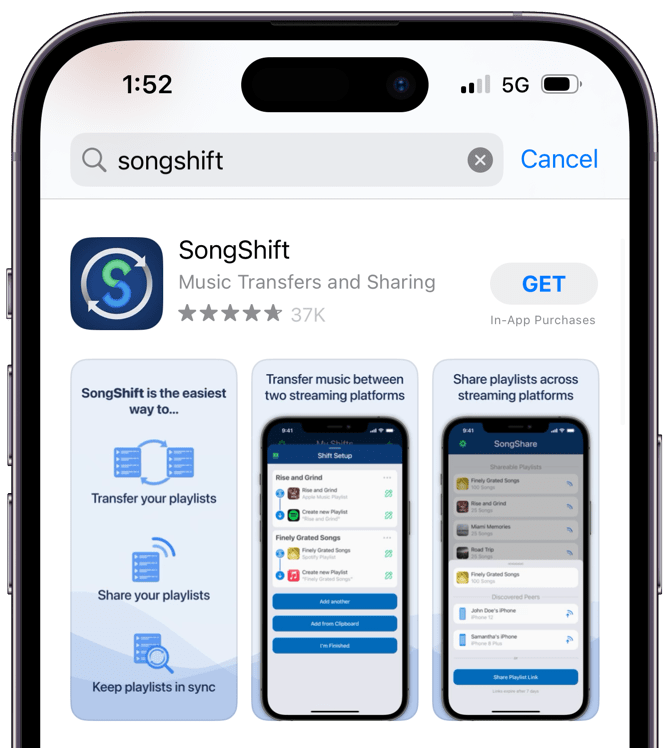 Open the App Store and search for SongShift.
Tap on Get, then double-click the side button to install.
Add Apple Music and Spotify as sources
Open the SongShift app on your iPhone.
If you're new to SongShift, you will see a "Welcome to SongShift" page where you can set up your music services. From the welcome page, tap on Apple Music.
Tap on Continue.
Give SongShift permission to access Apple Music and your media library by tapping OK.
Now you should see Apple Music appear under Connected Services. Under Available Services, tap on Spotify.
Log in to Spotify with Facebook, Apple, Google or your username and password.
Scroll down and tap on Agree to give SongShift the necessary Spotify permissions.
Now with Apple Music and Spotify listed under Connected Services, tap on Continue.
Start using SongShift to share your playlist
Tap on Get Started.
With the My Shifts tab selected at the bottom of the screen, tap on the Plus sign in the top-right corner of your screen.
You'll be prompted to view a tutorial. You may tap Continue to view the tutorial or tap Dismiss.
You'll see the Shift Setup screen. Tap on Setup Source.
Make sure the Playlist tab is selected, then tap on Apple Music. Tap Continue.
Select the playlist you want to share to Spotify, then tap Done.
Tap on the pencil button to the right of the new Spotify playlist to change the name if you want. Otherwise, tap on I'm Finished.
Above your new playlist, you'll see Processing, then it will say Ready for Review. Tap on your playlist under Ready for Review.
Check that each of your songs is correctly matched, then tap on Confirm Matches. At this point in the process, after a long wait, I received an error. I tapped on Retry Processing, and it went through.
Tap on Continue, and you'll see a summary of your "Shift".
Open Spotify. Your playlist should appear in your Library.
If you want to share your Spotify playlist with a friend, tap on the Add User button and send an invite.
Related articles